Sugar Bowl Ski Resort is a California ski area located in northern Placer County. It is just 46 miles west of Reno, Nevada on I-80. Other close cities are Soda Springs and Truckee, both in California. It is also one of the closest ski areas to the San Francisco Bay Area.
In the Lake Tahoe area, Sugar Bowl is one of few privately owned ski resorts. It was the first resort in California to have a chair lift and the first in the U.S. to have a gondola. The slopes are on three connected peaks, Mt. Judah, Mt. Lincoln and Mt. Disney. The last peak must have been named after the resort founder because it was Walt Disney.

Sugar Bowl has 94 runs, the longest being three miles, of which 18% are beginner, 42% intermediate, 22% advanced and 18% expert. Getting to the top is done on 13 lifts, 5 high speed quads, 3 quads, 2 double chairs, 1 gondola and 2 surface lifts. Also on the mountain are three terrain parks and a scorpion cut halfpipe. The resort is spread over 1,500 acres and the vertical drop is 1500 feet.

If the runs are not enough visit the Backcountry Adventure Center for a professionally guided tour by Alpine Skills International. The center has a full schedule of programs and seminars including avalanche courses, powder adventures, snowshoe hikes and much, much more.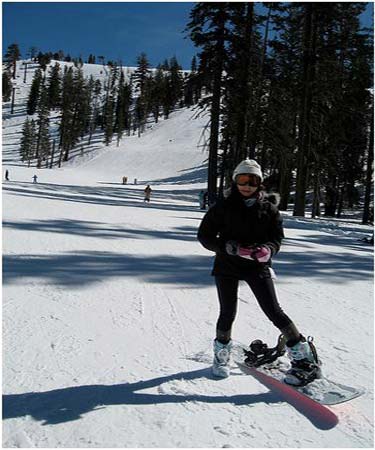 Snowboarding at Sugar Bowl Ski Resort.
Thanks to mariachily for the picture at flickr.com
---

All your rental and repair needs can be taken care of at Sugar Bowl. They have your lessons covered also with programs for kids and adults. Private lessons are available and be sure to check into the free lessons.

From the parking lot you ride the gondola across a valley and to the lifts. Once there you realize you are not at a normal ski resort, at least not the modern day ones you may be used to. All you will find in the small village is the Inn at Sugar Bowl, also serving as the base lodge, a child care center and a ski shop. That's it.

There is a little more to the place, just not at first glance. Dining at Sugar Bowl Ski Resort is well taken care of at The Dining Room at the Village Lodge, Nob Hill Cafe, Nob Hill BBQ on the Deck, Sierra Vista Bar and Grill and the Sunset Grill.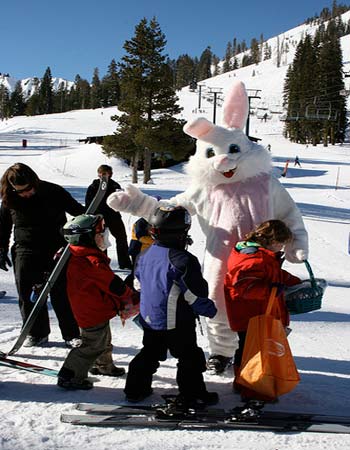 Skiing with the Easter at Sugar Bowl Ski Resort.
Thanks to cproppe for the picture at flickr.com
---

The lodging at Sugar Bowl Ski Resort consists of 27 rooms slopeside. Truckee is just ten minutes away. Among the many options there are the Richardson House Bed and Breakfast Inn and the Best Western Truckee Inn. At North Lake Tahoe you can choose from Tahoe Sands Resort, Ferrari's Crown Resort, Firelite Lodge, Sunnyside and Granlibakken. In the Sierra Foothills try the Auburn Holiday Inn, Shinneyboo Creek Resort, Marriott Towne Place Suites or the Hampton Inn and Suites Roseville.

Other ski resorts in the area are Donner Ski Ranch, Alpine Meadows, Soda Springs, Squaw Valley, Boreal and Tahoe Donner. Sugar Bowl is, however, one of the first resorts on the roads from Oakland, Sacramento and San Francisco and can draw crowds on the weekends.

With a Ski Tahoe North Interchangeable ticket you have your choice of resorts to use it at. These include Diamond Peak, Homewood, Northstar, Mt. Rose, Sugar Bowl and Squaw Valley. Homewood and Diamond Peak sweeten this deal by honoring the tickets two for one.

The phone number for Sugar Bowl Ski Resort is 530-426-9000. The address is 629 Sugar Bowl Road, Norden, California 95724.
Sugar Bowl Ski Resort Map & Directions (click on "Marker" for your personalized directions)
---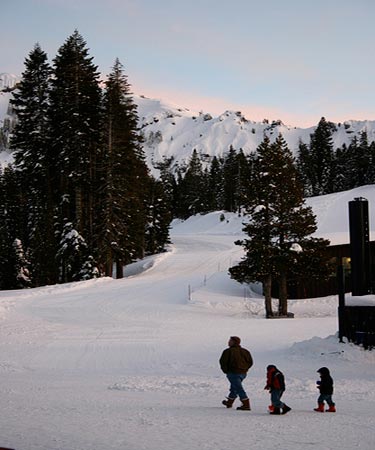 Perfect winter sunset walk at Sugar Bowl Ski Resort.
Thanks to cproppe for the picture at flickr.com
---
Have A Great Story (or question) About This Ski Resort?

Do you have a great story about this? Share it!


---
Best Family Ski Resorts | Cheap Ski Vacations | History of Snow Skiing | Top Ten Ski Resorts | Alta Ski Resort | Arapahoe Basin Ski Resort | Aspen Snowmass Ski Resort | Bear Creek Ski Resort | Best Ski Resorts Near Montreal | Big Boulder Ski Resorts | Big Sky Ski Resort | Bittersweet Ski Resort | Blue Mountain Ski Resort | Bluewood Ski Resort | Boreal Ski Resort | Boston Mills Ski Resort | Bousquet Ski Resort | Breckenridge Ski Resort | Brighton Ski Resort | Bromont Ski Resort | Camelback Ski Resort | Canada Ski Vacations | Chestnut Mountain Ski Resort | Colorado Ski Resort Jobs | Copper Mountain Ski Resort | Devil's Head Ski Resort | Diamond Peak Ski Resort | Dubai Ski Resort | Heavenly Valley Ski Resort | Hidden Valley Ski Resort | Holiday Valley Ski Resort | Homewood Ski Resort | Indianhead Mountain Ski Resort | Keystone Ski Resort | Killington Mountain Ski Resort | Liberty Ski Resort | Loveland Ski Resort | Mammoth Mountain Ski Resort | Michigan Ski Resorts | Monarch Ski Resort | Mountain High Ski Resort | Mt. Baker Ski Resort | Mt. Spokane Ski Resort | North Star Ski Resort | Peek N Peak Ski Resort | Red Mountain Ski Resort | Red River Ski Resort | Santa Fe Ski Resort | Sierra at Tahoe Ski Resort | Ski Areas Around Montreal | Ski Resorts in West Virginia | Smugglers' Notch Ski Resort | Snowbird Ski Resort | Snow Shoe Ski Resort | Soda Springs Ski Resort | Solitude Ski Resort Utah | Squaw Valley Ski Resort | Steamboat Ski Resort | Suger Bowl Ski Resort | Sunrise Ski Resort | Tahoe Donner Ski Resort | Timberline Ski Resort | Vermont Ski Resorts | Whitetail Ski Resort |
---
From Stratton Mountain Ski Resort to Ski Resort Reviews | Land of Snow Blog | Montreal | Winter Survival | Winter Activities For Children And Adults | Maple Syrup | Pictures of Snow | Snow Blogs | Review of Snow Blowers |
---
Home Page

About Us | Contact Us | Advertise | Site Search | Terms of Use |
---