Mt. Spokane Ski Resort is located just thirty minutes from Spokane, a beautiful drive you will never tire of. The ski area is spread over 1,250 acres. The goal at Mt. Spokane is excellent customer service and something fun for everyone.
The runs are a nice blend of skill level to give everyone something to enjoy. 23% are beginner, 45% intermediate and 32% advanced. The vertical drop is 1,689 feet with twenty five feet of yearly average snowfall.

Some of the features you will enjoy about Mt. Spokane Ski Area are the low prices, the night skiing and possibly the terrain park. Another resort favorite is the Children's Choice Tubing Hill at the Top O' The Mountain. This is also operated at night. Parents of little ones love the Snoplay Daycare for kids 2 and up. Let them entertain the kids while you enjoy the slopes.

The Terrain Park is a popular attraction with close to a mile of jibs, kickers and hits. If you are into rails, boxes, c-rails, rainbows and kinks, well, you will find those also. They have tried to put this together so that it can be enjoyed by all, beginners through advanced boarders.

Lessons are plentiful with children's programs, specialty programs and adult programs. You can let the Rental Shop take care of all your ski needs or buy anything left at home at the Retail Shop. If you have an equipment malfunction the Repair Shop can fix it.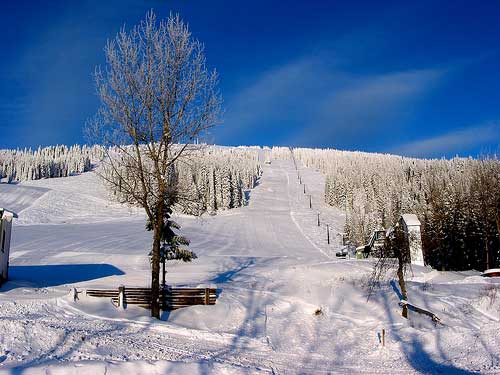 Thanks to Christopher Armstrong at Flickr for this great picture of Mt. Spokane Ski Area.
---

There are two lodges at Mt. Spokane with creative names like lodge 1 and lodge 2. Lodge 2 is the main base area lodge, its the main access to most of the mountain and is full service.

Cross country skiing on the 25 km of trails is another way to spend the day, or just hike the snowshoe trails if you prefer.

Spokane residents can make use of the bus transportation offered by Mt. Spokane. It's not free but it is a convenient way to get to the slopes in comfort. Since the cost is only fifteen dollars round trip, and you might use that in gas anyway, maybe it is free. The buses run most weekends and holidays. The pickup locations are Fred Meyer and Thor Ave at 7 AM, Yoke's and Argonne Village at 7:30, Yokes and Market St. in Mead at 7:45.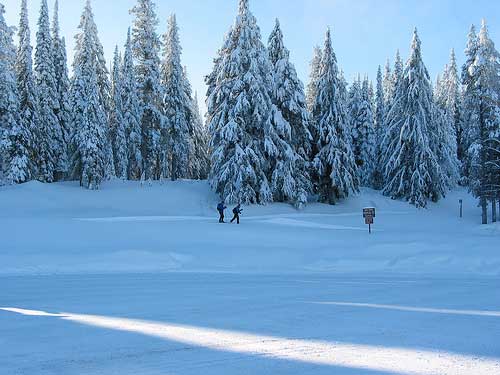 Thanks to Christopher Armstrong at Flickr for this great picture of Skiing at Mt. Spokane Ski Area.
---

Mt. Spokane Ski Resort opens its season in late November and stays open into April. Their hours are 9-4 Wed. - Sun. The night session is from 4-9:30. Mount Spokane Ski and Snowboard Park is owned by a non-profit organization. It is located on the southeast portion of Mount Spokane, one of the tallest peaks in the inland northwest. Also on the mountain is the largest state park in Washington, Mt. Spokane State Park. The park covers over thirteen thousand acres.

Mt. Spokane Ski and Snowboard Park is located at 29500 N Mt. Spokane Park Dr., Meade, WA 99021. They can be reached at 509-238-2220. There is no lodging here but you can plan your stay in north Spokane and you will be plenty close to the slopes.
Mt. Spokane Ski Resort Map & Directions (click on "Marker" for your personalized directions)
---
Have A Great Story (or question) About This Ski Resort?

Do you have a great story about this? Share it!


---
Best Family Ski Resorts | Cheap Ski Vacations | History of Snow Skiing | Top Ten Ski Resorts | Alta Ski Resort | Arapahoe Basin Ski Resort | Aspen Snowmass Ski Resort | Bear Creek Ski Resort | Best Ski Resorts Near Montreal | Big Boulder Ski Resorts | Big Sky Ski Resort | Bittersweet Ski Resort | Blue Mountain Ski Resort | Bluewood Ski Resort | Boreal Ski Resort | Boston Mills Ski Resort | Bousquet Ski Resort | Breckenridge Ski Resort | Brighton Ski Resort | Bromont Ski Resort | Camelback Ski Resort | Canada Ski Vacations | Chestnut Mountain Ski Resort | Colorado Ski Resort Jobs | Copper Mountain Ski Resort | Devil's Head Ski Resort | Diamond Peak Ski Resort | Dubai Ski Resort | Heavenly Valley Ski Resort | Hidden Valley Ski Resort | Holiday Valley Ski Resort | Homewood Ski Resort | Indianhead Mountain Ski Resort | Keystone Ski Resort | Killington Mountain Ski Resort | Liberty Ski Resort | Loveland Ski Resort | Mammoth Mountain Ski Resort | Michigan Ski Resorts | Monarch Ski Resort | Mountain High Ski Resort | Mt. Baker Ski Resort | North Star Ski Resort | Peek N Peak Ski Resort | Red Mountain Ski Resort | Red River Ski Resort | Santa Fe Ski Resort | Sierra at Tahoe Ski Resort | Ski Areas Around Montreal | Ski Resorts in West Virginia | Smugglers' Notch Ski Resort | Snowbird Ski Resort | Snow Shoe Ski Resort | Soda Springs Ski Resort | Solitude Ski Resort Utah | Squaw Valley Ski Resort | Steamboat Ski Resort | Stratton Mountain Ski Resort | Suger Bowl Ski Resort | Sunrise Ski Resort | Tahoe Donner Ski Resort | Timberline Ski Resort | Vermont Ski Resorts | Whitetail Ski Resort |
---
From Mt. Spokane Ski Resort to Ski Resort Reviews | Land of Snow Blog | Montreal | Winter Survival | Winter Activities For Children And Adults | Maple Syrup | Pictures of Snow | Snow Blogs | Review of Snow Blowers |
---
Home Page

About Us | Contact Us | Advertise | Site Search | Terms of Use |
---