Mountain High Ski Resort is the most visited ski area in southern California. It is in the San Gabriel Mountains in Los Angeles County. You can get there by driving 75 miles north from Los Angeles. It's the closest ski resort to San Diego.
From San Diego take interstate 15 north and exit on highway 138 west. Go left on highway 2 and go three miles past the town of Wrightwood. From Los Angeles get to I-15 North and exit on Highway 138 West and go left on Highway 2. Mountain High will be three miles past Wrightwood.

At Mountain High you can enjoy 59 trails on over 290 acres. The trails are 24% beginner, 39% intermediate and 37% advanced. There are 16 lifts, 2 high speed quads, 2 quad chairlifts, 2 triple chairlifts, 5 double chairlifts and 5 moving carpets. The vertical drop is 1600 feet with about 144 inches of natural snow a year. 95% of the snow here is manmade, that's what keeps them open consistently throughout the season.

There are three different mountains, each with it's own lodge, ticketing, rentals and pro shops. There is the Mountain High West Resort, the Mountain High East Resort and the Mountain High North Resort. A shuttle runs between them so you easily ski them all in a day. Mountain High Ski Resort is the only place in southern California offering night skiing seven nights a week.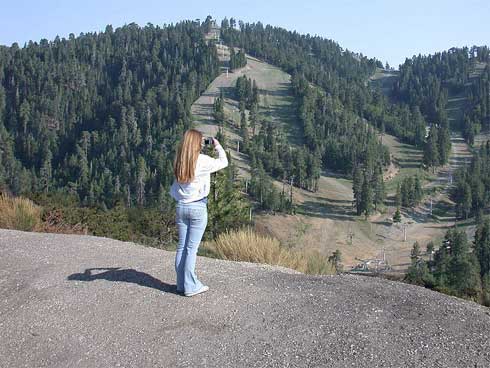 From the road leading to Mountain High North is a great summertime view of the East and West trails. Thanks to wikipedia.org for the picture.
---

The Mountain High West Resort is the most popular of the three and most of it's terrain is dedicated to the Mountain High's Faultline Terrain Park. There is also some nice glade skiing on this mountain in an area known as "the reef".

The Mountain High East Resort has more open terrain and longer runs. The longest run is 1.6 miles, just look for the Goldrush tail. This mountain has it's share of gladed tree skiing, moguls and breathtaking views. The North Resort is mostly beginner and intermediate skiing and snow play. The North Pole Tubing Park is located in this resort. The North was formerly Ski Sunrise.

The lodging at Mountain High is two miles away at Mountain View Hotel where you will find Jacuzzis and kithenette rooms. More lodging is located about a half hour away at Wrightwood. Here you can stay in cabins, mini-lodges, Inns or a Bed and Breakfast. Located just ten miles from the slopes is the Best Western Cajon Pass at the junction of Highway 138 and Interstate 15.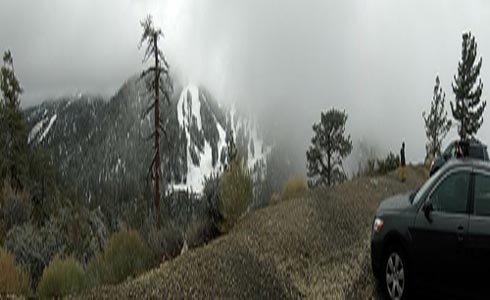 Mountain High Resort.
Thanks to wikipedia.org for the picture.
---

Other ski resorts in the vicinity of Mountain High are Mt. Baldy at 13 miles away, Snow Valley at 34 miles, Snow Summit at 48 miles and Bear Mountain is 49 miles away.

Mountain High Ski Resort can be reached at PO Box 3010, 24510 Highway 2, Wrightwood, California 92397. Call them at 888-754-7878. The season here runs from early November to late April. The hours of operation for West Resort are weekdays 8:30 am to 10 pm and weekends 8 am to 10 pm. The East and the North are open weekdays 8:30 to 4:00 and weekends 8 am to 4:30 pm. The Tubing Park is open weekdays 9 am to 4:30 pm.
Mountain High Ski Resort Map & Directions (click on "Marker" for your personalized directions)
---
Have A Great Story (or question) About This Ski Resort?

Do you have a great story about this? Share it!


---
Best Family Ski Resorts | Cheap Ski Vacations | History of Snow Skiing | Top Ten Ski Resorts | Alta Ski Resort | Arapahoe Basin Ski Resort | Aspen Snowmass Ski Resort | Bear Creek Ski Resort | Best Ski Resorts Near Montreal | Big Boulder Ski Resorts | Big Sky Ski Resort | Bittersweet Ski Resort | Blue Mountain Ski Resort | Bluewood Ski Resort | Boreal Ski Resort | Boston Mills Ski Resort | Bousquet Ski Resort | Breckenridge Ski Resort | Brighton Ski Resort | Bromont Ski Resort | Camelback Ski Resort | Canada Ski Vacations | Chestnut Mountain Ski Resort | Colorado Ski Resort Jobs | Copper Mountain Ski Resort | Devil's Head Ski Resort | Diamond Peak Ski Resort | Dubai Ski Resort | Heavenly Valley Ski Resort | Hidden Valley Ski Resort | Holiday Valley Ski Resort | Homewood Ski Resort | Indianhead Mountain Ski Resort | Keystone Ski Resort | Killington Mountain Ski Resort | Liberty Ski Resort | Loveland Ski Resort | Mammoth Mountain Ski Resort | Michigan Ski Resorts | Monarch Ski Resort | Mt. Baker Ski Resort | Mt. Spokane Ski Resort | North Star Ski Resort | Peek N Peak Ski Resort | Red Mountain Ski Resort | Red River Ski Resort | Santa Fe Ski Resort | Sierra at Tahoe Ski Resort | Ski Areas Around Montreal | Ski Resorts in West Virginia | Smugglers' Notch Ski Resort | Snowbird Ski Resort | Snow Shoe Ski Resort | Soda Springs Ski Resort | Solitude Ski Resort Utah | Squaw Valley Ski Resort | Steamboat Ski Resort | Stratton Mountain Ski Resort | Suger Bowl Ski Resort | Sunrise Ski Resort | Tahoe Donner Ski Resort | Timberline Ski Resort | Vermont Ski Resorts | Whitetail Ski Resort |
---
From Mountain High Ski Resort to Ski Resort Reviews | Land of Snow Blog | Montreal | Winter Survival | Winter Activities For Children And Adults | Maple Syrup | Pictures of Snow | Snow Blogs | Review of Snow Blowers |
---
Home Page

About Us | Contact Us | Advertise | Site Search | Terms of Use |
---