When talking about the top ten ski resorts many questions arise. The first one is where are these ski resorts? Are they all over the world, just in Canada, or only in western United States? The second question is what criteria is used when choosing the top ten ski resorts? Let's see if we can break this down a little and come up with some excellent ski destinations for your next trip.
There is a ski resort in Canada called Whistler. You will find this name on almost every top ten ski resort list, and for good reason, it's that good. If you love to ski, but haven't visited Whistler, put this place high on your list. Other worthy locations in Canada include Fernie Alpine Resort, Kicking Horse Resort, Sun Peaks, Big White Ski Resort, Red Resort, Mont-Tremblant, Banff, Le Massif and Mont Sainte-Anne.

If your budget allows a trip to Europe for your next ski vacation consider any of these top ten ski resorts for some of the best skiing in the world. Solden, in Austria, tops the list featuring some of the best skiing, and a night life that doesn't stop. Other top resorts in Europe include Morano in Italy, Ischgl in Austria, Val Thorens in France, Zell am See in Austria, Verbier in Switzerland, Vielha e Mijaran in Spain, Saint Larry Soulan in France and Cortina D'Ampezzo in Italy.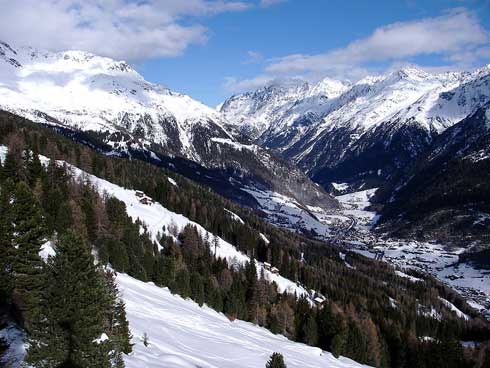 Solden Ski Area.
Thanks to Jean & Nathalie for the picture at flickr.com
---

A top ten ski resort list for the United States would have to include Aspen. It is one of Colorado's finest ski destinations, a true world class resort. Other resorts earning a place in the top ten are Killington, Deer Valley Resort, Heavenly Ski Resort, Mount Snow, Squaw Valley, Vail, Winter Park and Stowe Mountain Resort.

Not everyone is looking for the same thing in a ski resort so a top ten list could easily be made for every possible expectation. Are you looking for the best beginner skiing, the best expert skiing, the best large resort, or small resort, the most nightlife, a mom and pop destination, the best powder, the best value, the least crowded, the most crowded, the best in spring, or over the Christmas break, the best terrain parks, and so on and on. Let's try to cover at least a few of these interests.

If the resort nightlife is high on your most important aspects of a ski resort list try Aspen Mountain, Killington, Vail, Whistler, Breckenridge and Heavenly Lake Tahoe. Terrain parks are the current rage and boarders are constantly seeking the newest and most challenging parks to test their skills. The top ten list for boarders should include Park City, Stratton, Vail, Breckenridge, Copper Mountain, Jackson Hole and Buttermilk.

Do you just want to get away from the crowds? Then plan your next ski vacation to Big Mountain, Big Sky, Jackson Hole, Steamboat, Taos or Telluride. These resorts offer lift rides to acres of skiing where escaping the crowd is easy.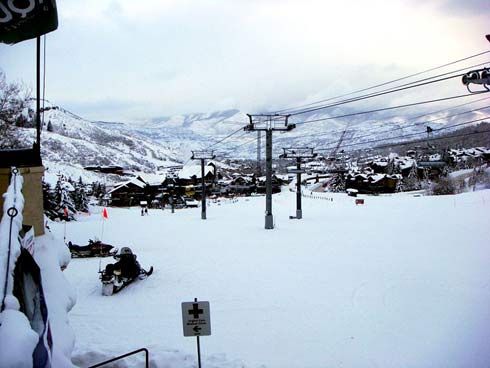 The base of Aspen Snowmass Mountain, including a view of Snowmass Village.
Thanks to Werdna for the picture at commons.wikimedia.org
---

Expert Skiers often look for the best black diamond runs, and why not, that is where the fun begins. Some of the best advanced runs can be found at Teton Village, Taos, Crested Butte, Stowe and Squaw Valley. The opposite skiing experience is if you are looking for the best family ski resorts. Try Snowmass, Winter Park, Okemo, Smuggler's Notch and Northstar - at - Tahoe. The best family resorts might also include those with the best beginner trails, this list would include Buttermilk, Bretton Woods, Solitude and Sunday River.

As you can see, a top ten ski resort list needs to take in a lot of factors, and may not come up with results that are truly in line with your skiing needs. We did try, however, to come up with a list of "must ski" destinations worth considering. This list starts with Whistler Blackcomb in British Columbia. You should then travel to Austria and ski the slopes at Kitzbuhel. From there it is just a short hop to Switzerland where the worlds second largest lift served vertical drop awaits you at Zermatt.

Other top considerations are Vail in Colorado, Banff in Alberta, Stowe in Vermont, Chamonix-Mont-Blanc in France, Aspen in Colorado, Cortina in Italy and Mont-Tremblant in Quebec. Just one visit to any of these ski resorts will prove to you they deserve a spot on any top ten ski resort list.
Have A Great Story (or question) About This Ski Resort?

Do you have a great story about this? Share it!


---
Best Family Ski Resorts | Cheap Ski Vacations | History of Snow Skiing | Alta Ski Resort | Arapahoe Basin Ski Resort | Aspen Snowmass Ski Resort | Bear Creek Ski Resort | Best Ski Resorts Near Montreal | Big Boulder Ski Resorts | Big Sky Ski Resort | Bittersweet Ski Resort | Blue Mountain Ski Resort | Bluewood Ski Resort | Boreal Ski Resort | Boston Mills Ski Resort | Bousquet Ski Resort | Breckenridge Ski Resort | Brighton Ski Resort | Bromont Ski Resort | Camelback Ski Resort | Canada Ski Vacations | Chestnut Mountain Ski Resort | Colorado Ski Resort Jobs | Copper Mountain Ski Resort | Devil's Head Ski Resort | Diamond Peak Ski Resort | Dubai Ski Resort | Heavenly Valley Ski Resort | Hidden Valley Ski Resort | Holiday Valley Ski Resort | Homewood Ski Resort | Indianhead Mountain Ski Resort | Keystone Ski Resort | Killington Mountain Ski Resort | Liberty Ski Resort | Loveland Ski Resort | Mammoth Mountain Ski Resort | Michigan Ski Resorts | Monarch Ski Resort | Mountain High Ski Resort | Mt. Baker Ski Resort | Mt. Spokane Ski Resort | North Star Ski Resort | Peek N Peak Ski Resort | Red Mountain Ski Resort | Red River Ski Resort | Santa Fe Ski Resort | Sierra at Tahoe Ski Resort | Ski Areas Around Montreal | Ski Resorts in West Virginia | Smugglers' Notch Ski Resort | Snowbird Ski Resort | Snow Shoe Ski Resort | Soda Springs Ski Resort | Solitude Ski Resort Utah | Squaw Valley Ski Resort | Steamboat Ski Resort | Stratton Mountain Ski Resort | Suger Bowl Ski Resort | Sunrise Ski Resort | Tahoe Donner Ski Resort | Timberline Ski Resort | Vermont Ski Resorts | Whitetail Ski Resort |
---
From Top Ten Ski Resorts to Ski Resort Reviews | Land of Snow Blog | Montreal | Winter Survival | Winter Activities For Children And Adults | Maple Syrup | Pictures of Snow | Snow Blogs | Review of Snow Blowers |
---
Home Page

About Us | Contact Us | Advertise | Site Search | Terms of Use |
---