Are you looking for a fun way to spend the winter? What could be more fun than a Colorado ski resort job? You don't have to be a great skier to work at a ski resort, and many of the jobs allow you to stay inside, and warm, all day. The best advice I can give you, if this is what you want, is to start early. Don't wait until the snow is falling to start filling out applications. Some resorts hold job fairs or hiring days where you can fill out an application, get an interview and possibly a job all at one time.
Arapahoe Basin is one of the Colorado ski resorts you might consider working at. It is an independently owned resort and they want all their employees to fit into their family atmosphere. They also want employees with exceptional guest service skills. Currently at the Basin they are looking for a parking lot attendant, cooks, a lift operator, a shuttle driver and a dishwasher.

The Aspen Skiing Company operates four ski resorts, Aspen Highlands, Buttermilk, Snowmass and Aspen Mountain. They hire a lot of employees each year to work at these different Colorado ski resorts. Their hiring is broken down into departments. These different departments include lift attendants, snowcats, tickets, snowmaking, guest service, retail and rental shop workers and ski school employees. One way of getting a job with this company is to attend one of their job fairs. Managers are on hand to give interviews on the spot. The dates for these job fairs are September 9th, October 7th, November 4th and November 18th.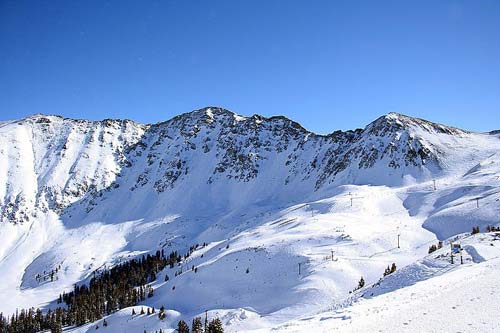 Eastwall of Arapahoe Basin Ski Resort.
Thanks to wikipedia.org for the picture.
---

Crested Butte ski resort is located in southwestern Colorado and brags about being unpretentious and authentic. They are currently looking for employees in culinary services, daycare, Elevation Hotel and Spa, The Grand Lodge, The Lodge at Mountaineer Square, The Plaza Hotel and the Ski and Ride School.

Not all ski resort jobs are seasonal. Eldora Mountain Resort is currently looking for fulltime year round employees. They need a snowmaking manager, a lift electrician, a human resources generalist and a retail manager.

The employee benefits are what many seasonal ski resort employees are looking for. One of the best benefits are the lift passes. Loveland Ski Area offers a free season pass to their slopes as well as many other slopes in the area. You will also get discounts in the restaurants and cafeterias as well as the sport shop and rental shop. Interviews at Loveland start in mid September.

Silverton Ski Resort is looking for passionate employees who work hard and play hard. They have an internship program that might be of interest to students. They are not paid but a college credit is available. They are looking for paid employees in the areas of lift maintenance, retail sales, ski patrol and ski guides. Some of their perks include a ski pass, discounted heli skiing and bar discounts.

At Powderhorn Grand Mesa they are currently looking for brush cutters. If you were looking for something else then you should be at the hiring fair November 13. It will be at the Powderhorn Base Lodge and they are looking for terrain park workers, lift attendants and operators, dishwashers, housekeepers, lodging desk clerks, cashiers and many other service related positions.

These are just a few of the many companies offering Colorado ski resort jobs. Since the majority of jobs in the ski industry involve some type of customer service, or you are at least seen by the public, a clean cut attire is appropriate for these job fairs and interviews. I would gladly get a haircut in order to spend the winter working at a popular ski resort. Maybe I'll see you there.
Have A Great Story (or question) About This Ski Resort?

Do you have a great story about this? Share it!


---
Best Family Ski Resorts | Cheap Ski Vacations | History of Snow Skiing | Top Ten Ski Resorts | Alta Ski Resort | Arapahoe Basin Ski Resort | Aspen Snowmass Ski Resort | Bear Creek Ski Resort | Best Ski Resorts Near Montreal | Big Boulder Ski Resorts | Big Sky Ski Resort | Bittersweet Ski Resort | Blue Mountain Ski Resort | Bluewood Ski Resort | Boreal Ski Resort | Boston Mills Ski Resort | Bousquet Ski Resort | Breckenridge Ski Resort | Brighton Ski Resort | Bromont Ski Resort | Camelback Ski Resort | Canada Ski Vacations | Chestnut Mountain Ski Resort | Copper Mountain Ski Resort | Devil's Head Ski Resort | Diamond Peak Ski Resort | Dubai Ski Resort | Heavenly Valley Ski Resort | Hidden Valley Ski Resort | Holiday Valley Ski Resort | Homewood Ski Resort | Indianhead Mountain Ski Resort | Keystone Ski Resort | Killington Mountain Ski Resort | Liberty Ski Resort | Loveland Ski Resort | Mammoth Mountain Ski Resort | Michigan Ski Resorts | Monarch Ski Resort | Mountain High Ski Resort | Mt. Baker Ski Resort | Mt. Spokane Ski Resort | North Star Ski Resort | Peek N Peak Ski Resort | Red Mountain Ski Resort | Red River Ski Resort | Santa Fe Ski Resort | Sierra at Tahoe Ski Resort | Ski Areas Around Montreal | Ski Resorts in West Virginia | Smugglers' Notch Ski Resort | Snowbird Ski Resort | Snow Shoe Ski Resort | Soda Springs Ski Resort | Solitude Ski Resort Utah | Squaw Valley Ski Resort | Steamboat Ski Resort | Stratton Mountain Ski Resort | Suger Bowl Ski Resort | Sunrise Ski Resort | Tahoe Donner Ski Resort | Timberline Ski Resort | Vermont Ski Resorts | Whitetail Ski Resort |
---
From Colorado Ski Resort Jobs to Ski Resort Reviews | Land of Snow Blog | Montreal | Winter Survival | Winter Activities For Children And Adults | Maple Syrup | Pictures of Snow | Snow Blogs | Review of Snow Blowers |
---
Home Page

About Us | Contact Us | Advertise | Site Search | Terms of Use |
---