Killington Mountain Ski Resort, near Killington Vermont, is the largest ski resort in eastern north America. Killington Peak, at 4,235 feet, is the second highest in Vermont. Most years Killington is the first resort in the east to open and the last to close.
There are 141 trails at Killington, 28% beginner, 33% intermediate and 39% advanced. The longest run is 6.2 miles and the resort covers 752 acres of skiable terrain. There are 22 lifts, 2 gondolas, 5 express quads, 4 quads, 4 triples, 2 doubles and 5 surface lifts, including 3 magic carpets. The annual snowfall is 250 inches with 71% snowmaking ability.

Sunrise Mountain has the lowest elevation of all the peaks at Killington and is all beginner terrain. It is serviced by one lift. Bear Mountain is often the host of racing and freestyle events. It is also the home for two of Killington's double black diamond runs, Outer Limits and Devil's Fiddle. Skye Peak has the steepest run, Lower Ovation, a double black that develops out of Ovation, a black run. The mountain also has plenty of beginner and intermediate runs.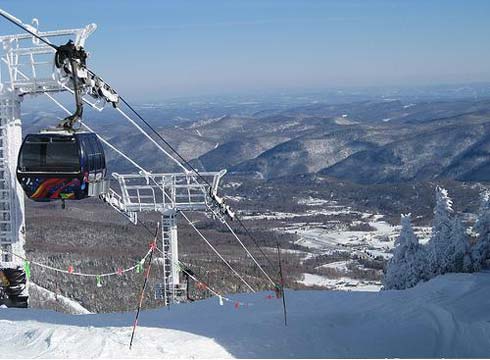 View from the top of Killington Peak in Killington, VT.
Thanks to kBasarab for the picture at flickr.com
---

Killington Peak is the highest mountain and contains some of the steepest terrain with many double black diamond runs like Cascade, Double Dipper, Big Dipper Glade and Downdraft. Snowdon Mountain has a mix of advanced, intermediate and beginner runs. It is home to Conclusion, another double black diamond run. Ramshead Mountain is home to a ski school for kids and the Squeeze Play trail. This run is used to teach tree skiing to young skiers.

Pico Mountain is separated from the other peaks at Killington. It was once another resort called Pico Peak. On this mountain are 50 trails covering 17 miles of mountain. The base elevations on these peaks are 3,967 feet at Pico Peak, 3,295 at Bear Mountain, 3,800 at Skye Peak, 3,600 at Ramshead, 2,456 at Sunrise Mountain, 3,592 at Snowden Peak and 4,235 at Killington Mountain.

The needs of snowboarders are well taken care of at Killington, starting with a superpipe featuring 18 foot walls. The terrain parks are The Stash, Mouse Run, Timberline, OL Rail Park and Dream Maker.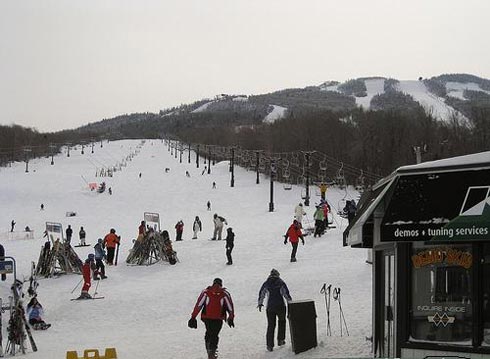 Looking up Snowshed slope from the Snowshed Lodge in Killington, VT.
Thanks to kBasarab for the picture at flickr.com
---

The different lodges at Killington Ski Resort are the K-1 Lodge, Snowshed Lodge, Ramshead Lodge, Bear Mountain and Skyeship Lodge. K-1 Lodge is home to Killington Sports for all your ski needs, Double Diamond Service Center for repairs, a rental shop and six places to eat. It is also home to the K-1 Express, the highest lift in Vermont.

The Killington Grand Resort Hotel and Spa is one of the more popular places to stay being just steps away from the slopes. There are many condominiums to choose from also. Some offer trails so you can ski to your door while others use the shuttle service to the base lodge. For reservations call 800-621-6867.

There are over thirty restaurants to choose from during your stay but be sure and save time for the Wobbly Barn. Live music and delicious stakes are just a part of what makes this place special. The celebrated chefs at the Ovations Restaurant are always busy preparing the best possible Vermont cuisine. It's in the Killington Grand Resort Hotel near Snowshed Lodge. For a romantic meal visit Hemingway's, for fast pizza there is Pizza Jerks and for sushi there is the Sushi Yoshi.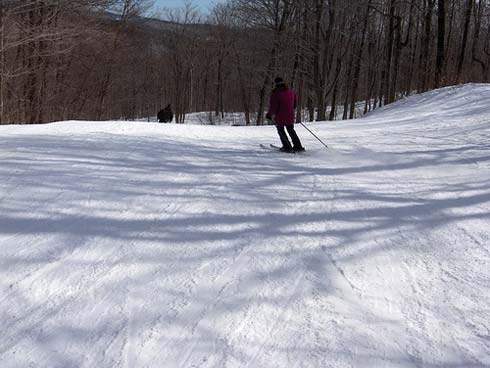 Skiing at Killington Mountain Ski Resort.
Thanks to Joe Shlabotnik for the picture at flickr.com
---

Other activities at Killington include cross country skiing, snowmobiling, rock climbing, dog sledding and snowshoeing. Add to that the many options for shopping, dining and nightlife and you have a complete resort. During the summer months visitors to Killington Ski Resort enjoy hiking, mountain biking, alpine slides, mini golf and championship golf.

The ski season at Killington Ski Resort is from October to May. The hours of operation are 9 am to 4 pm Monday through Friday and until 4:30 pm on weekends. Their address is 4763 Killington Road, Killington, Vermont 05751. For general information call 802-422-6767.
Killington Mountain Ski Resort Map & Directions (click on "Marker" for your personalized directions)
---
Have A Great Story (or question) About This Ski Resort?

Do you have a great story about this? Share it!


---
Best Family Ski Resorts | Cheap Ski Vacations | History of Snow Skiing | Top Ten Ski Resorts | Alta Ski Resort | Arapahoe Basin Ski Resort | Aspen Snowmass Ski Resort | Bear Creek Ski Resort | Best Ski Resorts Near Montreal | Big Boulder Ski Resorts | Big Sky Ski Resort | Bittersweet Ski Resort | Blue Mountain Ski Resort | Bluewood Ski Resort | Boreal Ski Resort | Boston Mills Ski Resort | Bousquet Ski Resort | Breckenridge Ski Resort | Brighton Ski Resort | Bromont Ski Resort | Camelback Ski Resort | Canada Ski Vacations | Chestnut Mountain Ski Resort | Colorado Ski Resort Jobs | Copper Mountain Ski Resort | Devil's Head Ski Resort | Diamond Peak Ski Resort | Dubai Ski Resort | Heavenly Valley Ski Resort | Hidden Valley Ski Resort | Holiday Valley Ski Resort | Homewood Ski Resort | Indianhead Mountain Ski Resort | Keystone Ski Resort | Liberty Ski Resort | Loveland Ski Resort | Mammoth Mountain Ski Resort | Michigan Ski Resorts | Monarch Ski Resort | Mountain High Ski Resort | Mt. Baker Ski Resort | Mt. Spokane Ski Resort | North Star Ski Resort | Peek N Peak Ski Resort | Red Mountain Ski Resort | Red River Ski Resort | Santa Fe Ski Resort | Sierra at Tahoe Ski Resort | Ski Areas Around Montreal | Ski Resorts in West Virginia | Smugglers' Notch Ski Resort | Snowbird Ski Resort | Snow Shoe Ski Resort | Soda Springs Ski Resort | Solitude Ski Resort Utah | Squaw Valley Ski Resort | Steamboat Ski Resort | Stratton Mountain Ski Resort | Suger Bowl Ski Resort | Sunrise Ski Resort | Tahoe Donner Ski Resort | Timberline Ski Resort | Vermont Ski Resorts | Whitetail Ski Resort |
---
From Killington Mountain Ski Resort to Ski Resort Reviews | Land of Snow Blog | Montreal | Winter Survival | Winter Activities For Children And Adults | Maple Syrup | Pictures of Snow | Snow Blogs | Review of Snow Blowers |
---
Home Page

About Us | Contact Us | Advertise | Site Search | Terms of Use |
---