Sunrise Ski Resort is located in the White Mountains of Arizona. They feature 65 ski runs on three mountains. You can also enjoy snowboarding, cross country skiing and a special place for the kids to ski.
Sunrise Ski Resort is also known as Sunrise Park Resort as they are far more than just a place to ski. They are open year round giving many Arizona residents a place to escape the summer heat and enjoy the cool White Mountains, a beautiful place to enjoy some time away from the city. During the summer months you can enjoy rides on the ski lifts, fishing and boating at Sunrise Lake, mountain biking, hiking and horseback rides.

No matter how you choose to travel to this scenic ski lodge, or when you choose to visit, summer or winter, you will several choices for your sleeping accommodations. There is the Sunrise Park Lodge with 100 hundred rooms, two restaurants, a gift shop, an indoor pool and whirlpool along with a lounge and game room.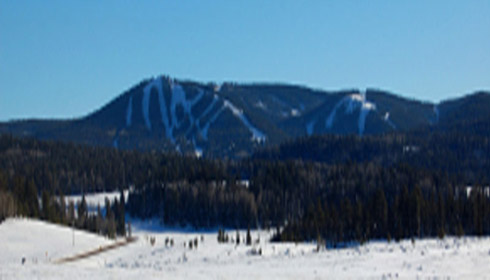 Sunrise Panorama.
Thanks to wikipedia.org for the picture.
---

If you prefer to bring your RV the Sunrise RV Park can set you up in one of their 20 spaces with electric. If you want to really rough it try the Sunrise Campground. With 200 sites available there is sure to be a spot for your tent, camper or motor home. The campground is complete with port-a-jons, water, firepits and tables.

Sunrise is located about 200 miles from Phoenix, 230 from Tucson and 299 miles from El Paso near the New Mexico border in North East Arizona. If you fly your own plane you can land in Springerville and drive 23 miles, Show Low and drive 36 miles or Whiteriver and drive 39 miles.

Sunrise Park Resort is owned and operated by the White Mountain Apache Indian Tribe. They pride themselves in friendly service and work hard to make your stay a pleasant one.

The 65 ski runs at Sunrise breakdown like this, 40% beginner, 40% intermediate and 20% advanced to expert. The longest run, Sidewinder, is 1.2 miles long. The lift system includes 3 quad chairs, 4 triple chairs, 1 double chairs and 2 surface. The high speed quad lift is capable of getting sixteen thousand skiers up the hill every hour.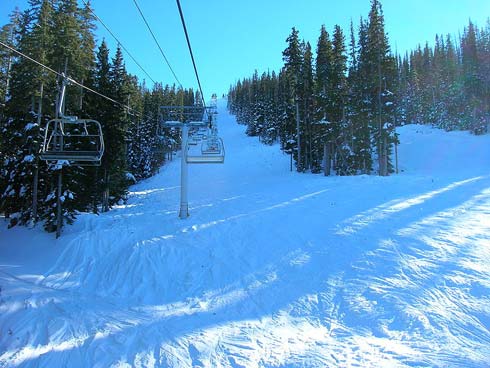 High-speed quad chairlift on Sunrise Peak.
Thanks to wikipedia.org for the picture.
---

For more information about Sunrise Ski Resort why not give them a call. You can use the 800-772-7669 number for general information. For more specific info you may want to try 928-735-7669 and use these extensions. For general information use ext. 2321, for Sunrise Park Lodge use 2129, for the general store use 2180, the rental shop can be reached at 2310 and the ski school at 2306.

If you are planning a visit during the summer months don't forget your fishing poles. Sunrise lake has plenty of trout, Rainbow, Brook and Apache. You can fish from the shore or rent a boat, you can fly fish or bait fish, it's up to you.

If fishing bores you and you prefer mountain biking you will love this place. Bikes are available for rent at the lodge and the ski lifts are equipped with bike carriers. The lifts take you to the top of Sunrise Mountain and then you are on your own.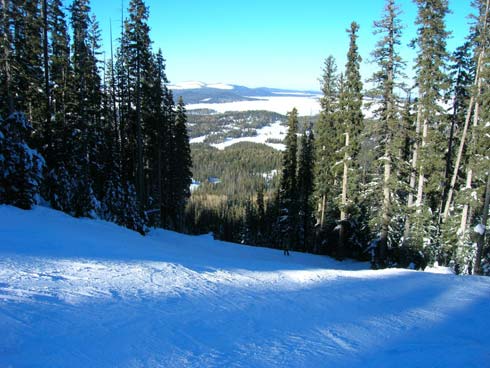 View from mid-mountain Sunrise Peak looking north. Volcanic cinder cones can be seen in the distance. Thanks to wikipedia.org for the picture.
---

My favorite memories of Sunrise Ski Resort involved skiing down the slopes with two of my daughters after they had been to a half day lesson. It was their first time skiing and they took to it like champs. I also remember a wonderful evening of night skiing. The mountain was simply amazing after dark, with plenty of light to see the trail, but not much else.

If night skiing interests you plan to be there next Jan. 16, Feb. 13 or Feb. 27. Those are the night skiing dates.

Whether you ski at night or during the day, or both, Sunrise Ski Resort is a pleasant experience for the entire family.
Sunrise Ski Resort Map & Directions (click on "Marker" for your personalized directions)
---
Have A Great Story (or question) About This Ski Resort?

Do you have a great story about this? Share it!


---
Best Family Ski Resorts | Cheap Ski Vacations | History of Snow Skiing | Top Ten Ski Resorts | Alta Ski Resort | Arapahoe Basin Ski Resort | Aspen Snowmass Ski Resort | Bear Creek Ski Resort | Best Ski Resorts Near Montreal | Big Boulder Ski Resorts | Big Sky Ski Resort | Bittersweet Ski Resort | Blue Mountain Ski Resort | Bluewood Ski Resort | Boreal Ski Resort | Boston Mills Ski Resort | Bousquet Ski Resort | Breckenridge Ski Resort | Brighton Ski Resort | Bromont Ski Resort | Camelback Ski Resort | Canada Ski Vacations | Chestnut Mountain Ski Resort | Colorado Ski Resort Jobs | Copper Mountain Ski Resort | Devil's Head Ski Resort | Diamond Peak Ski Resort | Dubai Ski Resort | Heavenly Valley Ski Resort | Hidden Valley Ski Resort | Holiday Valley Ski Resort | Homewood Ski Resort | Indianhead Mountain Ski Resort | Keystone Ski Resort | Killington Mountain Ski Resort | Liberty Ski Resort | Loveland Ski Resort | Mammoth Mountain Ski Resort | Michigan Ski Resorts | Monarch Ski Resort | Mountain High Ski Resort | Mt. Baker Ski Resort | Mt. Spokane Ski Resort | North Star Ski Resort | Peek N Peak Ski Resort | Red Mountain Ski Resort | Red River Ski Resort | Santa Fe Ski Resort | Sierra at Tahoe Ski Resort | Ski Areas Around Montreal | Ski Resorts in West Virginia | Smugglers' Notch Ski Resort | Snowbird Ski Resort | Snow Shoe Ski Resort | Soda Springs Ski Resort | Solitude Ski Resort Utah | Squaw Valley Ski Resort | Steamboat Ski Resort | Stratton Mountain Ski Resort | Suger Bowl Ski Resort | Tahoe Donner Ski Resort | Timberline Ski Resort | Vermont Ski Resorts | Whitetail Ski Resort |
---
From Sunrise Ski Resort to Ski Resort Reviews | Land of Snow Blog | Montreal | Winter Survival | Winter Activities For Children And Adults | Maple Syrup | Pictures of Snow | Snow Blogs | Review of Snow Blowers |
---
Home Page

About Us | Contact Us | Advertise | Site Search | Terms of Use |
---