The worlds largest snowfall on record happened at Mt. Baker Ski Resort about ten years ago. They received 1,140 inches in one season. While you can't expect that every year, you can expect some of the best snow in Washington at any given time. Some of the best snow in the world actually, as they have the highest annual snow fall of any ski resort (647 inches).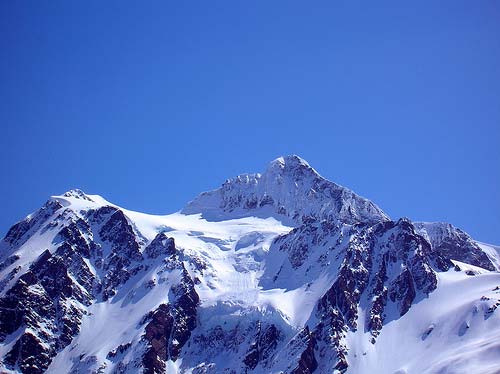 Mt. Baker Ski Resort view from top.
Thanks to Rusty O.P. for the picture at flickr.com
---
Mt. Baker Ski Resort is in Whatcom County at the end of State Route 542 in Glacier, Washington. It is a 1000 acre resort with a 1,500 foot vertical drop. The resort is located a few miles east of Mount Baker, a 10,778 foot high volcano.

The rugged wilderness found on this ski hill provides plenty of excitement for snowboarders and skiers. You will have 38 runs to choose from serviced by 9 lifts. The run breakdown is 31% advanced, 45% intermediate and 24% beginner.

Mt. Baker Ski Resort is also called the birthplace of snowboarding. And for good reason. When you combine the incredible views of the North Cascades and of Mt. Baker with the world famous powder and the natural wilderness you have the perfect snowboarding hill. That's why it is home to the Annual Legendary Banked Slalom.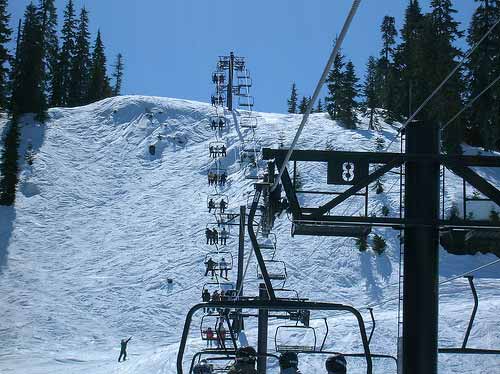 Mt. Baker chair 8 going up.
Thanks to Rusty O.P. for the picture at flickr.com
---

The actual address for this resort is 1019 Iowa St. Bellingham, WA 98229. They can be reached at 360-734-6771 or 360-671-0211 for the snow phone. They are 56 miles east of Bellingham, 2 1/2 hours from Seattle, a little over an hour from Abbotsford and 2 hours from Vancouver.

There is no overnight lodging at Mt. Baker Ski Area but there is a bus service servicing the nearby towns. Cascade Adventure's Baker Bus offers rides to Mt. Baker Ski Resort from the following towns, Bellingham, Kendall, Maple Falls, Glacier downtown and Glacier Chando parking lot.

Overnight parking is allowed if you have a self contained camper or RV. This is designated to only special areas in the Heather Meadows parking lot and the White Salmon parking lot.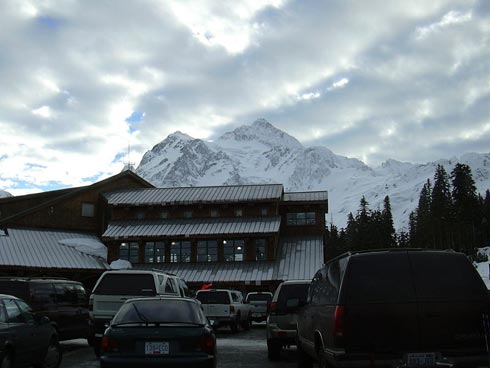 A view of the White Salmon lodge from the parking lot. Mt. Shuksan can be seen in the background. Thanks to wikipedia.org for the picture.
---

Mt. Baker Ski Resort offers ski rentals and lessons, with many packages available for beginners and more advanced skiers. If you are 13 or older with a skill level of 4 or above the Freeride program might be a good learning experience for you. This is on snow training in 8 two hour sessions. An emphasis is put on safety and fun. The focus is on efficient steps to improve your freeride and terrain park skills.

The Winter Ride program should be of interest to all residents of the nearby towns. They bus middle and high school students and chaperones to the Heather Meadows Base Area where the kids can rent equipment and take lessons. If you are a little beyond high school age, I mean like 50 and up, plan a visit on Senior Thursdays. These are three week sessions, two hours per session, for intermediate or above skiers.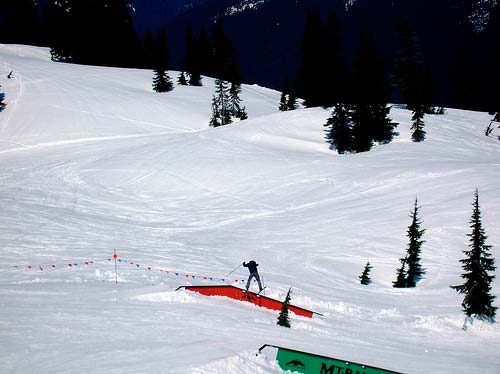 Mt. Baker Ski Resort skier hitting a rail.
Thanks to Rusty O.P. for the picture at flickr.com
---

Another interesting program at Mt. Baker is the 5th Graders Free Program. If you have a 5th grader, listen up. If they are enrolled in the program they ski free all season. The ratio is 2-1, meaning one paying adult can accompany two free fifth graders.

The season opening date depends on snow fall but usually happens near the middle of November. They want about 24-36 inches of snow on the ground before they open the runs. Once they are open you can get into the resort at 9 AM and must leave at 3:30 PM.

If you happen to plan your next ski trip to Mt. Baker Ski Resort chances are pretty good you will not be sorry you did.
Mt. Baker Ski Resort Map & Directions (click on "Marker" for your personalized directions)
---
Have A Great Story (or question) About This Ski Resort?

Do you have a great story about this? Share it!


---
Best Family Ski Resorts | Cheap Ski Vacations | History of Snow Skiing | Top Ten Ski Resorts | Alta Ski Resort | Arapahoe Basin Ski Resort | Aspen Snowmass Ski Resort | Bear Creek Ski Resort | Best Ski Resorts Near Montreal | Big Boulder Ski Resorts | Big Sky Ski Resort | Bittersweet Ski Resort | Blue Mountain Ski Resort | Bluewood Ski Resort | Boreal Ski Resort | Boston Mills Ski Resort | Bousquet Ski Resort | Breckenridge Ski Resort | Brighton Ski Resort | Bromont Ski Resort | Camelback Ski Resort | Canada Ski Vacations | Chestnut Mountain Ski Resort | Colorado Ski Resort Jobs | Copper Mountain Ski Resort | Devil's Head Ski Resort | Diamond Peak Ski Resort | Dubai Ski Resort | Heavenly Valley Ski Resort | Hidden Valley Ski Resort | Holiday Valley Ski Resort | Homewood Ski Resort | Indianhead Mountain Ski Resort | Keystone Ski Resort | Killington Mountain Ski Resort | Liberty Ski Resort | Loveland Ski Resort | Mammoth Mountain Ski Resort | Michigan Ski Resorts | Monarch Ski Resort | Mountain High Ski Resort | Mt. Spokane Ski Resort | North Star Ski Resort | Peek N Peak Ski Resort | Red Mountain Ski Resort | Red River Ski Resort | Santa Fe Ski Resort | Sierra at Tahoe Ski Resort | Ski Areas Around Montreal | Ski Resorts in West Virginia | Smugglers' Notch Ski Resort | Snowbird Ski Resort | Snow Shoe Ski Resort | Soda Springs Ski Resort | Solitude Ski Resort Utah | Squaw Valley Ski Resort | Steamboat Ski Resort | Stratton Mountain Ski Resort | Suger Bowl Ski Resort | Sunrise Ski Resort | Tahoe Donner Ski Resort | Timberline Ski Resort | Vermont Ski Resorts | Whitetail Ski Resort |
---
From Mt. Baker Ski Resort to Ski Resort Reviews | Land of Snow Blog | Montreal | Winter Survival | Winter Activities For Children And Adults | Maple Syrup | Pictures of Snow | Snow Blogs | Review of Snow Blowers |
---
Home Page

About Us | Contact Us | Advertise | Site Search | Terms of Use |
---