Diamond Peak Ski Resort is on the North Shore of Lake Tahoe in Incline Village, Nevada. They are just 35 miles from the Reno International Airport. Other nearby cities include Carson City and South Lake Tahoe, both 25 miles away. San Francisco is 255 miles and Sacramento is 135 miles away. For those using a GPS device just set your coordinance to latitude 39.253423 North and longitude 119.924005 West, that should get you there.
Diamond Peak has thirty trails, 18% beginner, 46% intermediate and 36% advanced. The longest run is 2.5 miles. They cover 655 acres of skiable terrain with an annual snowfall of 325 inches and 75% snowmaking ability. The vertical drop is 1,840 feet and the slopes are accessed by 6 lifts.

The more advanced skiing at Diamond Peak includes open bowls, trees and glades. There are plenty of gentle slopes for beginners and intermediate skiers. All the runs meet back at the base lodge, where you can always meet back up with the gang.

Diamond Peak Terrain Park is full of boxes, rails, table tops, kickers and a wall ride. The park is located on the Spillway run. There is also some beginner terrain on the Penguin run. These are small boxes and rails for boarders of all levels.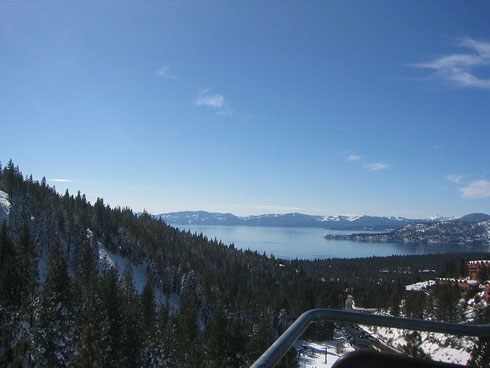 View of Lake Tahoe from a Diamond Peak ski lift.
Thanks to wikipedia.org for the picture.
---

Services at the base lodge include a rental shop, repair shop, ski and board lessons, a child ski center, a sports shop, restaurants and a shuttle service.

Incline Village offers many activities besides skiing. For off the slopes fun you could visit the movie theater or the bowling alley. The Recreation Center has a pool and a European sauna. Other options include the 24 hour casinos at Tahoe Biltmore, The Hyatt Regency and the Cal Neva Resort. For dancing you could try the Biltmore's nightclub Breeze.

Incline Village also has it's share of restaurants to take care of all your dining needs. The Big Water Grill is located very close to Diamond Peak, in fact, they share a parking lot. Visit Austin's for large portions of home cooking. For Mexican food and Margaritas try Hacienda de La Sierra. Located next to the movie theater is T's Rotisserie where tacos and burritos make for a fast lunch. For Thai food there is Thai Recipe and Yoshimi's for you sushi lovers.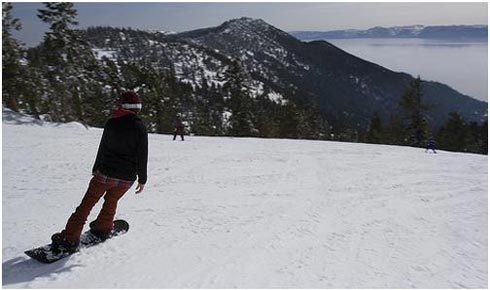 Diamond Peak resort in Incline Village on a powder day.
Thanks to RenoTahoe for the picture at flickr.com
---

Shopping at the village can be done at Raley's Shopping Center or the Village Shopping Center. The Village Ski Loft is the place to take care of all your ski needs with the best in equipment and clothing. Susie Scoops and Village Toys are also worth checking out.

There is no lodging at the slopes but plenty in Incline Village, near the resort. This list of nearby lodging is also serviced by the Diamond Peak Shuttle, so getting to the slopes is fast and easy. They include Tahoe Biltmore, Cal Neva Resort, Creekside East Condos, All Seasons Condos, Cub Tahoe, Third Creek Condos and Forest Pine Condos.

Other nearby ski resorts include Homewood, Squaw Valley, Mt. Rose, Northstar at Tahoe, Soda Springs and Tahoe Donner, all within twenty miles.

The ski season at Diamond Peak is December through April. They are open 9 am to 4 pm. They are located at 1210 Ski Way, Incline Village, Nevada 89451. Their phone number is 877-468-4397 or 775-832-1177.
Diamond Peak Ski Resort Map & Directions (click on "Marker" for your personalized directions)
---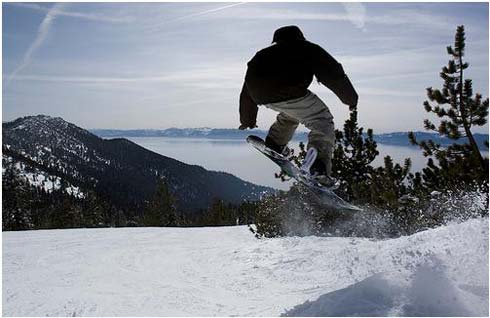 Ski in Diamond Peak Ski Resort on a powder day.
Thanks to RenoTahoe for the picture at flickr.com
---
Have A Great Story (or question) About This Ski Resort?

Do you have a great story about this? Share it!


---
Best Family Ski Resorts | Cheap Ski Vacations | History of Snow Skiing | Top Ten Ski Resorts | Alta Ski Resort | Arapahoe Basin Ski Resort | Aspen Snowmass Ski Resort | Bear Creek Ski Resort | Best Ski Resorts Near Montreal | Big Boulder Ski Resorts | Big Sky Ski Resort | Bittersweet Ski Resort | Blue Mountain Ski Resort | Bluewood Ski Resort | Boreal Ski Resort | Boston Mills Ski Resort | Bousquet Ski Resort | Breckenridge Ski Resort | Brighton Ski Resort | Bromont Ski Resort | Camelback Ski Resort | Canada Ski Vacations | Chestnut Mountain Ski Resort | Colorado Ski Resort Jobs | Copper Mountain Ski Resort | Devil's Head Ski Resort | Dubai Ski Resort | Heavenly Valley Ski Resort | Hidden Valley Ski Resort | Holiday Valley Ski Resort | Homewood Ski Resort | Indianhead Mountain Ski Resort | Keystone Ski Resort | Killington Mountain Ski Resort | Liberty Ski Resort | Loveland Ski Resort | Mammoth Mountain Ski Resort | Michigan Ski Resorts | Monarch Ski Resort | Mountain High Ski Resort | Mt. Baker Ski Resort | Mt. Spokane Ski Resort | North Star Ski Resort | Peek N Peak Ski Resort | Red Mountain Ski Resort | Red River Ski Resort | Santa Fe Ski Resort | Sierra at Tahoe Ski Resort | Ski Areas Around Montreal | Ski Resorts in West Virginia | Smugglers' Notch Ski Resort | Snowbird Ski Resort | Snow Shoe Ski Resort | Soda Springs Ski Resort | Solitude Ski Resort Utah | Squaw Valley Ski Resort | Steamboat Ski Resort | Stratton Mountain Ski Resort | Suger Bowl Ski Resort | Sunrise Ski Resort | Tahoe Donner Ski Resort | Timberline Ski Resort | Vermont Ski Resorts | Whitetail Ski Resort |
---
From Diamond Peak Ski Resort to Ski Resort Reviews | Land of Snow Blog | Montreal | Winter Survival | Winter Activities For Children And Adults | Maple Syrup | Pictures of Snow | Snow Blogs | Review of Snow Blowers |
---
Home Page

About Us | Contact Us | Advertise | Site Search | Terms of Use |
---