Bluewood Ski Resort, or Bluewood Ski Area, or Ski Bluewood, is located in southeastern Washington. It is just four miles north of the Oregon border and twenty one miles from Dayton. Spokane is 150 miles away, Colfax at 91 miles and the Tri-Cities are 83 miles away.
Ski Bluewood is high atop the Blue Mountains with the second highest base elevation in Washington. They are noted for uncrowded slopes, unlimited powder, some of the best tree skiing around, short lift lines, clear skis and dry powder.

Bluewood has 24 runs with 27% being easy, 43% intermediate and 30% advanced. The longest one is 2.2 miles. Getting up the slopes is done by 2 triple chairs and 1 surface lift. The vertical drop is 1125 feet. They have one terrain park and six backcountry runs.

At Bluewood they are eager to teach you how to ski with many different options available. They have one on one instruction and an instructor for the day option. Kinderski allows a child specialist to work with you and your child together. The Women's Workshops work to improve your skiing on many different levels. Group lessons include skiing and snowboarding, general lessons as well as First Timers, Platterpull Packages and Scouts.

The accommodations include a food service area for breakfast, lunch and snacks. The pub is good for drinks and sandwiches. They have a rental and a repair shop to take care of your ski and board needs. The Learning Center is for lessons and the Kids Club is for kids out of diapers and up to 3rd grade. Nancy's Treewell is the place for gifts and stuff you may have forgot.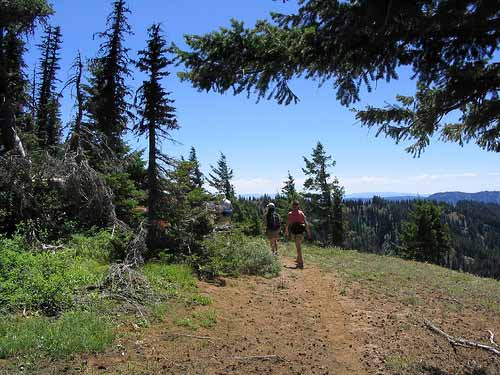 Blue Mountains south of Dayton, WA.
Thanks to ChasBirder for the picture at flickr.com
---

The lodging for Bluewood Ski Resort is not onsite but close by. The Weinhart Hotel has an Elegant Victorian feel and is in walking distance of Dayton's dining and nightlife. Nothing New Lodging is in the historic district of Waitsburg. Pamela Jane's Vacation Rental, also in Waitsburg, is a cozy cottage. The Purple House is a nearby bed and breakfast with a heated outdoor pool. Other lodging in Dayton includes the Blue Mountain Motel, the Bluewood View Lodging, Holly Hock Heaven, McCann Manor, Silver River Ranch RV Park, The Second Street Cottage and the Tucannon River RV Park.

Restaurants in the Dayton area include the Country Cupbard, Fiesta en Jalisco, Highway 12 Ristorante', Manila Bay Asian Cafe, Patit Creek Restaurant, Skye Book and Brew, The Sand Trap and Woody's Bar and Grill.

The Blue Mountains are included in, or surrounded by, the Malheur National Forest, the Wallowa-Whittman National Forest and the Umatilla National Forest. The area also includes several wilderness areas, the Wenaha-Tucannon Wilderness, Monument Rock Wilderness, Strawberry Mountain Wilderness and North Fork John Day Wilderness. These are just some of the many reasons to visit this area and explore to your hearts content.

The ski season at Bluewood is from mid November to mid April. The hours are 9 am to 4 pm Wednesday through Sunday. They can be reached at 509-382-4725. Mail can reach them at P.O. Box 88, Dayton, WA 99328.
Bluewood Ski Resort Map & Directions (click on "Marker" for your personalized directions)
---
Have A Great Story (or question) About This Ski Resort?

Do you have a great story about this? Share it!


---
Best Family Ski Resorts | Cheap Ski Vacations | History of Snow Skiing | Top Ten Ski Resorts | Alta Ski Resort | Arapahoe Basin Ski Resort | Aspen Snowmass Ski Resort | Bear Creek Ski Resort | Best Ski Resorts Near Montreal | Big Boulder Ski Resorts | Big Sky Ski Resort | Bittersweet Ski Resort | Blue Mountain Ski Resort | Boreal Ski Resort | Boston Mills Ski Resort | Bousquet Ski Resort | Breckenridge Ski Resort | Brighton Ski Resort | Bromont Ski Resort | Camelback Ski Resort | Canada Ski Vacations | Chestnut Mountain Ski Resort | Colorado Ski Resort Jobs | Copper Mountain Ski Resort | Devil's Head Ski Resort | Diamond Peak Ski Resort | Dubai Ski Resort | Heavenly Valley Ski Resort | Hidden Valley Ski Resort | Holiday Valley Ski Resort | Homewood Ski Resort | Indianhead Mountain Ski Resort | Keystone Ski Resort | Killington Mountain Ski Resort | Liberty Ski Resort | Loveland Ski Resort | Mammoth Mountain Ski Resort | Michigan Ski Resorts | Monarch Ski Resort | Mountain High Ski Resort | Mt. Baker Ski Resort | Mt. Spokane Ski Resort | North Star Ski Resort | Peek N Peak Ski Resort | Red Mountain Ski Resort | Red River Ski Resort | Santa Fe Ski Resort | Sierra at Tahoe Ski Resort | Ski Areas Around Montreal | Ski Resorts in West Virginia | Smugglers' Notch Ski Resort | Snowbird Ski Resort | Snow Shoe Ski Resort | Soda Springs Ski Resort | Solitude Ski Resort Utah | Squaw Valley Ski Resort | Steamboat Ski Resort | Stratton Mountain Ski Resort | Suger Bowl Ski Resort | Sunrise Ski Resort | Tahoe Donner Ski Resort | Timberline Ski Resort | Vermont Ski Resorts | Whitetail Ski Resort |
---
From Bluewood Ski Resort to Ski Resort Reviews | Land of Snow Blog | Montreal | Winter Survival | Winter Activities For Children And Adults | Maple Syrup | Pictures of Snow | Snow Blogs | Review of Snow Blowers |
---
Home Page

About Us | Contact Us | Advertise | Site Search | Terms of Use |
---