Breckenridge Ski Resort is located in Summit County, Colorado. It is near the town of Breckenridge. Breckenridge is one of the most popular ski destinations in the United States with visitors coming from all around the globe. The 300 plus inches of snow each year keep the slopes well covered., if not, 565 acres are ready with snowmaking equipment.
Breckenridge calls itself The Perfect Mountain and the Perfect Mountain Town. Featured here is the charm of an authentic Victorian Village with working breweries and plenty of fine dining restaurants, life music and plenty of nightlife.

Breckenridge Ski Resort also goes by the names Breckenridge or just Breck. It covers 2,358 acres with 155 runs divided like this, 14% beginner, 31% intermediate, 19% advanced and 36% expert. The longest run is Four O'Clock at three and a half miles.

Getting you to the tops of the slopes are 30 lifts, 1 gondola, 2 high speed 6 passenger super chairs, 7 high speed quad chairs, 1 triple chair, 6 double chairs and 13 surface.

There are 25 acres of terrain parks at Breckenridge. Snowboarders can enjoy five different parks and four pipes. The Superpipe is a favorite with eighteen and a half foot walls. The Freeway Terrain Park is ranked as one of the best in the country.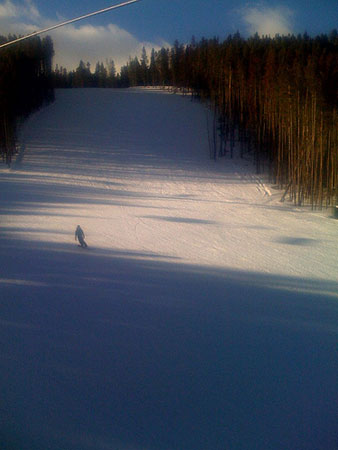 Breckenridge Ski Resort.
Thanks to indigoprime for the picture at flickr.com
---

Just for the little ones are places like the Breckenridge Recreation Center, the Might Mite Climbing Wall, Carte Park for sledding, Ice Skating at Stephan C. West Ice Arena, Eric's Arcade and Mountain Top Children's Museum. And if you are looking to escape the kids for a while, and there is nothing wrong with that now and then, try one of these child care services. The Breckenridge Children's Centers, the Breckenridge Recreation Center, the Kid's Night out Program, the Summit Sitters and the Resort Sitters.

Breckenridge Ski Resort is owned by Vail Resorts, owner of Vail, Beaver Creek and Keystone ski resorts in Colorado and Heavenly Ski Resort at Lake Tahoe. It is about a hundred miles from Denver and Colorado Springs.

The ski season at Breck is sometime in November to mid April. The lift hours are 8:30 am to 4:00 pm and the gondola hours are 8:00 am to 5:00 pm.

Lodging is plentiful at Breckenridge Ski Resort with your choice of hotels, homes, condominiums, bed and breakfast inns and RV hook ups at Tiger Run RV Resort.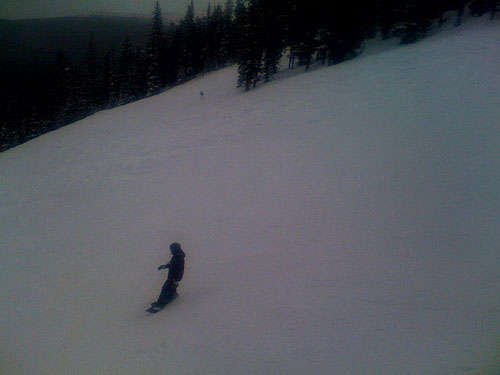 Fantastic snow on Breckenridge Ski Resort.
Thanks to indigoprime for the picture at flickr.com
---

The town of Breckenridge offers a host of activities like shopping, movies, over 100 restaurants, 40 bars and nightclubs, live theater and historic tours. Don't miss the award winning beer at Breckenridge Brewery, the night life at Cecilia's or the live music at Blue River Bistro. In and around the area you can also enjoy fly fishing, mountain biking, river rafting, horseback riding, canoeing and the Fun Park. Inside the Fun Park are slides, a maze, a climbing wall and chairlift rides.

Wineries and breweries are abundant in and around Breckenridge. Colorado can brag more breweries per capita than any other state. Most of these breweries offer tours and tasting. The Colorado Wine Trail has more than 90 different wineries. This is from the Grand Valley to the West Elks to the Front Range. You will enjoy the tasting and tours these wineries offer.

The address for Breckenridge is 1599 C Summit County Rd. 3, Breckenridge, Colorado 80424. Reach them by phone at 970-453-5000.
Breckenridge Ski Resort Map & Directions (click on "Marker" for your personalized directions)
---
Have A Great Story (or question) About This Ski Resort?

Do you have a great story about this? Share it!


---
Best Family Ski Resorts | Cheap Ski Vacations | History of Snow Skiing | Top Ten Ski Resorts | Alta Ski Resort | Arapahoe Basin Ski Resort | Aspen Snowmass Ski Resort | Bear Creek Ski Resort | Best Ski Resorts Near Montreal | Big Boulder Ski Resorts | Big Sky Ski Resort | Bittersweet Ski Resort | Blue Mountain Ski Resort | Bluewood Ski Resort | Boreal Ski Resort | Boston Mills Ski Resort | Bousquet Ski Resort | Brighton Ski Resort | Bromont Ski Resort | Camelback Ski Resort | Canada Ski Vacations | Chestnut Mountain Ski Resort | Colorado Ski Resort Jobs | Copper Mountain Ski Resort | Devil's Head Ski Resort | Diamond Peak Ski Resort | Dubai Ski Resort | Heavenly Valley Ski Resort | Hidden Valley Ski Resort | Holiday Valley Ski Resort | Homewood Ski Resort | Indianhead Mountain Ski Resort | Keystone Ski Resort | Killington Mountain Ski Resort | Liberty Ski Resort | Loveland Ski Resort | Mammoth Mountain Ski Resort | Michigan Ski Resorts | Monarch Ski Resort | Mountain High Ski Resort | Mt. Baker Ski Resort | Mt. Spokane Ski Resort | North Star Ski Resort | Peek N Peak Ski Resort | Red Mountain Ski Resort | Red River Ski Resort | Santa Fe Ski Resort | Sierra at Tahoe Ski Resort | Ski Areas Around Montreal | Ski Resorts in West Virginia | Smugglers' Notch Ski Resort | Snowbird Ski Resort | Snow Shoe Ski Resort | Soda Springs Ski Resort | Solitude Ski Resort Utah | Squaw Valley Ski Resort | Steamboat Ski Resort | Stratton Mountain Ski Resort | Suger Bowl Ski Resort | Sunrise Ski Resort | Tahoe Donner Ski Resort | Timberline Ski Resort | Vermont Ski Resorts | Whitetail Ski Resort |
---
From Breckenridge Ski Resort to Ski Resort Reviews | Land of Snow Blog | Montreal | Winter Survival | Winter Activities For Children And Adults | Maple Syrup | Pictures of Snow | Snow Blogs | Review of Snow Blowers |
---
Home Page

About Us | Contact Us | Advertise | Site Search | Terms of Use |
---