Snow Shoe Ski Resort, or Snowshoe Mountain, is located in Pocahontas County, West Virginia, right in the middle of the Monongahelia National Forest, in the Allegheny Mountains. The second highest spot in the state is found at Snowshoe with a height of 4,848 feet above sea level.
The resort is actually located on Cheat Mountain and comprises both the Snowshoe and the Silver Creek ski areas. The combined areas account for 244 acres of skiing. There are 60 runs with a vertical drop of 1,500 feet. The longest run is one and a half miles. The service to the runs is by 14 chairlifts with a capacity of 23,400 skiers per hour. The 100% snowmaking helps to keep the resort open all ski season, helping out the yearly average of 180 inches of real snow. The average season lasts 131 days.

The most advance black diamond runs are in the Western Territory where you will find a 60% pitch for over a mile. The advanced runs amount to only 5% of the runs with 45% beginner, 27% intermediate and 23% expert.

Other winter activities besides skiing and boarding to keep you busy are cross country skiing, snowcat tours, snowmobiling and snowshoe tours. And when it's time to relax, try the pools, hot tubs arcades or mini golf.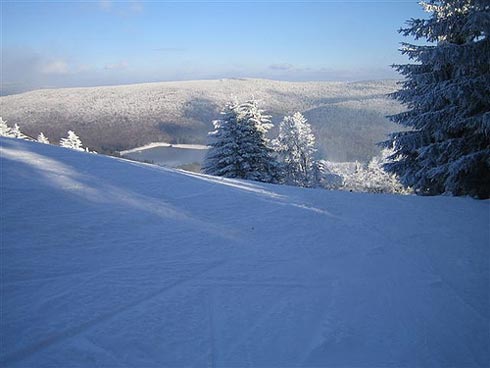 Snow Shoe Ski Area.
Thanks to shortstopeleven for the picture at flickr.com
---

Snowshoe Mountain is a year round destination for fun with loads of activities in and around the resort. Shaver's Lake has a beach, boat rentals and scenic lift rides. At the Outpost Adventure Park the climbing wall, the miniature golf course, the sand volley ball, the BMX area, the skate park and the playground are all sure to entertain you. Snowshoe Mountain Outfitters has flyfishing for trout. Some of the other activities available to you are carriage rides, rock climbing at Seneca Rocks, whitewater rafting, disc golf, extreme golf, guided Hydrotraxx Amphibious ATV tours, paintball and horseback riding.

If all that is not enough fun for you, and you want to venture off the resort, you could visit the nearby Booker T Washington National Monument. The Raven Golf Club is a short three miles away in Snowshoe. Hiking and snowshoeing trails in the area are Peters Mountain Trail, Hill Top Trail and Scarlet Oak Trail. The Greenbrier River is just a few miles away and has plenty of white water rafting.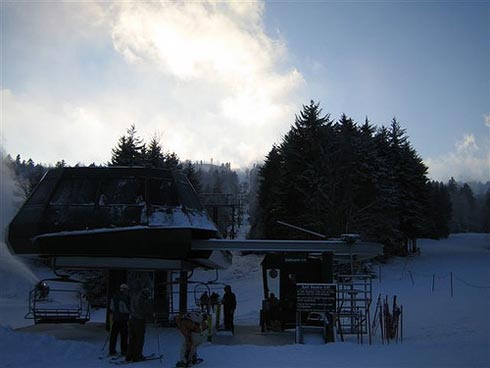 Snow Shoe Ski Lift.
Thanks to shortstopeleven for the picture at flickr.com
---

Lodging at Snowshoe Mountain can be found in one of over a thousand condominiums or the many lodge hotel units. The most recent addition is the Seneca Lodge in the north portion of the Village of Snowshoe. Other choices are the Rimfire Lodge, the Highland House and Allegheny Springs.

Snowshoe Mountain Ski Resort is as much about food as it is skiing. The Boathouse, Brandi's at the Inn at Snowshoe, Cheat Mountain Pizza Company, Ember, Foxfire Grille, Hearth, Junction Restaurant, Marketplace, Red Rover, Shavers Centre, Starbucks Coffee, Taste of Asia, Wildcat Provisions, Misty's, Arbuckles Cabin, Auntie Pasta's, Bear's Den, Black Run Sugar House and Hoot's Bar and Grill should easily take care of all your dining needs. If not, the rest of Pocahontas County is full of many more dining options.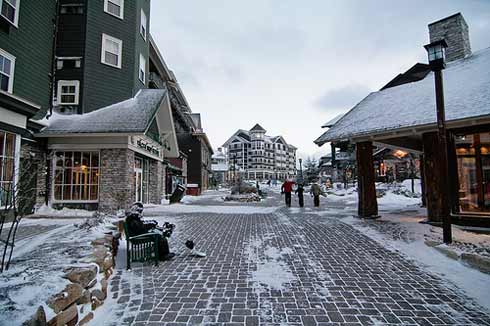 Snowshoe Mountain Resort Village.
Thanks to Marvin Kuo for the picture at flickr.com
---

Your night life options are as good as your dining choices. Spend your nights at the Comedy Cellar, The Moonshine Watering Hole, Misty's Sports Bar, Hoot's or the Connection Night Club. If these are not enough, just look around, there are plenty of other night spots.

Shopping at Snowshoe is abundant also with choices like The Tool Shed, High Country Clothing, Mountain Kids, Mountain Adventure Center, Pocahontas Supply Company and Full Tilt Snow Style and Skate. If these are not enough, there are more.

Snowshoe Mountain Resort is owned by Intrawest and they can be reached at 304-572-4636. The address is 1 Snowshoe Drive, Snowshoe, West Virginia.
Snow Shoe Ski Resort Map & Directions (click on "Marker" for your personalized directions)
---
Have A Great Story (or question) About This Ski Resort?

Do you have a great story about this? Share it!


---
Best Family Ski Resorts | Cheap Ski Vacations | History of Snow Skiing | Top Ten Ski Resorts | Alta Ski Resort | Arapahoe Basin Ski Resort | Aspen Snowmass Ski Resort | Bear Creek Ski Resort | Best Ski Resorts Near Montreal | Big Boulder Ski Resorts | Big Sky Ski Resort | Bittersweet Ski Resort | Blue Mountain Ski Resort | Bluewood Ski Resort | Boreal Ski Resort | Boston Mills Ski Resort | Bousquet Ski Resort | Breckenridge Ski Resort | Brighton Ski Resort | Bromont Ski Resort | Camelback Ski Resort | Canada Ski Vacations | Chestnut Mountain Ski Resort | Colorado Ski Resort Jobs | Copper Mountain Ski Resort | Devil's Head Ski Resort | Diamond Peak Ski Resort | Dubai Ski Resort | Heavenly Valley Ski Resort | Hidden Valley Ski Resort | Holiday Valley Ski Resort | Homewood Ski Resort | Indianhead Mountain Ski Resort | Keystone Ski Resort | Killington Mountain Ski Resort | Liberty Ski Resort | Loveland Ski Resort | Mammoth Mountain Ski Resort | Michigan Ski Resorts | Monarch Ski Resort | Mountain High Ski Resort | Mt. Baker Ski Resort | Mt. Spokane Ski Resort | North Star Ski Resort | Peek N Peak Ski Resort | Red Mountain Ski Resort | Red River Ski Resort | Santa Fe Ski Resort | Sierra at Tahoe Ski Resort | Ski Areas Around Montreal | Ski Resorts in West Virginia | Smugglers' Notch Ski Resort | Snowbird Ski Resort | Soda Springs Ski Resort | Solitude Ski Resort Utah | Squaw Valley Ski Resort | Steamboat Ski Resort | Stratton Mountain Ski Resort | Suger Bowl Ski Resort | Sunrise Ski Resort | Tahoe Donner Ski Resort | Timberline Ski Resort | Vermont Ski Resorts | Whitetail Ski Resort |
---
From Snow Shoe Ski Resort to Ski Resort Reviews | Land of Snow Blog | Montreal | Winter Survival | Winter Activities For Children And Adults | Maple Syrup | Pictures of Snow | Snow Blogs | Review of Snow Blowers |
---
Home Page

About Us | Contact Us | Advertise | Site Search | Terms of Use |
---