Devil's Head Ski Resort is located in south central Wisconsin in the Baraboo Bluffs region. They are just three hours from Chicago and just over thirty minutes from Madison and Milwaukee. Devil's head is a preferred ski area for many mid western skiers.
There are 30 runs at Devil's head covering 250 acres. The longest one is 1.5 miles with a vertical drop of 500 feet. The skill levels are 30% beginner, 40% intermediate and 30% advanced. The runs are accessed by 3 quad chairs, 1 triple chair, 6 double chairs and 2 magic carpets. The slopes have 100% snow making capability.


Beginners should stay on the tails marked Pete's Dragon, Devil's Playground and The Burns. More advanced skiers can try Chicken Ridge, Dante's Inferno, Dante's Cutoff, Cauldron's Cutoff and The Cauldron. The rest of you can enjoy Devil's Alley, Cyclops, Lower Cyclops, Lower Serpent, The Serpent's Escape, The Way Over, Outer Limits, Revenge Runout, Devil's Air Park, Cyclops Chute, The Serpent's Mogul, The Serpent, Roundabout, The Zone and Sidewinder.

Devil's Head has a terrain park with features such as gap jumps, table tops, spines, rails, boxes and a halfpipe. The Cross Country trail is 3.5 miles and takes off from hole one of the golf course and loops it's way around the course.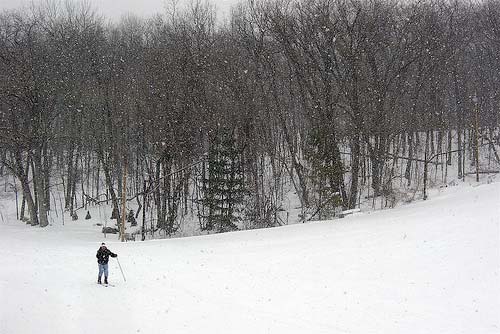 Devil's Head Spring Snowfall.
Thanks to Bitterroot for the picture at flickr.com
---

Lodging at Devil's Head Ski Resort is in one of the 250 guest rooms. These rooms are just steps away from the slopes, the golf course or a swimming pool. The Glacier Ridge Condominiums are an option also and they overlook the Glacier Golf Course.

Enjoy eating at one of the five restaurants at the resort. Choose from between the snack bar, the bar and grill, a fine dining restaurant a family restaurant or a cafeteria. Included in these choices are the Cliffhaus Cafe, Dantes Restaurant, Cornucopia Restaurant, Smokies Restaurant and the Avalanche Bar and Grill. The evening hours can be spent at either the Devil's Den Bar, with live entertainment on Saturday nights, or the Avalanche Bar and Grill.

The resort offers ski lessons, including programs for the kids. Child care is also available. Your rental needs can be taken care of here as well.

Other activities at the resort include the outdoor hot tubs, an indoor pool, hiking, tennis, golf and mountain biking. In the nearby vicinity you could visit Parfrey's Glen, Devil's Lake State Park, Circus World Museum, Wollershein Winery, the Wisconsin Dells Waterpark or the Ho Chunk Casino.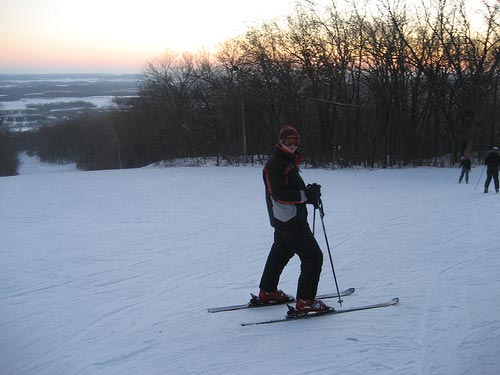 Christmas Eve Skiing at Devil's Head Ski Resort.
Thanks to Noelle And Mike for the picture at flickr.com
---

Other ski resorts in the area include Nordic Mountain at 52 miles away, Tyrol Basin at 23 miles, Christmas Mountain at 19 miles and Cascade Mountain at 11 miles away.

The lifts at Devil's Head open at 9 am Saturday and Sunday. They open at 10 am Monday through Friday. Closing is at 9 pm Sunday through Wednesday and 10 pm Thursday through Saturday. You may have noticed by the hours that the slopes are open for night skiing seven nights a week.

The address is Devil's Head Resort, S6330 Bluff Road, Merrimac, WI 53561. To get there take I90/94 to exit 108A. Follow highway 78 south for about 8 miles. Turn right at highway DL. Take another right onto Bluff Road and right again at the Devil's Head sign.
Devil's Head Ski Resort Map & Directions (click on "Marker" for your personalized directions)
---
Have A Great Story (or question) About This Ski Resort?

Do you have a great story about this? Share it!


---
Best Family Ski Resorts | Cheap Ski Vacations | History of Snow Skiing | Top Ten Ski Resorts | Alta Ski Resort | Arapahoe Basin Ski Resort | Aspen Snowmass Ski Resort | Bear Creek Ski Resort | Best Ski Resorts Near Montreal | Big Boulder Ski Resorts | Big Sky Ski Resort | Bittersweet Ski Resort | Blue Mountain Ski Resort | Bluewood Ski Resort | Boreal Ski Resort | Boston Mills Ski Resort | Bousquet Ski Resort | Breckenridge Ski Resort | Brighton Ski Resort | Bromont Ski Resort | Camelback Ski Resort | Canada Ski Vacations | Chestnut Mountain Ski Resort | Colorado Ski Resort Jobs | Copper Mountain Ski Resort | Diamond Peak Ski Resort | Dubai Ski Resort | Heavenly Valley Ski Resort | Hidden Valley Ski Resort | Holiday Valley Ski Resort | Homewood Ski Resort | Indianhead Mountain Ski Resort | Keystone Ski Resort | Killington Mountain Ski Resort | Liberty Ski Resort | Loveland Ski Resort | Mammoth Mountain Ski Resort | Michigan Ski Resorts | Monarch Ski Resort | Mountain High Ski Resort | Mt. Baker Ski Resort | Mt. Spokane Ski Resort | North Star Ski Resort | Peek N Peak Ski Resort | Red Mountain Ski Resort | Red River Ski Resort | Santa Fe Ski Resort | Sierra at Tahoe Ski Resort | Ski Areas Around Montreal | Ski Resorts in West Virginia | Smugglers' Notch Ski Resort | Snowbird Ski Resort | Snow Shoe Ski Resort | Soda Springs Ski Resort | Solitude Ski Resort Utah | Squaw Valley Ski Resort | Steamboat Ski Resort | Stratton Mountain Ski Resort | Suger Bowl Ski Resort | Sunrise Ski Resort | Tahoe Donner Ski Resort | Timberline Ski Resort | Vermont Ski Resorts | Whitetail Ski Resort |
---
From Devil's Head Ski Resort to Ski Resort Reviews | Land of Snow Blog | Montreal | Winter Survival | Winter Activities For Children And Adults | Maple Syrup | Pictures of Snow | Snow Blogs | Review of Snow Blowers |
---
Home Page

About Us | Contact Us | Advertise | Site Search | Terms of Use |
---