With the slopes starting just hundreds of feet from Lake Tahoe, Homewood Ski Resort is one of the most scenic ski resorts in the world. You are literally skiing down the slopes with the view of the lake below you. Homewood Mountain Resort is located on the west shore of Lake Tahoe in California.
Homewood is one hour from Reno, two hours from Sacramento and three hours from San Francisco. It is just six miles from Tahoe City and nineteen miles north of South Lake Tahoe.

To ask questions about your next trip call them at 530-525-2992. The snow phone is 530-525-2900. The season at Homewood is December through mid April. The resort services include lessons, rentals, repair shop, retail store and a day lodge.

The skiing at Homewood Ski Resort is a good mix of intermediate and expert runs, 59 in all. Some of them, although somewhat short, can be very steep. But overall it is not real challenging for an expert skier but a wonderful place for beginners and intermediates. The overall mix is 15% beginner, 35% advanced and 50% intermediate.

The mountain is serviced by eight lifts, 2 quad chairs, 3 triple chairs and 4 surface lifts. The resort covers twelve hundred and sixty acres and has a one thousand six hundred fifty foot vertical rise.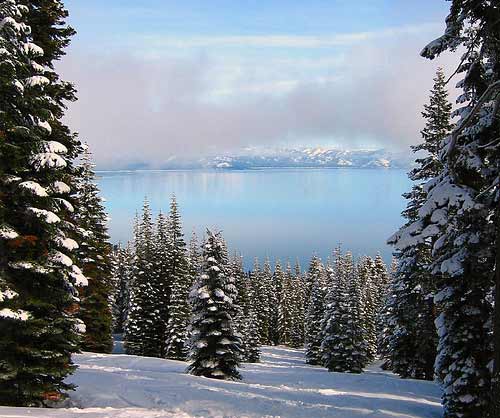 Dreams of a Lake Tahoe Morning...
Thanks to Mojo 2005 for the picture at flickr.com
---

Aside from the astounding scenery Homewood is best know for it's affordable prices. They don't have all the amenities of the bigger resorts, not do they have the best snow in California, but they do have prices that allow an entire family to get out and enjoy a pleasant day of skiing.

Along with the affordable prices you will probably not see any lift lines or excessive traffic. What you will see are breathtaking views of the lake and plenty of friendly faces.

Eating at the ski resort can be one of the best parts of the trip. They take great pride in the South Lodge Patio BBQ, with some of the best top sirloin steaks and oak fried half chickens. A warm drink and a sit by the fire in the South Lodge Bar is a favorite for many visitors.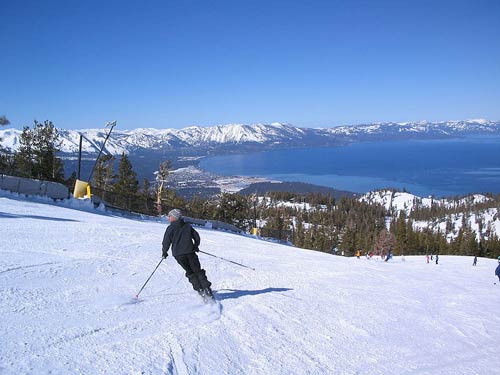 Ski slopes overlooking Lake Tahoe.
Thanks to wikipedia.org for the picture.
---

The North Patio BBQ is open on weekends with burgers, dogs and much more. The Ridge Pub is located at the North lodge where you can watch one of several flat screen TV's while enjoying drinks and appetizers. The Mid Mountain Pavilion serves drinks and sandwiches and offers a view that compares to none.

One of the more popular ways to truly enjoy the South Lodge is to enroll your kids in the Snow Sports Center. They can learn to ski while you look on with your favorite drink in hand.

The Children's Center has the Snow Ranger Academy where kids 4-12 are taught the fundamentals of skiing. They have their own little ski run, just for the students. Children's private lessons are also available.

There is no overnight lodging at Homewood Ski Resort but there is a shuttle from nearby Tahoe City. To arrange for this service call 530-525-2992 and give them twenty four hours notice.
Homewood Ski Resort Map & Directions (click on "Marker" for your personalized directions)
---
Have A Great Story (or question) About This Ski Resort?

Do you have a great story about this? Share it!


---
Best Family Ski Resorts | Cheap Ski Vacations | History of Snow Skiing | Top Ten Ski Resorts | Alta Ski Resort | Arapahoe Basin Ski Resort | Aspen Snowmass Ski Resort | Bear Creek Ski Resort | Best Ski Resorts Near Montreal | Big Boulder Ski Resorts | Big Sky Ski Resort | Bittersweet Ski Resort | Blue Mountain Ski Resort | Bluewood Ski Resort | Boreal Ski Resort | Boston Mills Ski Resort | Bousquet Ski Resort | Breckenridge Ski Resort | Brighton Ski Resort | Bromont Ski Resort | Camelback Ski Resort | Canada Ski Vacations | Chestnut Mountain Ski Resort | Colorado Ski Resort Jobs | Copper Mountain Ski Resort | Devil's Head Ski Resort | Diamond Peak Ski Resort | Dubai Ski Resort | Heavenly Valley Ski Resort | Hidden Valley Ski Resort | Holiday Valley Ski Resort | Indianhead Mountain Ski Resort | Keystone Ski Resort | Killington Mountain Ski Resort | Liberty Ski Resort | Loveland Ski Resort | Mammoth Mountain Ski Resort | Michigan Ski Resorts | Monarch Ski Resort | Mountain High Ski Resort | Mt. Baker Ski Resort | Mt. Spokane Ski Resort | North Star Ski Resort | Peek N Peak Ski Resort | Red Mountain Ski Resort | Red River Ski Resort | Santa Fe Ski Resort | Sierra at Tahoe Ski Resort | Ski Areas Around Montreal | Ski Resorts in West Virginia | Smugglers' Notch Ski Resort | Snowbird Ski Resort | Snow Shoe Ski Resort | Soda Springs Ski Resort | Solitude Ski Resort Utah | Squaw Valley Ski Resort | Steamboat Ski Resort | Stratton Mountain Ski Resort | Suger Bowl Ski Resort | Sunrise Ski Resort | Tahoe Donner Ski Resort | Timberline Ski Resort | Vermont Ski Resorts | Whitetail Ski Resort |
---
From Homewood Ski Resort to Ski Resort Reviews | Land of Snow Blog | Montreal | Winter Survival | Winter Activities For Children And Adults | Maple Syrup | Pictures of Snow | Snow Blogs | Review of Snow Blowers |
---
Home Page

About Us | Contact Us | Advertise | Site Search | Terms of Use |
---