Hidden Valley Ski Resort is located in the Laurel Mountains of south west Pennsylvania. They are 60 miles from Pittsburgh and 135 miles from Harrisburg. Hidden Valley is a four season resort in an area of Pennsylvania well known for it's outdoor recreation.
The ski season at Hidden Valley is December through April There are 28 trails, 11 easy, 10 intermediate, 5 advanced and 2 expert runs. The vertical drop on the mountain is 470 feet. The lifts are 2 quads, 2 triple chairs, 1 double chairs, 2 surface lifts and 2 handle tows.

Bobcat is the name of the only beginner run. The novice skiers should stay on Voyager, Jetta, Intrepid, Avenger, Tracker, Model T, Lower Continental, Ramble and Continental Terrain Park.

Intermediate skiers should use the runs named Mustang, Blazer, Wrangler, Comet, The Bug, Cougar, Cherokee, Upper Continental, Imperial, Cobra, Stingray, Riviera, Jaguar Terrain Park and Outback.

The advanced runs are Barracuda, Viper, Road Runner, Thunderbird and Firebird. The expert runs are Jaguar Halfpipe, Charger, Jaguar Terrain Park and Cobra Glades.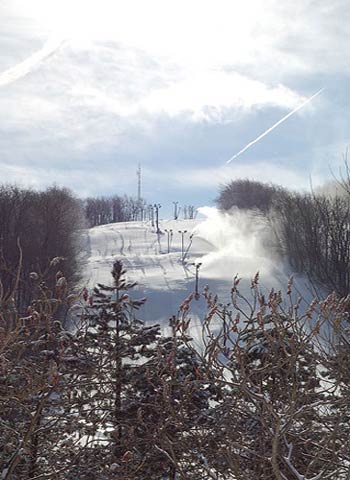 Hidden Valley Ski Resort.
Thanks to yapsnaps for the picture at flickr.com
---

Summer fun at Hidden Valley starts at the Lake George Activities Center for mountain bike rentals, paddleboats, mountain boarding and fishing. The mountain biking will take you through the Forbes State Forest and the connecting Laurel Highlands, over miles and miles of trails. Norco mountain bikes are available at the rental shop.

At the Hidden Valley Stables you can enjoy guided trail rides on horse back and pony rides for the kids. The Hidden Valley Sports Club has pools and work out equipment and the full service spa can take care of all your stress.

Lodging is available at the resort in the Four Seasons Lodges. They are part of the original development at Hidden Valley and are still in use today. Each room has a fireplace and a small fridge. Dining at the resort is at either the Clock Tower Restaurant, Mulligans Bar and Grill or the Falling Leaf Restaurant and Black Diamond Pub and Grill.

There is so much to do in this part of the country, whether it is summer or winter, you probably won't be spending all your time at the resort. The kids would love a trip to Idlewild and SoakZone, or Caddie Shak Family Fun Park or the Living Treasures Animal Park. And the adults might enjoy visiting a winery like Glades Pike Winery or Stone Villa Wine Cellars or Greendance Winery.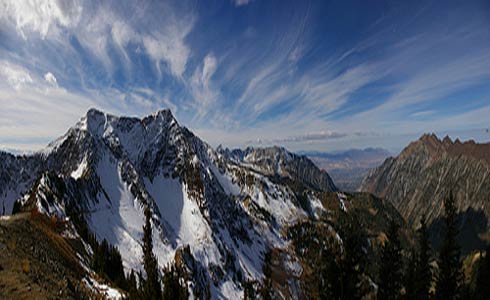 Snowbird - Top of Hidden Peak.
Thanks to zaui for the picture at flickr.com
---

Cultural interests can be found at Frank Lloyd Wright's Duncan House at Polymath Park Resort, Mountain Playhouse and Green Stable, Fort Necessity, Quecreek Mine Rescue or Flight 93 Memorial.

For outdoor fun and exercise try visiting Forbes State Forest, Great Allegheny Passage, Kooser State Park, Laurel Hill State Park or go to Wilderness Voyageurs for a trip down the river.

The hours of operation at Hidden Valley Ski Resort are Monday through Wednesday 10 am to 8 pm. Thursdays are 10 am to 9:30 pm, Fridays and Saturdays are 9 am to 9:30 pm. On Sunday the hours are 9 am to 8 pm. The phone number is 814-443-8000. Their address is Hidden Valley Resort, One Craighead Drive, Hidden Valley, PA 15502.
Hidden Valley Ski Resort Map & Directions (click on "Marker" for your personalized directions)
---
Have A Great Story (or question) About This Ski Resort?

Do you have a great story about this? Share it!


---
Best Family Ski Resorts | Cheap Ski Vacations | History of Snow Skiing | Top Ten Ski Resorts | Alta Ski Resort | Arapahoe Basin Ski Resort | Aspen Snowmass Ski Resort | Bear Creek Ski Resort | Best Ski Resorts Near Montreal | Big Boulder Ski Resorts | Big Sky Ski Resort | Bittersweet Ski Resort | Blue Mountain Ski Resort | Bluewood Ski Resort | Boreal Ski Resort | Boston Mills Ski Resort | Bousquet Ski Resort | Breckenridge Ski Resort | Brighton Ski Resort | Bromont Ski Resort | Camelback Ski Resort | Canada Ski Vacations | Chestnut Mountain Ski Resort | Colorado Ski Resort Jobs | Copper Mountain Ski Resort | Devil's Head Ski Resort | Diamond Peak Ski Resort | Dubai Ski Resort | Heavenly Valley Ski Resort | Holiday Valley Ski Resort | Homewood Ski Resort | Indianhead Mountain Ski Resort | Keystone Ski Resort | Killington Mountain Ski Resort | Liberty Ski Resort | Loveland Ski Resort | Mammoth Mountain Ski Resort | Michigan Ski Resorts | Monarch Ski Resort | Mountain High Ski Resort | Mt. Baker Ski Resort | Mt. Spokane Ski Resort | North Star Ski Resort | Peek N Peak Ski Resort | Red Mountain Ski Resort | Red River Ski Resort | Santa Fe Ski Resort | Sierra at Tahoe Ski Resort | Ski Areas Around Montreal | Ski Resorts in West Virginia | Smugglers' Notch Ski Resort | Snowbird Ski Resort | Snow Shoe Ski Resort | Soda Springs Ski Resort | Solitude Ski Resort Utah | Squaw Valley Ski Resort | Steamboat Ski Resort | Stratton Mountain Ski Resort | Suger Bowl Ski Resort | Sunrise Ski Resort | Tahoe Donner Ski Resort | Timberline Ski Resort | Vermont Ski Resorts | Whitetail Ski Resort |
---
From Hidden Valley Ski Resort to Ski Resort Reviews | Land of Snow Blog | Montreal | Winter Survival | Winter Activities For Children And Adults | Maple Syrup | Pictures of Snow | Snow Blogs | Review of Snow Blowers |
---
Home Page

About Us | Contact Us | Advertise | Site Search | Terms of Use |
---