Some of the more noteworthy Vermont ski resorts are Killington Ski Resort, Mount Snow Ski Resort, Stowe Mountain Ski Resort, Stratton Mountain Ski Resort and Sugarbush Ski Resort.
Killington Ski Resort is one of Vermont's most popular ski areas. This resort extends over seven mountains and has 141 trails. Killington Peak is the second highest in Vermont with a vertical drop of 3,050 feet. The mountains that make up Killington are Snowshed, Rams Head, Snowdon Mountain, Killington Peak, Skye Peak, Bear Mountain, Sunrise Mountain and Pico Mountain. The average snowfall on these mountains is 250 inches a year. With the help of their snowmaking capability the resort has one of the longest ski seasons in the east.

Mount Snow Ski Resort is the closest ski resort in Vermont to the New York City area. It is also very accessible to Connecticut and Massachusetts residents. It is spread across five different mountains with east, south and north facing slopes. The 588 acres of skiable terrain make Mount Snow the second largest ski resort in Vermont. While there is plenty of terrain for all levels of skiers, the daring among you, will love the steeps off the north face of the Main Mountain.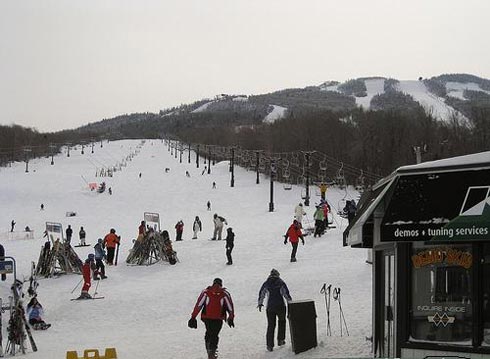 Looking up Snowshed slope from the Snowshed Lodge in Killington, VT.
Thanks to kBasarab for the picture at flickr.com
---

Near the town of Stowe is the Stowe Mountain Resort. This resort covers two mountains, Mount Mansfield and Spruce Peak. Mount Mansfield is the tallest mountain in Vermont with a summit elevation of 4,393 feet above sea level. The resort has 116 runs and covers 485 acres. Toll Road is the longest run going a distance of 4.3 miles. The resort is capable of 90% snowmaking keeping it in full operation for as much of the season as possible.

Stratton Mountain Ski Resort claims to be the "Snowboarding Capital of the East" and was the first eastern resort to allow it. They currently have 4 terrain parks and 2 pipes for their dedicated following of boarders. Skiers enjoy the 583 acres and 90 trails serviced by 13 lifts.

Located forty five miles from Burlington, in the Mad River Valley, is Sugarbush Ski Resort. It is located on 508 acres and has 111 runs. If you are an experienced skier, and want to test your skills, head for Castlerock Peak. From Lincoln Peak there is a short moguled trail to the Castlerock chair lift. Take it up and enjoy the trip down. Sugarbush consists of two mountains separated by Slide Brook Basin. Lincoln Peak is the main mountain and to the north is Mt. Ellen, featuring one of the largest continuous vertical drops in Vermont.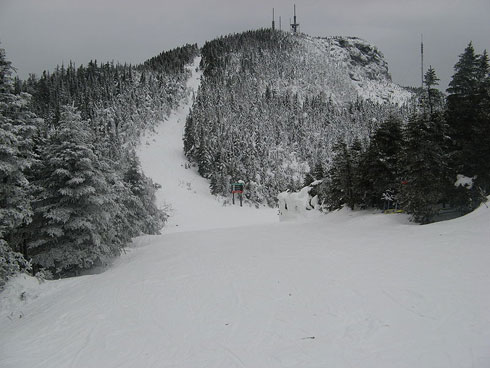 On the slopes of Stowe Mountain Ski Resort.
Thanks to wikipedia.org for the picture.
---

There are other Vermont ski resorts worth considering the next time you are ready to hit the slopes. Smugglers Notch Resort is in the Green Mountains of northern Vermont. Some of the best expert skiing in Vermont can be found at Mad River Glen. Visit Magic Mountain, in Londonderry, for a real old-fashioned ski resort experience. It's said to be one of the last unspoiled resort destinations.

Burke Mountain is a resort best know for it's incredible scenery and home to the Burke Mountain Academy. Jay Peak, in central Vermont, claims to receive the most natural snow of any ski resort in the east. They combine that with 80% snowmaking to guarantee a great skiing experience.

They say that Ascutney Mountain Resort is fast becoming one of Vermont's best family ski destinations. For one, there is something for everyone, from beginner to the most skilled skier. Secondly, all trails lead to one base. It's impossible to get lost and meeting up with the family after each run has never been easier.

The next time you find yourself in Vermont, or anywhere near, for that matter, take the time to visit a Vermont ski resort. Chances are there will be one very near to where you are staying. If you are a Vermont local, we don't need to tell you about the joys of skiing your nearby mountains.
Have A Great Story (or question) About This Ski Resort?

Do you have a great story about this? Share it!


---
Best Family Ski Resorts | Cheap Ski Vacations | History of Snow Skiing | Top Ten Ski Resorts | Alta Ski Resort | Arapahoe Basin Ski Resort | Aspen Snowmass Ski Resort | Bear Creek Ski Resort | Best Ski Resorts Near Montreal | Big Boulder Ski Resorts | Big Sky Ski Resort | Bittersweet Ski Resort | Blue Mountain Ski Resort | Bluewood Ski Resort | Boreal Ski Resort | Boston Mills Ski Resort | Bousquet Ski Resort | Breckenridge Ski Resort | Brighton Ski Resort | Bromont Ski Resort | Camelback Ski Resort | Canada Ski Vacations | Chestnut Mountain Ski Resort | Colorado Ski Resort Jobs | Copper Mountain Ski Resort | Devil's Head Ski Resort | Diamond Peak Ski Resort | Dubai Ski Resort | Heavenly Valley Ski Resort | Hidden Valley Ski Resort | Holiday Valley Ski Resort | Homewood Ski Resort | Indianhead Mountain Ski Resort | Keystone Ski Resort | Killington Mountain Ski Resort | Liberty Ski Resort | Loveland Ski Resort | Mammoth Mountain Ski Resort | Michigan Ski Resorts | Monarch Ski Resort | Mountain High Ski Resort | Mt. Baker Ski Resort | Mt. Spokane Ski Resort | North Star Ski Resort | Peek N Peak Ski Resort | Red Mountain Ski Resort | Red River Ski Resort | Santa Fe Ski Resort | Sierra at Tahoe Ski Resort | Ski Areas Around Montreal | Ski Resorts in West Virginia | Smugglers' Notch Ski Resort | Snowbird Ski Resort | Snow Shoe Ski Resort | Soda Springs Ski Resort | Solitude Ski Resort Utah | Squaw Valley Ski Resort | Steamboat Ski Resort | Stratton Mountain Ski Resort | Suger Bowl Ski Resort | Sunrise Ski Resort | Tahoe Donner Ski Resort | Timberline Ski Resort | Whitetail Ski Resort |
---
From Vermont Ski Resorts to Ski Resort Reviews | Land of Snow Blog | Montreal | Winter Survival | Winter Activities For Children And Adults | Maple Syrup | Pictures of Snow | Snow Blogs | Review of Snow Blowers |
---
Home Page

About Us | Contact Us | Advertise | Site Search | Terms of Use |
---