Michigan has 38 Alpine Ski Resorts. The only state with more ski resorts is New York with 50. When thinking about Michigan ski resorts do you just think Boyne Mountain, Nubs Nob or Crystal Mountain? Let's take a look at some of the other great ski destinations in Michigan.
Blackjack Ski Resort, in the Upper Peninsula, is in the Black River Valley. Here you will find forty percent of the runs are black diamond making it nice for advanced skiers. Also in the Upper Peninsula area is Big Powderhorn Mountain Resort. Bring your skates when visiting this resort, nighttime ice skating is just one of the attractions here.

At Whitecap Mountains you have three mountains and 36 runs to choose from. Porcupine Mountains offers 11 miles of skiing with a 641 foot vertical drop.

Another excellent Michigan ski resort for advanced skiers is Mount Bohemia. They have the highest vertical drop in the midwest and some of the deepest powder also. For night skiing try Bittersweet Ski Area where the snowmaking team keep the slopes open early and late in the season. More early and late skiing is found at Ski Brule where "Snow It First, Snow It Last" is the way they do things.

If you want beautiful scenery while you ski we suggest Alpine Valley Ski Resort. They have twenty five tree lined slopes making this a resort you will want to visit over and over again. The closest skiing to Indiana and Chicago is Swiss Valley Ski Lodge. The lights at night make it the perfect place to escape to after a hard day at work.

Other Michigan ski resorts include Apple Mountain with 11 runs and a 300 foot vertical drop. Mont Ripley has 24 runs and a 440 foot drop. Mt. Brighton has 26 runs and a 300 foot drop. Cannonsburg Ski Area has 17 runs and a 250 foot drop. Marquette Mountain has 25 runs and a 600 foot drop. Caberfae Peaks Ski Resort has 34 runs and a 485 foot drop. Mt. Holly has 17 runs and a 350 foot drop. Treetops Resort has 23 runs and a 225 foot drop.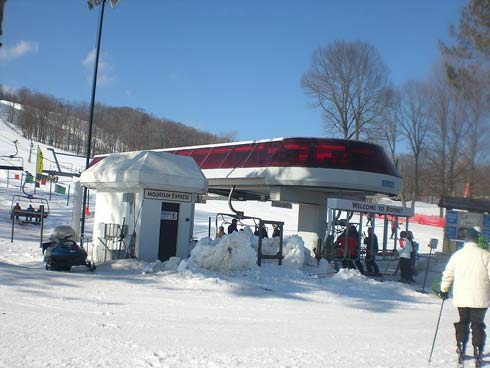 A photo of the six-person lift at Boyne Mountain.
Thanks to American Eagle for the picture at wikipedia.org
---

Local ski resorts in Michigan would include Lake Lansing Park North and Burchfield Park if you are Lansing residents. Grand Rapids residents can head to the Cannonsburg Ski Area in Belmont. Apple Mountain Ski and Snowboard Resort is a second home for many Saginaw residents.

The lucky residents of Petosky have two very nice resorts they can call home. They can choose from Nubs Nob Ski Resort or Boyne Mountain Resort, both nice places to escape for the day.

Probably none are quite as lucky as the people that call Marquette or Munising home. They just happen to live in the same town as a ski resort with Marquette Mountain and Valley Spur being practically in their back yards.

No matter where in Michigan you live, chances are you have a ski resort you can call home. Maybe it's a place a short drive away with a great terrain park, or just a fun place to party and do some night skiing. If you are planning a trip to Michigan and would like to include some skiing, you will not be disappointed, there are many wonderful snowy mountains just waiting for you. Any of the Michigan Ski Resorts listed on this page should make your trip to Michigan enjoyable.
Have A Great Story (or question) About This Ski Resort?

Do you have a great story about this? Share it!


---
Best Family Ski Resorts | Cheap Ski Vacations | History of Snow Skiing | Top Ten Ski Resorts | Alta Ski Resort | Arapahoe Basin Ski Resort | Aspen Snowmass Ski Resort | Bear Creek Ski Resort | Best Ski Resorts Near Montreal | Big Boulder Ski Resorts | Big Sky Ski Resort | Bittersweet Ski Resort | Blue Mountain Ski Resort | Bluewood Ski Resort | Boreal Ski Resort | Boston Mills Ski Resort | Bousquet Ski Resort | Breckenridge Ski Resort | Brighton Ski Resort | Bromont Ski Resort | Camelback Ski Resort | Canada Ski Vacations | Chestnut Mountain Ski Resort | Colorado Ski Resort Jobs | Copper Mountain Ski Resort | Devil's Head Ski Resort | Diamond Peak Ski Resort | Dubai Ski Resort | Heavenly Valley Ski Resort | Hidden Valley Ski Resort | Holiday Valley Ski Resort | Homewood Ski Resort | Indianhead Mountain Ski Resort | Keystone Ski Resort | Killington Mountain Ski Resort | Liberty Ski Resort | Loveland Ski Resort | Mammoth Mountain Ski Resort | Monarch Ski Resort | Mountain High Ski Resort | Mt. Baker Ski Resort | Mt. Spokane Ski Resort | North Star Ski Resort | Peek N Peak Ski Resort | Red Mountain Ski Resort | Red River Ski Resort | Santa Fe Ski Resort | Sierra at Tahoe Ski Resort | Ski Areas Around Montreal | Ski Resorts in West Virginia | Smugglers' Notch Ski Resort | Snowbird Ski Resort | Snow Shoe Ski Resort | Soda Springs Ski Resort | Solitude Ski Resort Utah | Squaw Valley Ski Resort | Steamboat Ski Resort | Stratton Mountain Ski Resort | Suger Bowl Ski Resort | Sunrise Ski Resort | Tahoe Donner Ski Resort | Timberline Ski Resort | Vermont Ski Resorts | Whitetail Ski Resort |
---
From Michigan Ski Resorts to Ski Resort Reviews | Land of Snow Blog | Montreal | Winter Survival | Winter Activities For Children And Adults | Maple Syrup | Pictures of Snow | Snow Blogs | Review of Snow Blowers |
---
Home Page

About Us | Contact Us | Advertise | Site Search | Terms of Use |
---