Solitude Ski Resort Utah is also know as Solitude Mountain Resort. It is located thirty miles southeast of Salt Lake City, in the Big Cottonwood Canyon of the Wasatch Mountains. The top elevation at this resort is 10,035 feet and the annual snowfall is 500 inches.
Solitude ski resort is one of the smaller resorts in the Salt Lake City area but don't let that stop you from enjoying all the charm and excellent skiing this resort has to offer. It is an open, uncrowded, resort that deserves it's name. If you want to get away from it all and enjoy all the calm and peacefulness this area can offer, this is the place to be.

The skiing covers 1,200 acres with 64 trails, the longest, Honeycomb, is three and a half miles long. The vertical drop of the mountain is 2,047.

The runs are service by eight lifts, 3 detachable quads, 1 triple, 2 double and 2 fixed grip quads. The skiing at Solitude breaks down like this, 20% beginner, 50% intermediate and 30% advanced. Twenty one of the runs are helped with snowmaking machines.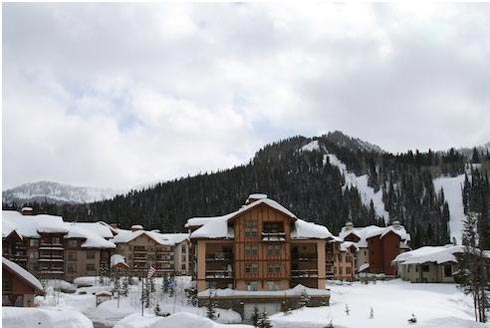 Solitude Ski resort, Utah.
Thanks to Nurpu for the picture at flickr.com
---

Quad chairs Powder Horn II and Eagle Express go to the top of Eagle Ridge and Moonbeam Express and Apex Express go to the intermediate and beginner runs further down the mountain. Honeycomb Canyon is on the back side of Eagle Ridge and is the location of most of the bowl skiing. This area is accessed by the Summit Chair.

Cross country skiers are well taken care of at Solitude Ski Resort with over twelve miles and thirteen trails. The Solitude Nordic Center is located between the Solitude and Brighten resorts and offers lessons as well as rentals. Enjoy the beauty of this wonderful part of the country while skiing, skating or snowshoeing. Backcountry tours for cross country skiers are available as well as snowshoe tours.

The terrain park at Solitude is of the family friendly design with most of the features being a manageable size for beginners as well as fun for the more experienced boarders. The features change on a regular basis but you can expect to find a couple sets of rollers, a couple of table-tops, fun boxes and a small hip.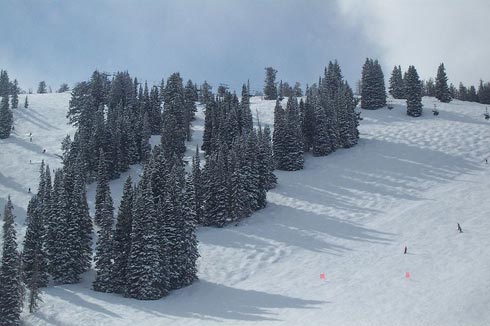 Solitude Mountain Resort lower terrain.
Thanks to wikipedia.org for the picture.
---

There is plenty of lodging to choose from at Solitude Ski Resort Utah starting with the easy slope access offered by the Creekside Lodge. The Inn at Solitude is also slopeside and is a first class establishment. Town homes can be found at The Crossings and Eagle Springs East and West offer spectacular views.

When it's time to eat at Solitude you can choose between the Yurt at Solitude, Kimi's Mountainside Bistro, Stone Haus Pizzeria and Creamery and St. Bernard's at the Inn.

The winter season at Solitude begins in mid November and ends in mid April. The lodging and dining is open year round making it a nice summer get away. The slopes are open 9 to 4 daily.
Solitude Mountain Resort Lift.
Thanks to toastforbrekkie for the picture at flickr.com
---

For general resort information you can call 801-534-1400. The address is 12000 Big Cottonwood Canyon, Solitude, Utah 84121. For lift ticket pricing call 801-536-5786 and the ski school at 801-536-5730.

A lot of skiing goes on in this part of Utah and if your trip involves more than one resort you may also be visiting one of these ski areas. Deer Valley is six miles away while The Canyons and Park City Mt. Resort are both five miles. Even closer are Alta, Snowbird and Brighton, all within a couple of miles.
Solitude Ski Resort Utah Map & Directions (click on "Marker" for your personalized directions)
---
Have A Great Story (or question) About This Ski Resort?

Do you have a great story about this? Share it!


---
Best Family Ski Resorts | Cheap Ski Vacations | History of Snow Skiing | Top Ten Ski Resorts | Alta Ski Resort | Arapahoe Basin Ski Resort | Aspen Snowmass Ski Resort | Bear Creek Ski Resort | Best Ski Resorts Near Montreal | Big Boulder Ski Resorts | Big Sky Ski Resort | Bittersweet Ski Resort | Blue Mountain Ski Resort | Bluewood Ski Resort | Boreal Ski Resort | Boston Mills Ski Resort | Bousquet Ski Resort | Breckenridge Ski Resort | Brighton Ski Resort | Bromont Ski Resort | Camelback Ski Resort | Canada Ski Vacations | Chestnut Mountain Ski Resort | Colorado Ski Resort Jobs | Copper Mountain Ski Resort | Devil's Head Ski Resort | Diamond Peak Ski Resort | Dubai Ski Resort | Heavenly Valley Ski Resort | Hidden Valley Ski Resort | Holiday Valley Ski Resort | Homewood Ski Resort | Indianhead Mountain Ski Resort | Keystone Ski Resort | Killington Mountain Ski Resort | Liberty Ski Resort | Loveland Ski Resort | Mammoth Mountain Ski Resort | Michigan Ski Resorts | Monarch Ski Resort | Mountain High Ski Resort | Mt. Baker Ski Resort | Mt. Spokane Ski Resort | North Star Ski Resort | Peek N Peak Ski Resort | Red Mountain Ski Resort | Red River Ski Resort | Santa Fe Ski Resort | Sierra at Tahoe Ski Resort | Ski Areas Around Montreal | Ski Resorts in West Virginia | Smugglers' Notch Ski Resort | Snowbird Ski Resort | Snow Shoe Ski Resort | Soda Springs Ski Resort | Squaw Valley Ski Resort | Steamboat Ski Resort | Stratton Mountain Ski Resort | Suger Bowl Ski Resort | Sunrise Ski Resort | Tahoe Donner Ski Resort | Timberline Ski Resort | Vermont Ski Resorts | Whitetail Ski Resort |
---
From Solitude Ski Resort Utah to Ski Resort Reviews | Land of Snow Blog | Montreal | Winter Survival | Winter Activities For Children And Adults | Maple Syrup | Pictures of Snow | Snow Blogs | Review of Snow Blowers |
---
Home Page

About Us | Contact Us | Advertise | Site Search | Terms of Use |
---