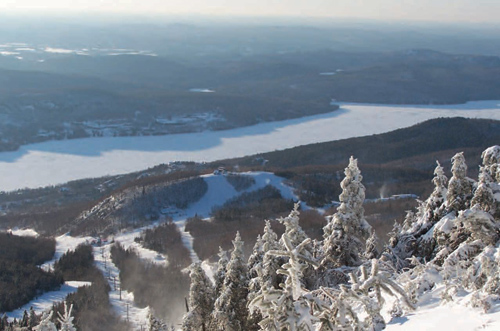 View of a frozen lake Tremblant from the top the Ski Hill.
---
Living in Montreal gives us great access to some of the best ski resorts in eastern North America. Within an easy drive of our home, there are many ski centers which offer scores of trails suitable to every level of difficulty.

Admittedly, there are no Rocky Mountains or Swiss Alps here.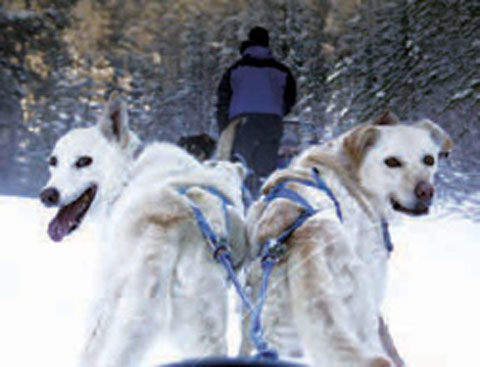 Some Montreal area ski resorts also offer Dog Sledding
---

Instead, you'll find lots of lakes, rolling hills and rounded mountains, which average between 300m and 520m (984 ft. and 1,706 ft.) in height.
But Just How High are the Hills?
Switzerland, Whistler and Aspen are all well known, well established places for downhill skiing.
Ski...Montreal?

...not so much.

As locals, we admit that we're biased. Nonetheless, we really love our skiing here in Southern Quebec.

If you're not from here, you might appreciate the following chart. We've graphed out the vertical drop of well-known ski resorts.

This should give you a quick comparison of the altitudes that we ski near our home in Montreal.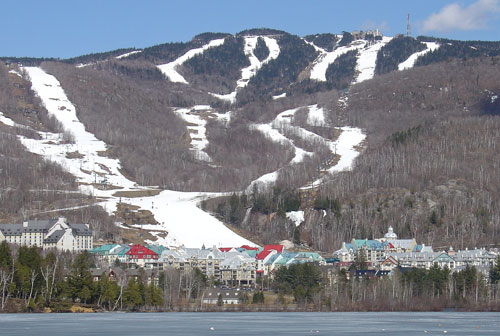 Best ski areas Mont Tremblant.
---
Our Choices for the Best Skiing Near Montreal
As two intermediate-level skiers, my wife and I have two ski regions to choose from. We've mapped them out for you on the following interactive map.
You'll be able to quickly locate a ski hills' vital stats by clicking on it's name or by clicking on one of the red markers.
---
---
Interactive Chart: Select your best Montreal-Area Ski Resort

Choosing the best ski resort to fit your needs requires a bit of research. All hills aren't created equal, and all skiers have different needs.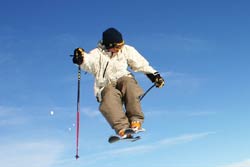 * all these hills have Ski Schools
Need a daycare?


Up for some night skiing?


What are the drive times?
---
These interactive charts will help you quickly identify the ski resort that's right for you.
Ski East or North?

At the end of the day, Montreal has two ski regions. There are the hills to the North in the Laurentians, or to the East in the Townships.


The Laurentians, are home the highest peak in eastern Canada, and one of North America's best ski resorts, Mont-Tremblant


Located 130km/80miles north of Montreal, this region is definitely the most popular with tourists.


As a year round destination, Mont-Tremblant brings in an average of 2.3 million visitors each year.


It has been given top honours in well respected publications like Forbes and Ski Magazine.


The videos showcase the Mont Tremblant resort, north of Montreal

---
---
---
For an interactive map of hills including ski conditions, click here
---

Unlike the Laurentians, the townships do not have a direct daily jet service from New York City.

This region is not as well known, or as commercially developped as the larger resorts further north. However, we still consider the skiing to be superb.

It's also a great place to go searching for a cheap ski vacation.
Let's put a dollar figure on deal.
Have A Great Story (or question) About This Ski Resort?

Do you have a great story about this? Share it!


---
Best Family Ski Resorts | Cheap Ski Vacations | History of Snow Skiing | Top Ten Ski Resorts | Alta Ski Resort | Arapahoe Basin Ski Resort | Aspen Snowmass Ski Resort | Bear Creek Ski Resort | Big Boulder Ski Resorts | Big Sky Ski Resort | Bittersweet Ski Resort | Blue Mountain Ski Resort | Bluewood Ski Resort | Boreal Ski Resort | Boston Mills Ski Resort | Bousquet Ski Resort | Breckenridge Ski Resort | Brighton Ski Resort | Bromont Ski Resort | Camelback Ski Resort | Canada Ski Vacations | Chestnut Mountain Ski Resort | Colorado Ski Resort Jobs | Copper Mountain Ski Resort | Devil's Head Ski Resort | Diamond Peak Ski Resort | Dubai Ski Resort | Heavenly Valley Ski Resort | Hidden Valley Ski Resort | Holiday Valley Ski Resort | Homewood Ski Resort | Indianhead Mountain Ski Resort | Keystone Ski Resort | Killington Mountain Ski Resort | Liberty Ski Resort | Loveland Ski Resort | Mammoth Mountain Ski Resort | Michigan Ski Resorts | Monarch Ski Resort | Mountain High Ski Resort | Mt. Baker Ski Resort | Mt. Spokane Ski Resort | North Star Ski Resort | Peek N Peak Ski Resort | Red Mountain Ski Resort | Red River Ski Resort | Santa Fe Ski Resort | Sierra at Tahoe Ski Resort | Ski Areas Around Montreal | Ski Resorts in West Virginia | Smugglers' Notch Ski Resort | Snowbird Ski Resort | Snow Shoe Ski Resort | Soda Springs Ski Resort | Solitude Ski Resort Utah | Squaw Valley Ski Resort | Steamboat Ski Resort | Stratton Mountain Ski Resort | Suger Bowl Ski Resort | Sunrise Ski Resort | Tahoe Donner Ski Resort | Timberline Ski Resort | Vermont Ski Resorts | Whitetail Ski Resort |
---
From Best Ski Resorts Near Montreal to Ski Resort Reviews | Land of Snow Blog | Montreal | Winter Survival | Winter Activities For Children And Adults | Maple Syrup | Pictures of Snow | Snow Blogs | Review of Snow Blowers |
---
Home Page

About Us | Contact Us | Advertise | Site Search | Terms of Use |
---