Arapahoe Basin Ski Resort is located in the Rocky Mountains of Colorado. It is in the White River National Forest, on the west side of Loveland Pass on US highway 6 in Summit County. The nearest city is Keystone, Colorado. They are just 65 miles west of Denver with Eldora and Loveland being a little closer.
Arapahoe Basin Ski Resort is often called A-Basin or simply Basin. It has 900 acres and 105 runs. The runs consist of 10% real easy, 30% intermediate and 37% advanced and 23% expert. The longest run is a mile and a half. There are 7 lifts with 1 quad chair, 2 triple chairs, 3 double chairs and 1 conveyor lift.

The ski season at A-Basin is longer than most as they usually stay open until early June, and July is even possible. The annual snowfall on the mountain is 350 inches. They also have snowmaking equipment when needed.

The East Wall at Arapahoe has a summit elevation of over thirteen thousand feet. It is said to be the highest ski area in North America, although Palmyra Peak and Silverton Mountain at Telluride measure slightly higher. Once on top of the East Wall you can enjoy views of Loveland Pass, Keystone, Breckenridge, Lake Dillon and Montezuma as well as peaks like Peak 10, Bald Mountain, Independence Mountain and Quandary Peak.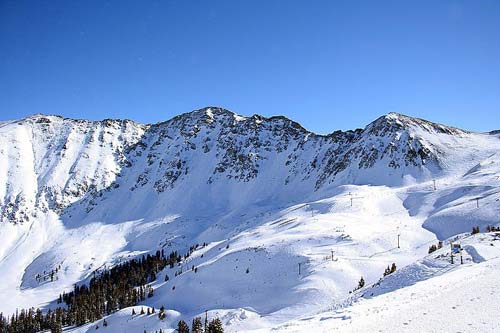 Eastwall of Arapahoe Basin Ski Resort.
Thanks to wikipedia.org for the picture.
---

There are plenty of runs for the expert and advanced skiers. The Pallavicini face is one of the best expert runs and is rated double black diamond extreme. It's full of endless moguls and is very steep. The Pallavicini lift will take you to this run as well as other black and double black runs on the west side of the mountain. Another double black diamond extreme run is at the top of the East Wall. It's a thirty minute hike to reach the Upper East Wall where you will find a steep slope through rocky terrain. None of the East Wall is groomed so caution is advised.

Plenty of runs remain for the beginners and intermediates can be found also. Lifts servicing the easy runs are Molly Hogan, Exhibition and Molly's Magic Carpet. If you are just learning to ski the Molly Hogan lift is for you. It is used for the bunny hill. The Exhibition lift goes to greens, blues and a couple of blacks. There's plenty of family fun on those trails.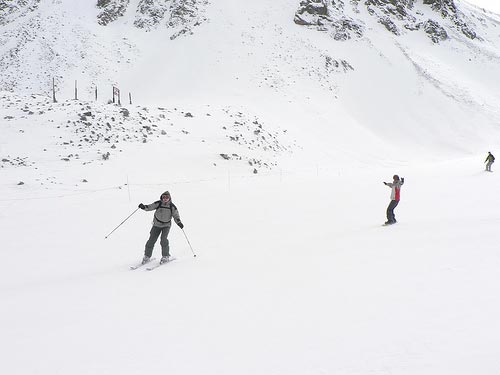 Ski at Arapahoe Basin Ski Resort.
Thanks to dkwonsh for the picture at flickr.com
---

Arapahoe Basin Ski Resort is said to have the lowest fees and the best skiing of any resort in the area. It's a down home atmosphere with "Beachin' at the Basin" going on in the parking lot, meaning beer, burgers and people having fun. During the month of May, on Saturdays, live bands play. Being in a national forest has kept the Basin from becoming commercial so you won't find the shops, condos or Starbucks. What they do have are the basics, a bar, a small sports shop, ski rentals and lessons and two cafeterias. Down the road at Keystone is where you will find the restaurants, shops, nightlife and lodging.

The address for Arapahoe Basin Ski Area is 28194 U.S. 6 Dillon, CO 80435. There phone number is 970-468-0718.
Arapaho Basin Ski Resort Map & Directions (click on "Marker" for your personalized directions)
Have A Great Story (or question) About This Ski Resort?

Do you have a great story about this? Share it!


---
Best Family Ski Resorts | Cheap Ski Vacations | History of Snow Skiing | Top Ten Ski Resorts | Alta Ski Resort | Aspen Snowmass Ski Resort | Bear Creek Ski Resort | Best Ski Resorts Near Montreal | Big Boulder Ski Resorts | Big Sky Ski Resort | Bittersweet Ski Resort | Blue Mountain Ski Resort | Bluewood Ski Resort | Boreal Ski Resort | Boston Mills Ski Resort | Bousquet Ski Resort | Breckenridge Ski Resort | Brighton Ski Resort | Bromont Ski Resort | Camelback Ski Resort | Canada Ski Vacations | Chestnut Mountain Ski Resort | Colorado Ski Resort Jobs | Copper Mountain Ski Resort | Devil's Head Ski Resort | Diamond Peak Ski Resort | Dubai Ski Resort | Heavenly Valley Ski Resort | Hidden Valley Ski Resort | Holiday Valley Ski Resort | Homewood Ski Resort | Indianhead Mountain Ski Resort | Keystone Ski Resort | Killington Mountain Ski Resort | Liberty Ski Resort | Loveland Ski Resort | Mammoth Mountain Ski Resort | Michigan Ski Resorts | Monarch Ski Resort | Mountain High Ski Resort | Mt. Baker Ski Resort | Mt. Spokane Ski Resort | North Star Ski Resort | Peek N Peak Ski Resort | Red Mountain Ski Resort | Red River Ski Resort | Santa Fe Ski Resort | Sierra at Tahoe Ski Resort | Ski Areas Around Montreal | Ski Resorts in West Virginia | Smugglers' Notch Ski Resort | Snowbird Ski Resort | Snow Shoe Ski Resort | Soda Springs Ski Resort | Solitude Ski Resort Utah | Squaw Valley Ski Resort | Steamboat Ski Resort | Stratton Mountain Ski Resort | Suger Bowl Ski Resort | Sunrise Ski Resort | Tahoe Donner Ski Resort | Timberline Ski Resort | Vermont Ski Resorts | Whitetail Ski Resort |
---
From Arapahoe Basin Ski Resort to Ski Resort Reviews | Land of Snow Blog | Montreal | Winter Survival | Winter Activities For Children And Adults | Maple Syrup | Pictures of Snow | Snow Blogs | Review of Snow Blowers |
---
Home Page

About Us | Contact Us | Advertise | Site Search | Terms of Use |
---