Copper Mountain Ski Resort, in Summit County Colorado, is 75 miles west of Denver on Interstate 70.
The 125 runs are spread across 2,450 acres making Copper Mountain the largest ski area in Summit County. The runs are divided into 21% beginner, 25% intermediate, 36% advanced and 18% expert. The longest one is 2.8 miles, Soliloquy to Roundabout. The runs are accessed by 22 lifts, 1 six person high speed lift, 4 high speed quads, 5 triple chairlifts, 5 double chairlifts and 7 surface lifts. They can get 32,324 skiers an hour up to the slopes. The vertical drop on the mountain is 2,601 feet.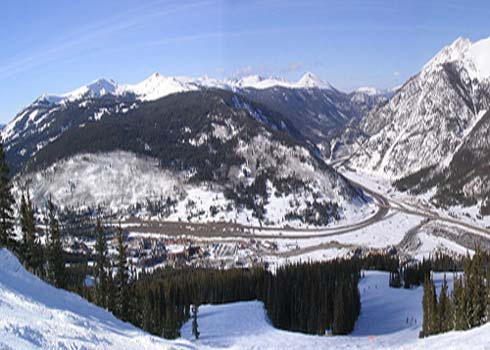 View looking down at the Copper Mountain base area from a ski trail on the east side of the resort. Thanks to wikipedia.org for the picture.
---

Copper Mountain offers a wide range of skiing terrain with most of the beginner slopes on the western side of the mountain. The intermediate runs are primarily in the center area and the expert terrain is predominately on the eastern side.

The most advanced double black diamond runs are above 12,000 feet on Copper Peak and Union Peak. In this area you will find these expert only bowls, Spaulding Bowl, Resolution Bowl, Union Bowl and Copper Bowl. These bowls compare well with the more popular ones at Vail. They also hold their own against Vasquez Cirque at Winter Park/Mary Jane, Imperial Bowl at Breckenridge Ski Resort and the Independence Bowl at Keystone.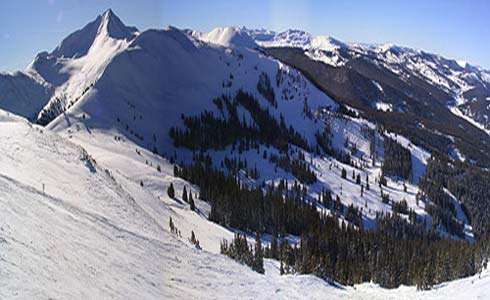 View looking west from Copper Peak at Copper and Union Bowls at the Copper Mountain Ski Area. Thanks to wikipedia.org for the picture.
---

Snowboarding is popular at Copper Mountain with the Main Vein Superpipe, the Catalyst Terrain Park, the Eagle Jib Park and the Kidz Terrain Park. The parks are getting nationwide attention, "top ten pipes" in North America by Transworld Snowboarding and #7 "best park" by Ski Magazine.

If you get tired of skiing while at Copper Mountain there are many other activities to entertain you. There is the usual dining and shopping as well as sleigh rides, dog sledding, tubing, snowshoeing, ice skating, cross country skiing, spa facilities and the Racquet and Athletic Club. There is no reason for anyone to ever be bored at this resort.

Dining options are plentiful no matter where you are at Copper Mountain. The East Village has the Double Diamond, the Grand Hall Market and JJ's Tavern. At Center Village you will find Alpinista Mountain Bristro, Belgian Bean, C.B. Grille, Camp Hale, Copper Red Hots, Endo's Adrenaline Cafe, Imperial Palace, Incline Bar and Grill, Jack's Bar, Jack's Grill, Jill's Outdoor Bar, Pizza Carlo, Salsa Mountain Cantina, the Storm King Lounge and Tucker's Tavern.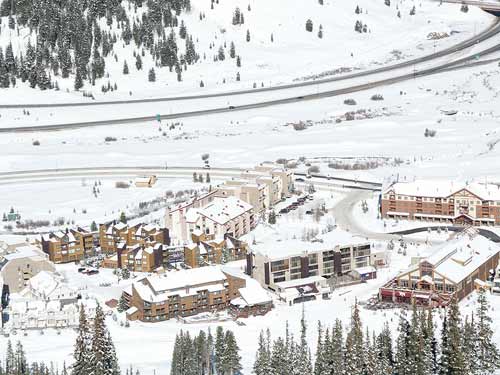 The East Village at Copper Mountain.
Thanks to wikipedia.org for the picture.
---

At Union Creek there is the Union Creek Food Court and Wheeler Flats has Conoco and Quizno's. The on mountain restaurants include Solitude Station BBQ, Camp Hale at Solitude Station, Flyers Soup Shack and T-Rex Grill.

Frisco Colorado is the closest town to Copper Mountain Ski Resort, about five minutes away. About 12 minutes away is Silverthorne. Silverthorne has restaurants, shops and lodging. Dillon, about 15 minutes away, is a popular winter and summer vacation destination. Other ski resorts in the area are Breckenridge, just five miles away, Vail at 14 miles, Ski Copper and Keystone are 17 miles away and Arapahoe and Beaver Creek are about 20 miles.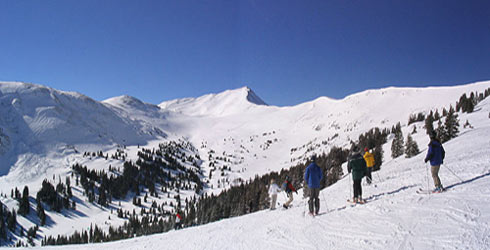 View looking up Copper Bowl at the Copper Mountain Ski Area.
Thanks to wikipedia.org for the picture.
---

Lodging at Copper Mountain includes the Copper Mountain condos and studios. All the lodging is just a few steps from the mountain so none of your precious time will be spent traveling and parking, or waiting for a shuttle. Frisco, Silverthorne and Dillon are your next options for lodging close to the ski area.

The ski season at Copper Mountain is from early November to mid April. For general information call 866-841-2481. For lodging call 888-219-2441. You can also mail them at Copper Mountain Resort, PO Box 3001, 209 Ten Mile Circle, Copper Mountain, Colorado 80443.
Copper Mountain Ski Resort Map & Directions (click on "Marker" for your personalized directions)
---
Have A Great Story (or question) About This Ski Resort?

Do you have a great story about this? Share it!


---
Best Family Ski Resorts | Cheap Ski Vacations | History of Snow Skiing | Top Ten Ski Resorts | Alta Ski Resort | Arapahoe Basin Ski Resort | Aspen Snowmass Ski Resort | Bear Creek Ski Resort | Best Ski Resorts Near Montreal | Big Boulder Ski Resorts | Big Sky Ski Resort | Bittersweet Ski Resort | Blue Mountain Ski Resort | Bluewood Ski Resort | Boreal Ski Resort | Boston Mills Ski Resort | Bousquet Ski Resort | Breckenridge Ski Resort | Brighton Ski Resort | Bromont Ski Resort | Camelback Ski Resort | Canada Ski Vacations | Chestnut Mountain Ski Resort | Colorado Ski Resort Jobs | Devil's Head Ski Resort | Diamond Peak Ski Resort | Dubai Ski Resort | Heavenly Valley Ski Resort | Hidden Valley Ski Resort | Holiday Valley Ski Resort | Homewood Ski Resort | Indianhead Mountain Ski Resort | Keystone Ski Resort | Killington Mountain Ski Resort | Liberty Ski Resort | Loveland Ski Resort | Mammoth Mountain Ski Resort | Michigan Ski Resorts | Monarch Ski Resort | Mountain High Ski Resort | Mt. Baker Ski Resort | Mt. Spokane Ski Resort | North Star Ski Resort | Peek N Peak Ski Resort | Red Mountain Ski Resort | Red River Ski Resort | Santa Fe Ski Resort | Sierra at Tahoe Ski Resort | Ski Areas Around Montreal | Ski Resorts in West Virginia | Smugglers' Notch Ski Resort | Snowbird Ski Resort | Snow Shoe Ski Resort | Soda Springs Ski Resort | Solitude Ski Resort Utah | Squaw Valley Ski Resort | Steamboat Ski Resort | Stratton Mountain Ski Resort | Suger Bowl Ski Resort | Sunrise Ski Resort | Tahoe Donner Ski Resort | Timberline Ski Resort | Vermont Ski Resorts | Whitetail Ski Resort |
---
From Copper Mountain Ski Resort to Ski Resort Reviews | Land of Snow Blog | Montreal | Winter Survival | Winter Activities For Children And Adults | Maple Syrup | Pictures of Snow | Snow Blogs | Review of Snow Blowers |
---
Home Page

About Us | Contact Us | Advertise | Site Search | Terms of Use |
---