Snow Blogs
If you love the snow like I do, then you will love these "best snow blogs" that I have listed below. Many have great snow pictures and videos on them as well. Check em out and let us know what you think and/or what other great blogs or websites about snow you like. You can do that using the form at the bottom of this page.
Here are my picks:
wildsnow.com
We snow enthusiasts can never have enough of the white powder, can we? This blog is a testimony to manís attraction towards snow and who else other than Lou Dawson could do justice to such a blog. If you do not know about Lou Dawson, his name is synonymous with backcountry skiing. His achievements are way to higher than the 14000 ft mountains of Colorado. Dawson holds the record of being the first man who skied down all the 14000 ft peaks in the state of Colorado. Can you imagine he did it for all 54 of them? No wonder this backcountry skiing aficionado started at the tender age of 9. The blog is immensely popular among Skiers, but natural given the wealth of knowledge Dawson shares through his insightful posts.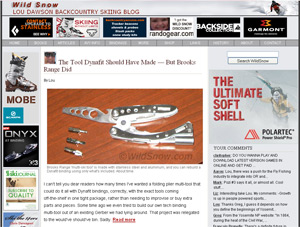 homeboyski.com
When it comes to serious alpine and back country skiing itís better you get it from the horseís mouth. Thatís exactly what you get at the HBS. The HBS blog was founded in the year 2007 by Marko Pyhajarvi and his mates. The purpose was to get close to the long lost days of skiing that they had while growing up. Passionate Skiers, this bunch of friends eventually got busy with their career and family and had to cut down the Skiing time. But for how long? If it is there in your blood, there is seldom anything that you can do about it. Thatís what led to the revival of the old friendship with the snow clad peaks and the beginning of this blog.
You will find some very insightful posts from Skiers who have been there and done that. If you are looking for buying some Skiing products then I would recommend check this blog out for a review. Chances are you will change your decision. These folks are very reliable when it comes to passing information on skiing.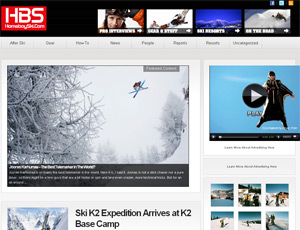 skiingchile.blogspot.com
This is a blog by PowderQuest Tours. They are in the business of guided skiing and snowboarding trips since 1998. The blog focuses on Skiing in Chile and Argentina. The Latin American countries do have a lot to offer when it comes to snow sports and this blog does a good job of capturing the very essence of their offerings. If you have been in the concrete jungle for a while then you will love the stunning photographs of beautiful peaks listed on this blog. Check them out.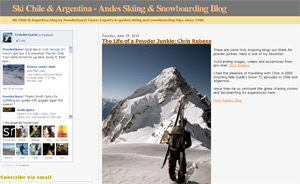 snowskiingwinter.com
Skiing is not limited by boundaries and itís not often you will find a Skier who is happy with one or two locations. Rather Skiers prefer to go all around the world testing and conquering the mountains peaks across various countries. This is a blog on Skiing that gives you a taste of the authorís experience in various countries. Be it skiing in Canada, States or Europe; there is enough information for you to devour before you make that final decision about your next trip.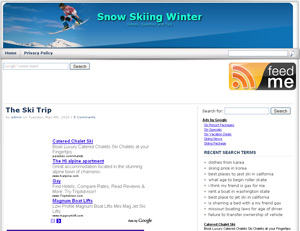 chrisrskibum.wordpress.com
This blog belongs to Chris Rubens. A twenty something old skier born in Australia and brought up in Calgary Alberta, Chris has had a rich experience of skiing. His extensive experience of skiing in the Rockies is something any Skier would desire. He learned to hit the rocks, land on his feet and manoeuvre to avoid the avalanche, courtesy the Rockies. Get a piece of his experience through the well written stories on his blog. It's one of the best snow blogs (or website for that matter) around.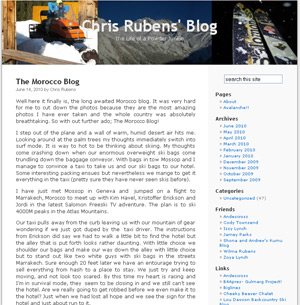 snowleopard.org
This is one cool blog I came across while doing some research on the internet and have been hooked to since then. The blog is on the Snow Leopards, an endangered species. The blog is maintained by the "The Snow Leopard Trust" which was established in 1981 to protect the species from becoming extinct. The blog features the day to day activities of the various conservatories associated with the foundation. If you thought Snow Leopards were difficult to spot then you will be surprised at how many of them are featured here.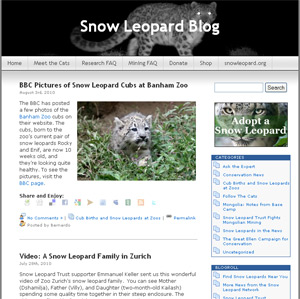 The foundation behind this blog does an amazing job in sticking to its core philosophy of conservation by allocating lands specially for the wild cat, carrying out extensive research of the species and answering some of the most critical and eluding questions, negotiating with the government and seeking co-operation from the communities, keeping poachers at bay and many such other initiatives that have shown appreciable results over a period of time.
Snow Blogs