Bromont Ski Resort, or Ski Bromont, is located in Bromont, Quebec Canada on Mont Brome. It is joined by three other resorts in the Eastern Township east of Montreal, they are Owl's Head, Mont Orford and Ski Mont Sutton. Bromont is just a 45 minute drive from Montreal.
Bromont Ski Resort covers 250 acres and has 72 trails serviced by 6 lifts, 1 carpet, 1 quad poma, 3 quad chairs and 1 detachable quad. The longest one is 7,152 feet. The vertical drop is 1,379 feet. The trail breakdown is 31% easy, 22% intermediate, 25% advanced and 22% expert. The annual snowfall is 190 inches and that is helped with snowmaking on 80% of the slopes.

The skiing at Bromont combines two mountains and includes numerous alpine trails, skating trails and cross country trails. It's a great place for families to get out and enjoy the snow. The pony hill is next to base lodge where you can turn the kids loose and watch them from the comfort of a warm lodge.

Night skiing is a popular attraction at Bromont with everything well lit and safe. In fact, the slopes take on a whole new life at night. Gone are the families and in are the teens and young adults ready to ski and party. Being the only slopes close by with night skiing Bromont has it's share of regulars, in fact, 40% of Bromont visiters arrive after dark.

There are two terrain parks at Bromont Ski Resort along with one pipe.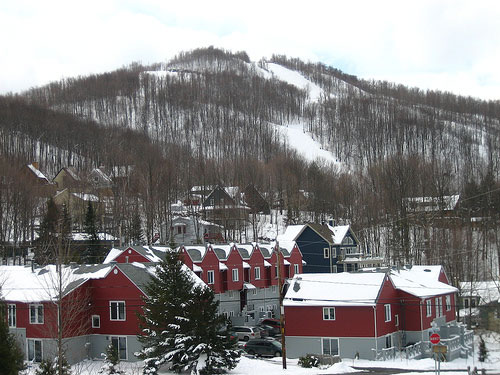 Bromont Ski Resort.
Thanks to Martin.Boyer for the picture at flickr.com
---

The restaurants at Bromont include a cafeteria, Croque-Mitaine where you will find soups and sandwiches and Bistro-bar La Debarque for great breakfasts. The Boutique in the main chalet should be able to provide you with anything you may have forgotton.

Everything you need for skiing is available for rent in the rental shop. Anything you break can probably be fixed in the repair shop.

While there is no lodging at Bromont the Chateau Bromont is a hotel and spa just across the parking lot. The Auberge Bromont is only a mile away. Other choices would be the Owl's head, about ten miles away and Le St Martin Bromont located about a mile away.

Nearby restaurants include the Resto-Bar Letrier, the Entre Les Branches and the Restaurant Laioli. For more fun in the area visit the Granby Zoo, the Joie de Lavande and Balnea.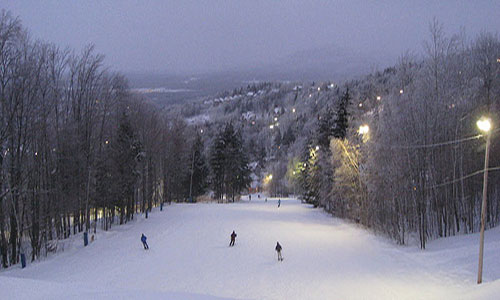 Bromont Ski Resort.
Thanks to RezaG! for the picture at flickr.com
---

Because of it's low elevation skiing at Bromont can be iffy at times. They understand this and allow you thirty minutes to try out the conditions, if not pleased you can exchange you ticket for a coupon to come back another day.

Ski Bromont is a four season resort and is well known for it's 23 different water slides. You can ride on the raft slides or swim in Tarzan Lake. Another popular summer activity is the many miles of mountain bike paths.

Belmont can be reached at 450-534-2200. Their address is 150, rue Champlain, Bromont, Quebec J2L 1A2 Canada. From Montreal on highway 10 take exit 78 towards Bromont. After you cross the light on Boulevard Bromont turn right on Champlain to SkiBromont.
Bromont Ski Resort Map & Directions (click on "Marker" for your personalized directions)
---
Have A Great Story (or question) About This Ski Resort?

Do you have a great story about this? Share it!


---
Best Family Ski Resorts | Cheap Ski Vacations | History of Snow Skiing | Top Ten Ski Resorts | Alta Ski Resort | Arapahoe Basin Ski Resort | Aspen Snowmass Ski Resort | Bear Creek Ski Resort | Best Ski Resorts Near Montreal | Big Boulder Ski Resorts | Big Sky Ski Resort | Bittersweet Ski Resort | Blue Mountain Ski Resort | Bluewood Ski Resort | Boreal Ski Resort | Boston Mills Ski Resort | Bousquet Ski Resort | Breckenridge Ski Resort | Brighton Ski Resort | Camelback Ski Resort | Canada Ski Vacations | Chestnut Mountain Ski Resort | Colorado Ski Resort Jobs | Copper Mountain Ski Resort | Devil's Head Ski Resort | Diamond Peak Ski Resort | Dubai Ski Resort | Heavenly Valley Ski Resort | Hidden Valley Ski Resort | Holiday Valley Ski Resort | Homewood Ski Resort | Indianhead Mountain Ski Resort | Keystone Ski Resort | Killington Mountain Ski Resort | Liberty Ski Resort | Loveland Ski Resort | Mammoth Mountain Ski Resort | Michigan Ski Resorts | Monarch Ski Resort | Mountain High Ski Resort | Mt. Baker Ski Resort | Mt. Spokane Ski Resort | North Star Ski Resort | Peek N Peak Ski Resort | Red Mountain Ski Resort | Red River Ski Resort | Santa Fe Ski Resort | Sierra at Tahoe Ski Resort | Ski Areas Around Montreal | Ski Resorts in West Virginia | Smugglers' Notch Ski Resort | Snowbird Ski Resort | Snow Shoe Ski Resort | Soda Springs Ski Resort | Solitude Ski Resort Utah | Squaw Valley Ski Resort | Steamboat Ski Resort | Stratton Mountain Ski Resort | Suger Bowl Ski Resort | Sunrise Ski Resort | Tahoe Donner Ski Resort | Timberline Ski Resort | Vermont Ski Resorts | Whitetail Ski Resort |
---
From Bromont Ski Resort to Ski Resort Reviews | Land of Snow Blog | Montreal | Winter Survival | Winter Activities For Children And Adults | Maple Syrup | Pictures of Snow | Snow Blogs | Review of Snow Blowers |
---
Home Page

About Us | Contact Us | Advertise | Site Search | Terms of Use |
---