Peek N Peak Ski Resort, otherwise known as Peek'n Peak Resort and Spa is located in the south west corner of New York. The slope is said to be more of a hill than a mountain but everything else this quality resort has to offer more than makes up for it. The easy runs do, however, make this the perfect family skiing trip. Although when you see the accommodations and the amenities you may decide it's perfect for a honeymoon or an anniversary. This beautiful resort truly could be perfect for family fun, or perfect for romance.
Peek N Peak Ski Resort offers 27 slopes and trails that are served by eight chairlifts. There is never any down time here as the entire trail system has access to snow machines. You can ski seven days, and nights, a week. You may also enjoy the miles of cross country terrain and snowshoeing trails. Lessons and equipment are available for every skill level.

The comments of others can often be a big help in choosing a place to vacation. Here are a few quotes about Peek N Peak. "We were there on Presidents Day and I never had more than one person ahead of me in line". "The ski hills are small, but scenic and well maintained". "Our family loves the different houses available for rent". "It's a wonderful family resort with loads to keep everyone busy".

While you are at the Peek'n Peak Resort you will find many more things to do than just ski. You could enjoy the pools and hot tub, try the sauna, work out in the fitness center, play miniature golf, visit the arcade or play tennis. These are just some of the many activities waiting for you to enjoy.

An entire day could be spent spoiling yourself at the Peek'n Peak Resort spa. They offer couples packages, many different types of massage treatments, facials and so much more. If you deserve to be pampered, give them a try.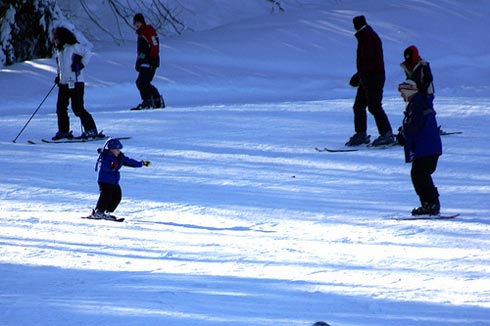 Peek N Peak Ski Resort.
Thanks to Jenniferschwalm for the picture at flickr.com
---

If you are planning a visit to Peek N Peak Ski Resort the hardest decision you will have to make is where to stay. The two hotels, the Inn at the Peak and the Fairways Suites are both excellent choices. At the Inn you can splurge with either the Parlor Fireplace suite or the Deluxe Jacuzzi Suite. The Balcony Fireplace is another option you may enjoy.

For a more comfortable, or possibly a longer, stay a condominium might be the better choice for lodging. You can choose between the Canterbury, Camelot, Clubhomes, Highlands I and II, Northgate I and II, Ridgeview or the Greenwood Forest condos.

You don't have to limit yourself to the skiing, golfing, swimming and all the other attractions at the resort. You could venture out into the nearby communities. Not far away is Niagara Falls, if you have not seen it you should. The area has a number of wineries well worth your time. There is Presque Isle State Park to enjoy the outdoors. You can gamble at the Presque Isle Downs and Casino or the Seneca Allegany Casino. You will find three lakes all within thirty miles of the resort. There is so much to do you will never get bored.

Peek N Peak Ski Resort is about 110 miles from Cleveland, about 250 miles from Binghamton and about 150 miles from Pittsburgh. The address is 1405 Old Road, Clymer, NY. To reach them just call 716-355-4141. For all snowsports information add an extension 7350 to that number.
Peek N Peak Ski Resort Map & Directions (click on "Marker" for your personalized directions)
---
Have A Great Story (or question) About This Ski Resort?

Do you have a great story about this? Share it!


---
Best Family Ski Resorts | Cheap Ski Vacations | History of Snow Skiing | Top Ten Ski Resorts | Alta Ski Resort | Arapahoe Basin Ski Resort | Aspen Snowmass Ski Resort | Bear Creek Ski Resort | Best Ski Resorts Near Montreal | Big Boulder Ski Resorts | Big Sky Ski Resort | Bittersweet Ski Resort | Blue Mountain Ski Resort | Bluewood Ski Resort | Boreal Ski Resort | Boston Mills Ski Resort | Bousquet Ski Resort | Breckenridge Ski Resort | Brighton Ski Resort | Bromont Ski Resort | Camelback Ski Resort | Canada Ski Vacations | Chestnut Mountain Ski Resort | Colorado Ski Resort Jobs | Copper Mountain Ski Resort | Devil's Head Ski Resort | Diamond Peak Ski Resort | Dubai Ski Resort | Heavenly Valley Ski Resort | Hidden Valley Ski Resort | Holiday Valley Ski Resort | Homewood Ski Resort | Indianhead Mountain Ski Resort | Keystone Ski Resort | Killington Mountain Ski Resort | Liberty Ski Resort | Loveland Ski Resort | Mammoth Mountain Ski Resort | Michigan Ski Resorts | Monarch Ski Resort | Mountain High Ski Resort | Mt. Baker Ski Resort | Mt. Spokane Ski Resort | North Star Ski Resort | Red Mountain Ski Resort | Red River Ski Resort | Santa Fe Ski Resort | Sierra at Tahoe Ski Resort | Ski Areas Around Montreal | Ski Resorts in West Virginia | Smugglers' Notch Ski Resort | Snowbird Ski Resort | Snow Shoe Ski Resort | Soda Springs Ski Resort | Solitude Ski Resort Utah | Squaw Valley Ski Resort | Steamboat Ski Resort | Stratton Mountain Ski Resort | Suger Bowl Ski Resort | Sunrise Ski Resort | Tahoe Donner Ski Resort | Timberline Ski Resort | Vermont Ski Resorts | Whitetail Ski Resort |
---
From Peek N Peak Ski Resort to Ski Resort Reviews | Land of Snow Blog | Montreal | Winter Survival | Winter Activities For Children And Adults | Maple Syrup | Pictures of Snow | Snow Blogs | Review of Snow Blowers |
---
Home Page

About Us | Contact Us | Advertise | Site Search | Terms of Use |
---