Aspen Snowmass is a large ski resort in western Colorado in Pitkin County. This resort combines four different skiing areas on four different mountains. Snowmass is the largest of the four and is located near Snowmass Village. Aspen Highlands is just north of Aspen on Highland and Lodge peaks. Buttermilk, just north of Aspen Highlands, is the lowest area and very family oriented. Aspen Mountain is located on Bell Mountain and the Aspen Mountain, above the town of Aspen.
The four areas of Aspen Snowmass form one of the largest ski resorts in the world, over 5,300 acres, drawing visitors from all over the states and beyond. And it's no wonder, where else can you get four separate vacations for the price of one.

Aspen Mountain is full of great groomers, steeps, glades and bumps. It has a vertical drop of 3,267 feet and covers 675 acres. There are 76 trails on this mountain, the longest one being three miles. The runs are 48% intermediate, 26% advanced and 26% expert.

Eight lifts service Aspen Mountain, 1 gondola, 1 high speed quad, 1 high speed double, 1 quad, 2 doubles and 2 secondary lifts. Aspen Mountain offers a choice of four restaurants to choose from, Sundeck, Bonnie's, Montagna Restaurant and Bar in The Little Nell and Ajax Tavern.

Aspen Highlands is known for outstanding views of the Maroon Bells and plenty of groomed trails and expert terrain. The vertical drop is 3,635 feet covering 1,028 acres. There are 118 trials on this mountain, 18% beginner, 30% intermediate, 16% advanced and 36% expert.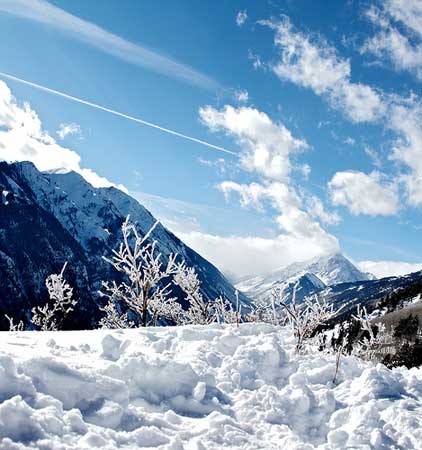 On left is Aspen highlands, and the bells are off to the right .
Thanks to Zach Dischner for the picture at flickr.com
---

Aspen Highlands has 5 lifts, 3 high speed quads and 2 triples. There are two restaurants to keep you from going hungry, Cloud Nine Alpine Bistro and Merry-Go-Round.

Snowmass Mountain is packed with steeps, terrain parks, halfpipes, cruisers and glades. It covers 3,132 acres and drops 4,406 feet. 91 trails descend the mountain and getting up is taken care of by 21 lifts. These are 1 eight passenger gondola, 1 high speed six passenger lift, 1 six passenger pulse gondola, 7 high speed quads, 4 school lifts and 2 secondary lifts.

The trails are 6% beginner, 50% intermediate, 12% advanced and 32% expert. The longest run is over five miles. There are three terrain parks, Makaha, Lowdown and Snowmass Park. You will also find one superpipe and 1 beginner pipe.

There are nine restaurants on Snowmass Mountain, Cafe Suzanne, Burlingame Cabin, Sneaky's Tavern, Sam's Smokehouse, Two Creeks Mexican Cafe, Lynn Britt Cabin, Ullrhof, Gwyn's High Alpine and Up 4 Pizza.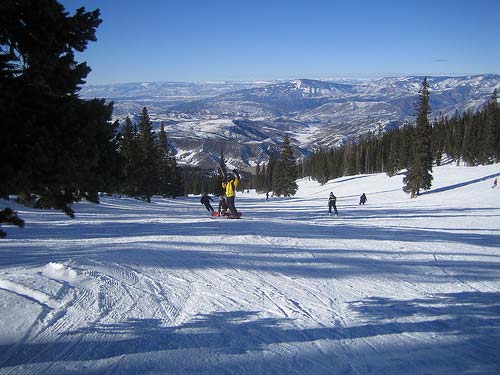 Ski at Aspen Snowmass Resort.
Thanks to mcclave for the picture at flickr.com
---

Buttermilk Mountain has been home for the ESPN Winter X Games and is full of wide open gentle trails suitable for all skill levels. This mountain covers 470 acres and drops 2,030 feet. It has 44 trails, the longest being 3 miles. The trails are 35% beginner, 39% intermediate and 26% advanced. The trails are service by 9 lifts, 2 high speed quads, 3 doubles, 2 handle tows and 2 skis school lifts.

There are 2 terrain parks on this mountain. Buttermilk Park has over 100 features and Panda Pipe and Ski and Snowboard Schools Park is for beginners. Dining is taken care of at Bumps and The Cliffhouse.

Cross Country Skiing at the Aspen Snowmass Nordic Trail System consists of over 90 kilometers of ski and snowshoe trails. The trails connect the communities of Aspen, Snowmass and Basalt. The Nordic Trail System also includes two world class cross-country ski centers.

Snowmass and Aspen Mountains open November 25 and close April 10. Aspen Highlands opens December 11 and closes April 24. Buttermilk opens December 11 and closes April 3. For more resort information call 800-925-1220 or 970-925-1220.
Aspen Snowmass Ski Resort Map & Directions (click on "Marker" for your personalized directions)
---
Have A Great Story (or question) About This Ski Resort?

Do you have a great story about this? Share it!


---
Best Family Ski Resorts | Cheap Ski Vacations | History of Snow Skiing | Top Ten Ski Resorts | Alta Ski Resort | Arapahoe Basin Ski Resort | Bear Creek Ski Resort | Best Ski Resorts Near Montreal | Big Boulder Ski Resorts | Big Sky Ski Resort | Bittersweet Ski Resort | Blue Mountain Ski Resort | Bluewood Ski Resort | Boreal Ski Resort | Boston Mills Ski Resort | Bousquet Ski Resort | Breckenridge Ski Resort | Brighton Ski Resort | Bromont Ski Resort | Camelback Ski Resort | Canada Ski Vacations | Chestnut Mountain Ski Resort | Colorado Ski Resort Jobs | Copper Mountain Ski Resort | Devil's Head Ski Resort | Diamond Peak Ski Resort | Dubai Ski Resort | Heavenly Valley Ski Resort | Hidden Valley Ski Resort | Holiday Valley Ski Resort | Homewood Ski Resort | Indianhead Mountain Ski Resort | Keystone Ski Resort | Killington Mountain Ski Resort | Liberty Ski Resort | Loveland Ski Resort | Mammoth Mountain Ski Resort | Michigan Ski Resorts | Monarch Ski Resort | Mountain High Ski Resort | Mt. Baker Ski Resort | Mt. Spokane Ski Resort | North Star Ski Resort | Peek N Peak Ski Resort | Red Mountain Ski Resort | Red River Ski Resort | Santa Fe Ski Resort | Sierra at Tahoe Ski Resort | Ski Areas Around Montreal | Ski Resorts in West Virginia | Smugglers' Notch Ski Resort | Snowbird Ski Resort | Snow Shoe Ski Resort | Soda Springs Ski Resort | Solitude Ski Resort Utah | Squaw Valley Ski Resort | Steamboat Ski Resort | Stratton Mountain Ski Resort | Suger Bowl Ski Resort | Sunrise Ski Resort | Tahoe Donner Ski Resort | Timberline Ski Resort | Vermont Ski Resorts | Whitetail Ski Resort |
---
From Aspen Snowmass Ski Resort to Ski Resort Reviews | Land of Snow Blog | Montreal | Winter Survival | Winter Activities For Children And Adults | Maple Syrup | Pictures of Snow | Snow Blogs | Review of Snow Blowers |
---
Home Page

About Us | Contact Us | Advertise | Site Search | Terms of Use |
---