Are you planning a trip to one of the ski resorts in West Virginia anytime soon? If so, you will probably be choosing from Snowshoe Mountain, Alpine Lake, Timberline Resort, Canaan Valley or Winterplace Ski Resort. These are the most popular ski destinations in West Virginia, all of which promise a fun day, or weekend, of skiing.
Snowshoe Mountain Ski Resort is in the Allegheny Mountains, in Pocahontas County. The resort is located on Cheat Mountain and includes both the Snowshoe Mountain and the Silver Creek ski areas. Combined they cover 244 acres and have 60 ski runs. The longest of the runs is one and a half miles, it is one of the black diamond trials that make up an area called The Western Territory. Boarders will be at home in any of the four terrain parks. Snowshoe is a four season resort with mountain biking and golf as part of the summer fun.

Cross Country ski enthusiasts will want to plan a trip to Alpine Lake where you can enjoy 15 miles of ski trails. The younger ones will have fun in the sledding and tubing areas. Alpine Lake is a four season resort with other activities like canoeing, sailing, fishing, golf, tennis and plenty of hiking and biking trails. It's located just an hour from Morgantown, WV and fifteen minutes from Oakland, MD.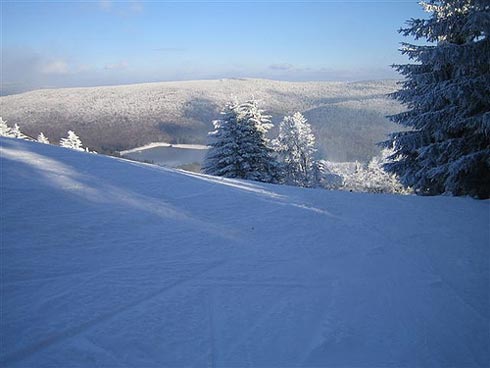 Snow Shoe Ski Area.
Thanks to shortstopeleven for the picture at flickr.com
---

Timberline Four Seasons Resort is located in Davis, WV, in the central Canaan Valley. It's here you can experience some of the longest runs in the south, with Salamander being two miles. The 37 slopes cover 100 acres of terrain and are serviced by 3 lifts. Visitors to Timberline can also enjoy cross country skiing, sledding and ice skating. Timberline is just two miles from Cannan Valley Ski Resort and lift tickets can be purchased that allow skiing at both resorts.

Canaan Valley is on the west slope of the Blue Ridge Mountains and offers one of the highest elevations west of the Rockies. The 34 trails are serviced by 3 lifts, 1 quad and 2 triples. The cross country skiing takes you out into the Canaan Valley State Park. Other activities at Canaan include snowboarding, ice skating, snow tubing and ice fishing.

Winterplace Ski Resort is located halfway between Bluefield and Beckley in West Virginia. They have 28 slopes serviced by 9 lifts that cover over 90 acres. The longest run is just over a mile long. The purchase of an all day lift ticket allows you to get into the night skiing for free. There is a terrain park for boarders and the largest snow tubing park in the state.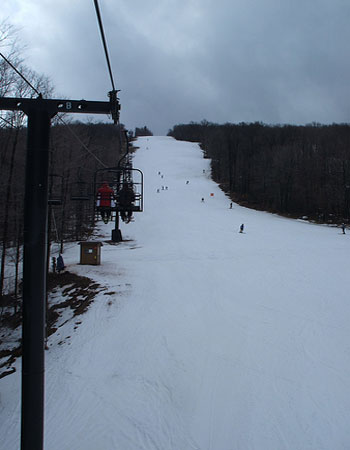 Top of Timberline.
Thanks to slack13 for the picture at flickr.com
---

West Virginia has plenty of snow set aside for other winter sports besides just skiing. The most popular winter sport, other than skiing, is snowboarding. The best places in the state to do this are Winterplace, Timberline and Snowshoe Mountain. Snow tubing is another family favorite winter activity and the best places for this are Winterplace, Snowshoe and Canaan. For some of the best Nordic skiing around check out Elk River, White Grass or Timberline.

No matter what you favorite winter activity is, one of the ski resorts in West Virginia is sure to have just the right snow, and just the right slope, to make your vacation, or day trip, one to remember.
Have A Great Story (or question) About This Ski Resort?

Do you have a great story about this? Share it!


---
Best Family Ski Resorts | Cheap Ski Vacations | History of Snow Skiing | Top Ten Ski Resorts | Alta Ski Resort | Arapahoe Basin Ski Resort | Aspen Snowmass Ski Resort | Bear Creek Ski Resort | Best Ski Resorts Near Montreal | Big Boulder Ski Resorts | Big Sky Ski Resort | Bittersweet Ski Resort | Blue Mountain Ski Resort | Bluewood Ski Resort | Boreal Ski Resort | Boston Mills Ski Resort | Bousquet Ski Resort | Breckenridge Ski Resort | Brighton Ski Resort | Bromont Ski Resort | Camelback Ski Resort | Canada Ski Vacations | Chestnut Mountain Ski Resort | Colorado Ski Resort Jobs | Copper Mountain Ski Resort | Devil's Head Ski Resort | Diamond Peak Ski Resort | Dubai Ski Resort | Heavenly Valley Ski Resort | Hidden Valley Ski Resort | Holiday Valley Ski Resort | Homewood Ski Resort | Indianhead Mountain Ski Resort | Keystone Ski Resort | Killington Mountain Ski Resort | Liberty Ski Resort | Loveland Ski Resort | Mammoth Mountain Ski Resort | Michigan Ski Resorts | Monarch Ski Resort | Mountain High Ski Resort | Mt. Baker Ski Resort | Mt. Spokane Ski Resort | North Star Ski Resort | Peek N Peak Ski Resort | Red Mountain Ski Resort | Red River Ski Resort | Santa Fe Ski Resort | Sierra at Tahoe Ski Resort | Ski Areas Around Montreal | Smugglers' Notch Ski Resort | Snowbird Ski Resort | Snow Shoe Ski Resort | Soda Springs Ski Resort | Solitude Ski Resort Utah | Squaw Valley Ski Resort | Steamboat Ski Resort | Stratton Mountain Ski Resort | Suger Bowl Ski Resort | Sunrise Ski Resort | Tahoe Donner Ski Resort | Timberline Ski Resort | Vermont Ski Resorts | Whitetail Ski Resort |
---
From Ski Resorts in West Virginia to Ski Resort Reviews | Land of Snow Blog | Montreal | Winter Survival | Winter Activities For Children And Adults | Maple Syrup | Pictures of Snow | Snow Blogs | Review of Snow Blowers |
---
Home Page

About Us | Contact Us | Advertise | Site Search | Terms of Use |
---