Tahoe Donner Ski Resort is located in Trucklee California. For general information you can reach them at
530-587-9437
. This is a family oriented ski resort with 40% of the runs for beginners and 60% for intermediate skiers. Between the expert ski lessons and the exceptional beginner terrain, Tahoe Donner Ski Resort is the perfect choice for a family to learn the thrills of snow skiing.
When you get to Tahoe Donner Ski Resort you will find 14 runs covering 120 acres. Getting you up the mountain are 1 quad chair, 1 double chair and 1 surface tow. The vertical drop is 600 feet.

If you can make your trip during the week be sure and take advantage of the mid-week specials. On Tuesdays kids 7-12 can participate in a ninety minute group lesson if you purchase one all day lift ticket. Every Thursday is Parent's Day. Just bring your kid and ski for free. If you pay for a child's ticket, you get yours free. Be sure and call for the special price details to make sure of the times, dates and any stipulations.

Tahoe Donner caters to beginners in every way possible. Not only are the slopes perfect to learn on, the first time skier packages are great also. The "First Time Ever" package includes a ninety minute group lesson, a restricted lift ticket and all day equipment rental. A similar package is available for the "First Time Ever" Snowboarder.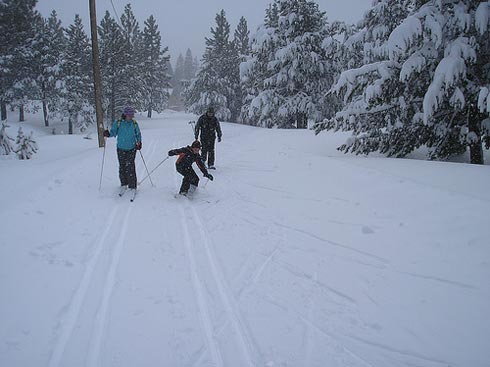 Tahoe Donner Cross country skiing.
Thanks to achesonblog for the picture at flickr.com
---

For the young learners the Children's Ski School is perfect. Kids 3-6 can participate. Its a two hour class that includes ski rental and lift ticket.

Tahoe-Donner is owned by the Tahoe Donner Association. They are a housing development company with large holdings in the area. It is all geared towards selling more homes but can also be enjoyed by the general public.

The resort is open year round featuring more than just the downhill and cross country ski areas. They also operate several restaurants, a campground, an equestrian center and a golf course. If that's not enough then try the driving range, the day camps, the fitness center including a pool and spa and you can also sign up for swimming lessons.

Tahoe Donner Ski Resort is just five miles from Donner Lake and twenty miles from Lake Tahoe. Your best lodging is found in Trucklee, about three miles away from the slope.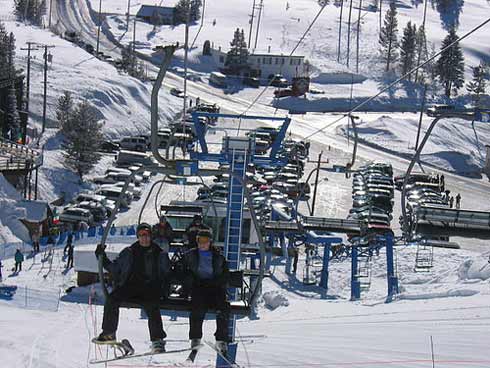 Skiing at Tahoe Donner Ski Resort.
Thanks to adamr.stone for the picture at flickr.com
---

Keep in mind that if you are an expert skier you will probably be very bored on these easy runs. This ski resort is definitely geared for the beginner and intermediate skiers and for great family fun, not for the serious skier. If your family ranges from beginner to expert there are better places to go where you can all be comfortable and challenged.

If you are a cross country skier Tahoe Donner Cross Country might be just what you are looking for. Fifty trails on forty eight hundred acres have all the makings of a great cross country weekend. The Cross Country area is equipped with a Day Lodge and a Cookhouse. Night skiing is also an option on Wednesdays.

As with the downhill slope cross country equipment is available to rent and lessons are given with several different packages to choose from.
Tahoe Donner Ski Resort Map & Directions (click on "Marker" for your personalized directions)
---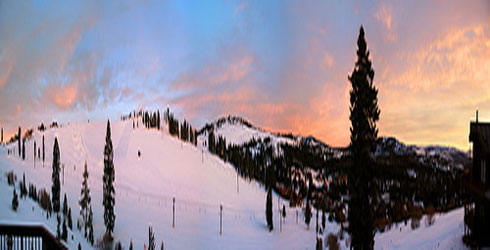 Tahoe Donner Ski Resort Sun rise.
Thanks to fd for the picture at flickr.com
---
Have A Great Story (or question) About This Ski Resort?

Do you have a great story about this? Share it!


---
Best Family Ski Resorts | Cheap Ski Vacations | History of Snow Skiing | Top Ten Ski Resorts | Alta Ski Resort | Arapahoe Basin Ski Resort | Aspen Snowmass Ski Resort | Bear Creek Ski Resort | Best Ski Resorts Near Montreal | Big Boulder Ski Resorts | Big Sky Ski Resort | Bittersweet Ski Resort | Blue Mountain Ski Resort | Bluewood Ski Resort | Boreal Ski Resort | Boston Mills Ski Resort | Bousquet Ski Resort | Breckenridge Ski Resort | Brighton Ski Resort | Bromont Ski Resort | Camelback Ski Resort | Canada Ski Vacations | Chestnut Mountain Ski Resort | Colorado Ski Resort Jobs | Copper Mountain Ski Resort | Devil's Head Ski Resort | Diamond Peak Ski Resort | Dubai Ski Resort | Heavenly Valley Ski Resort | Hidden Valley Ski Resort | Holiday Valley Ski Resort | Homewood Ski Resort | Indianhead Mountain Ski Resort | Keystone Ski Resort | Killington Mountain Ski Resort | Liberty Ski Resort | Loveland Ski Resort | Mammoth Mountain Ski Resort | Michigan Ski Resorts | Monarch Ski Resort | Mountain High Ski Resort | Mt. Baker Ski Resort | Mt. Spokane Ski Resort | North Star Ski Resort | Peek N Peak Ski Resort | Red Mountain Ski Resort | Red River Ski Resort | Santa Fe Ski Resort | Sierra at Tahoe Ski Resort | Ski Areas Around Montreal | Ski Resorts in West Virginia | Smugglers' Notch Ski Resort | Snowbird Ski Resort | Snow Shoe Ski Resort | Soda Springs Ski Resort | Solitude Ski Resort Utah | Squaw Valley Ski Resort | Steamboat Ski Resort | Stratton Mountain Ski Resort | Suger Bowl Ski Resort | Sunrise Ski Resort | Timberline Ski Resort | Vermont Ski Resorts | Whitetail Ski Resort |
---
From Tahoe Donner Ski Resort to Ski Resort Reviews | Land of Snow Blog | Montreal | Winter Survival | Winter Activities For Children And Adults | Maple Syrup | Pictures of Snow | Snow Blogs | Review of Snow Blowers |
---
Home Page

About Us | Contact Us | Advertise | Site Search | Terms of Use |
---