Brighton Ski Resort is located in Big Cottonwood Canyon, just thirty miles from Salt Lake City in Utah. Brighton is the oldest ski area in Utah, started in 1936. The resort is on public land, part of the Wasatch-Cache National Forest, next to the Great Salt Lake. Being in a national forest causes the resort to stay open year round, the summer being mostly for hiking, biking and fishing. It also means no condos and shopping malls.
Brighton is a local favorite, partly because of the night skiing. Monday thru Saturday, 4 pm to 9 pm, local boarders and skiers make use of 200 acres of lighted trails. Boarders are at home in any of the four terrain parks, Candyland, Upper Majestic, Lower Majestic, My-O-My or on the halfpipe.

Brighton Ski Resort has 66 runs, 21% beginner, 40% intermediate, 39% advanced/expert. The longest of these runs is 1.2 miles. The vertical drop on the mountain is 1,750 feet and the skiable area is 1050 acres. The runs are serviced by 4 high speed quads, 1 attached quad, 1 triple chair and 1 magic carpet. The mountain receives about 500 inches of snow a year and 200 acres of the resort is covered with snow making equipment.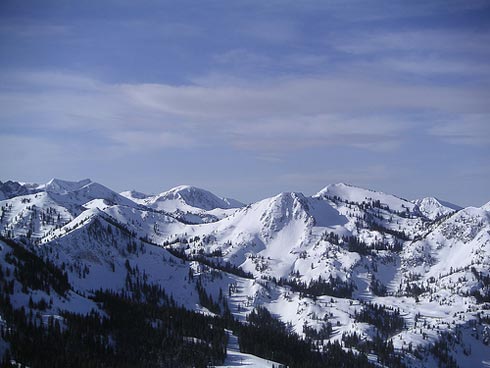 Brighton Resort in Utah.
Thanks to Mat_the_W for the picture at flickr.com
---

The Ski and Snowboard School at Brighton is know as "the place where Utah learns to ski and ride and keeps on learning". They have classes for seniors, women, kids and they offer group classes or private lessons.

When it's time to leave the slopes and eat here are your choices. The Millicent Chalet is a cafeteria located at the base of the Millicent high speed quad. The Alpine Rose Cafeteria is just beyond Brighton Center Lodge serving breakfast lunch and dinner. Molly Green's is on the upper floor of the A-frame. It is a bar and grill with soups, dinners and an awesome view. The Beehive Brews Coffee Bar serves snacks and hot drinks. A short half mile walk away from the resort is The Brighton Store where home style meals are served.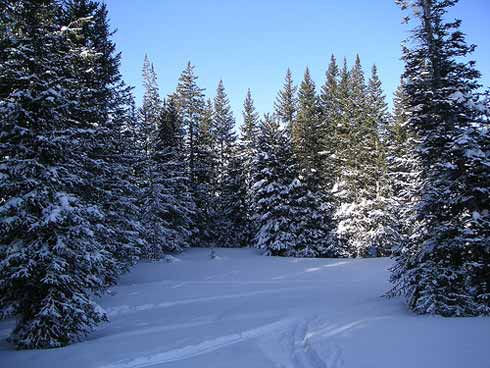 Brighton Ski Resort.
Thanks to Mat_the_W for the picture at flickr.com
---

Brighton has a Mountain Store for all your skiing and boarding needs. The rental shop rents high performance equipment for skiers and boarders.

They don't, however, rent goggles, jackets or outerwear, so bring your own.

Lodging at the resort is at the Brighton Lodge. Many other options are available at Salt Lake City, as well as 29 golf courses and the gateways to 5 national parks.

Brighton is an eco friendly resort trying to reduce it's footprint in many different ways. The Milly Chalet uses a Geo Exchange heat system. Heat is stored in the ground and then used to heat the building. This type of heating system transfers heat rather than creating it. Kaboom is an avalanche release system that rattles the snow loose electronically, from a computer. This saves on the use of vehicles to check the different sites for safety. They also encourage locals to ride the ski bus. With a season pass you can ride free all winter.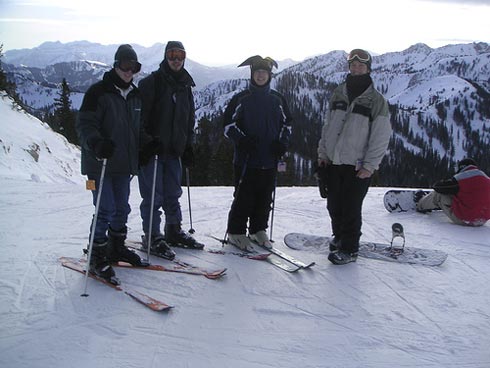 Brighton Resort Ski Trip.
Thanks to Mat_the_W for the picture at flickr.com
---

Other ski areas near Brighton are Alta and Solitude, both just a mile away. Deer Valley, Park City Mt. Resort, The Canyons and Snowbird are all within six miles.

Brighton Ski Resort is open seven days a week from 9 am to 4 pm. The season is from mid November through mid April. Their address is 12601 E. Big Cottonwood Canyon Road, Brighton, Utah 84121. Their number is 801-532-4731 or 800-873-5512.
Brighton Ski Resort Map & Directions (click on "Marker" for your personalized directions)
---
Have A Great Story (or question) About This Ski Resort?

Do you have a great story about this? Share it!


---
Best Family Ski Resorts | Cheap Ski Vacations | History of Snow Skiing | Top Ten Ski Resorts | Alta Ski Resort | Arapahoe Basin Ski Resort | Aspen Snowmass Ski Resort | Bear Creek Ski Resort | Best Ski Resorts Near Montreal | Big Boulder Ski Resorts | Big Sky Ski Resort | Bittersweet Ski Resort | Blue Mountain Ski Resort | Bluewood Ski Resort | Boreal Ski Resort | Boston Mills Ski Resort | Bousquet Ski Resort | Breckenridge Ski Resort | Bromont Ski Resort | Camelback Ski Resort | Canada Ski Vacations | Chestnut Mountain Ski Resort | Colorado Ski Resort Jobs | Copper Mountain Ski Resort | Devil's Head Ski Resort | Diamond Peak Ski Resort | Dubai Ski Resort | Heavenly Valley Ski Resort | Hidden Valley Ski Resort | Holiday Valley Ski Resort | Homewood Ski Resort | Indianhead Mountain Ski Resort | Keystone Ski Resort | Killington Mountain Ski Resort | Liberty Ski Resort | Loveland Ski Resort | Mammoth Mountain Ski Resort | Michigan Ski Resorts | Monarch Ski Resort | Mountain High Ski Resort | Mt. Baker Ski Resort | Mt. Spokane Ski Resort | North Star Ski Resort | Peek N Peak Ski Resort | Red Mountain Ski Resort | Red River Ski Resort | Santa Fe Ski Resort | Sierra at Tahoe Ski Resort | Ski Areas Around Montreal | Ski Resorts in West Virginia | Smugglers' Notch Ski Resort | Snowbird Ski Resort | Snow Shoe Ski Resort | Soda Springs Ski Resort | Solitude Ski Resort Utah | Squaw Valley Ski Resort | Steamboat Ski Resort | Stratton Mountain Ski Resort | Suger Bowl Ski Resort | Sunrise Ski Resort | Tahoe Donner Ski Resort | Timberline Ski Resort | Vermont Ski Resorts | Whitetail Ski Resort |
---
From Brighton Ski Resort to Ski Resort Reviews | Land of Snow Blog | Montreal | Winter Survival | Winter Activities For Children And Adults | Maple Syrup | Pictures of Snow | Snow Blogs | Review of Snow Blowers |
---
Home Page

About Us | Contact Us | Advertise | Site Search | Terms of Use |
---