Where's the snow shovel?
Up here in Canada, that's the question the we ask ourselves every year.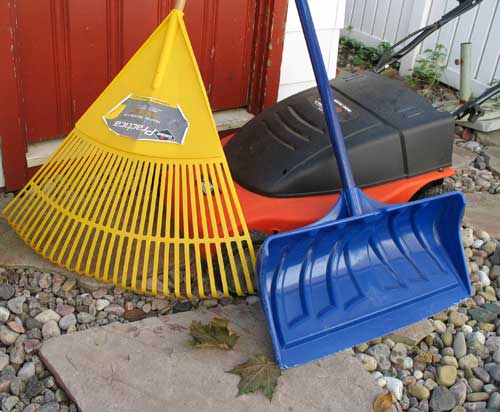 Finding my Snow Shovel in the Shed.
---
Sometime in late October, I find myself rearranging my backyard shed. It's time to put away the lawn mover, rakes and garden tools - they go into hibernation for another year.

With winter fast approaching, I go searching for my winter supplies. That includes everything from winter tires, snow sleds, de-icing salt, skates, skiis and of course, my snow shovel.

As you can see, they get more than their fair share of snow.
You definitely need a snow shovel to dig yourself out.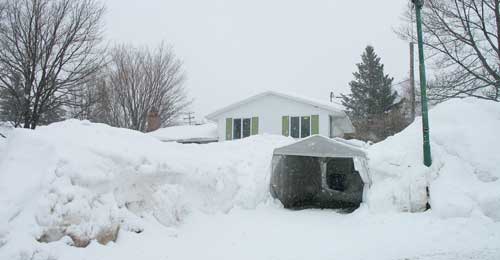 Neighborhood Buried in Snow. I took this photo in a Quebec City neighborhood at the end of winter 2007-2008.
---
Noone likes to shovel snow

We have lived in Canada all our lives, and have never met anyone who actually enjoys shoveling snow.

Ways to minimize snow shoveling include purchasing either a snowblower or mini-snow plow.

Motorized Alternatives to a Snow Shovel.
---

Another strategy is to avoid shoveling all together. Some people install a snow canopy over the driveway, in an attempt to keep the snow off of it.

Here is what one looks like at the beginning of winter: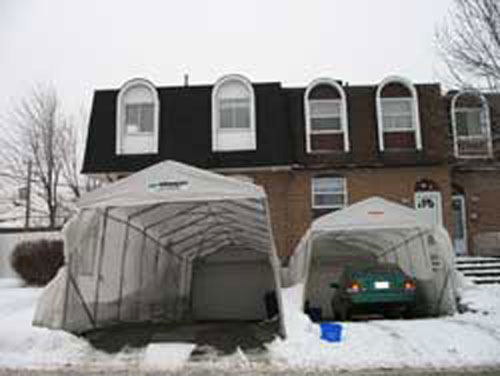 Snow Canopy for Car.
---

And here's your after shot. This photo was taken in a Quebec City neighborhood at the end of winter 2007-2008.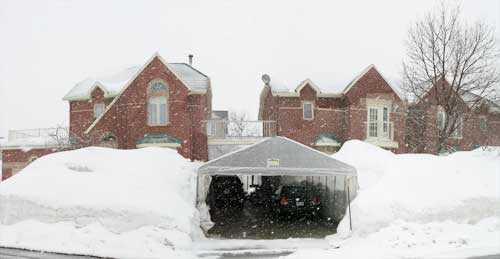 Snow canopy also known as a tempo keeps driveway free of snow.
---
If You Must Shovel

Many municipalities have banned the "tempo". The reasoning is similar to banning clotheslines - they are considered an eyesore.

For this reason, many people just don't have a choice. Here's a video that shows a neighborhood shoveling out after a modest snowfall.

Snow Storm from Patrick Doyle on Vimeo
---
Noone Likes to Shovel Snow - Revisited

Last winter (2007-2008) was one for the record books. The region of Montreal, where we make our home, received over 317 centimetres of snow.
That's a lot of shoveling.

So imagine our amazement when we saw this picture circulate in the local paper.
The caption read:

Meet the Man Who Wants Even More Snow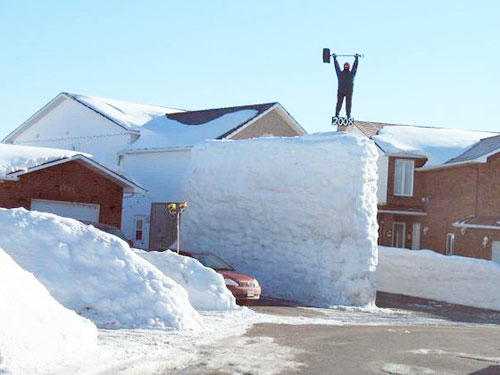 The tallest snowbank that you'll ever see.
---

We think you'll enjoy this 8 minute video about Luc Guertin, and the two-storey-high snow bank that he built in front of his Ottawa-area home.

Learn how one man figured out how to love the Wicked Winter of 2008, when everyone else was cursing it.
---
Have A Great Story (or question) About This Winter Activity?


Do you have a great story about this? Share it!
---
Driving in Snow | Shoveling Snow | Why Does Salt Melt Ice? | Winter Blizzards | Winter Driving |
---
From Snow Shovel to Winter Survival | Land of Snow Blog | Montreal | Winter Activities For Children | Maple Syrup | Pictures of Snow | Snow Blogs | Review of Snow Blowers | Ski Resort Reviews |
---
Home Page

About Us | Contact Us | Advertise | Site Search | Terms of Use |
---