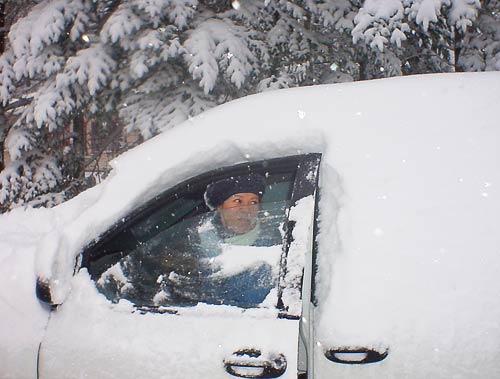 Driver in snow covered vehicle.
Thanks to etolane for the pictures at Flickr.
---
Driving in snow poses many challenges. It can significantly reduce both visibility and traction.

Safe winter driving, requires the driver to exercise an extra degree of caution. Because road conditions can change (deteroriate) quickly, it is important to drive according to both the road and weather conditions.

The biggest difference between summer and winter conditions is the braking distance. Snow, slush and ice can be dangerous stuff. It coats the roadway, and can create a slippery surface.
---

You want to avoid situations where you must brake suddenly. Doing so may result in an uncontrolled tailspin.
---

Defensive winter driving means slowing down and keeping a safe distance between you and the vehicle in front of you.

While driving behavior is important, the vehicle's equipment should not be overlooked.

The bottom line is that winter requires winter tires. All season tires are simply not suitable for your car once old man winter blows into town. As the following video clearly demonstrates, equipping your vehicle with four winter tires will ensure improved handling during winter. Traction and braking performance improve dramatically. Check it the following winter tire demonstration for yourself.
---
Have A Great Story (or question) About This Winter Activity?


Do you have a great story about this? Share it!
---
Shoveling Snow | Snow Shovel | Why Does Salt Melt Ice? | Winter Blizzards | Winter Driving |
---
From Driving in Snow to Winter Survival | Land of Snow Blog | Montreal | Winter Activities For Children | Maple Syrup | Pictures of Snow | Snow Blogs | Review of Snow Blowers | Ski Resort Reviews |
---
Home Page

About Us | Contact Us | Advertise | Site Search | Terms of Use |
---