Exploring Ontario in the Winter

For some people winter is synonymous with hibernation. The cold and chill of the winter season is met with the everyday grumbles about slush and salt. They do their best to settle in and keep warm until the sun peeks out a little more consistently in the spring thaw. For others, winter makes biding the other three seasons worthwhile.
For them, the gleam of the sun off of a lake or ocean pales in comparison to the glitter of freshly fallen snow for as far as the eye can see. An icy cocktail in the sun has nothing on a cozy cup of cocoa by the fire and the faint glimmer of tiki torches at dusk will never hold a candle to the brilliant twinkle of miles of holiday lights. Luckily for these folks, Ontario, Canada is a veritable winter wonderland. Rife with snowy activities and cozy chalets, Ontario offers options for the outdoors and indoors alike.

Public holiday celebrations and displays abound in the cities and towns of Ontario. At Niagra Falls, one can enjoy Canada's premier festival of lights in the Niagra Parks Winter Wonderland. Take in the breathtaking beauty of the Festival of Northern Lights, an award-winning spectacle with miles upon miles of holiday lights, running November through January. In December, the Winter Wonderland Parade kicks off the spectacle of the holidays and the fun continues throughout the season.

If indulging in a buffet of snow-powdered outdoor activities is the goal, Ontario definitely delivers. Enjoy the world's largest skating rink in downtown Ottawa, learn ice fishing along the shores of Lake Superior or take skiing lessons at one of the many resorts dotting the hillsides. For those who have mastered the art of the downhill, new thrills and skills are just around the corner at one of the men or womens snowboarding camps.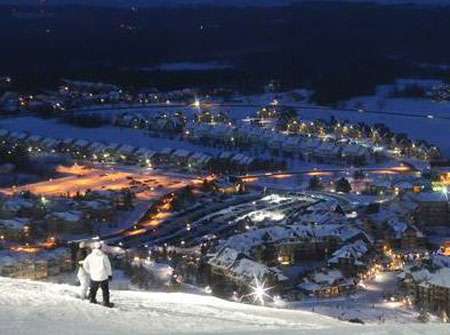 For those searching for a bit more privacy and warmth, romantic getaway options fill the cities and countryside. Snuggle up beside the hearth, settle in with a friend and enjoy Ontario's winter wonders while cozily indoors.
Have a Comment?
Do you have a comment about something on this page? You can make it here and others can comment on what you say.
---
Snow Kiting | Ice Skating Rinks | Snow Tubing | Snow Sled | Winter Vacations |
---
From Exploring Ontario in the Winter to Winter Activities For Children And Adults | Land of Snow Blog | Montreal | Winter Survival | Maple Syrup | Pictures of Snow | Snow Blogs | Review of Snow Blowers | Ski Resort Reviews |
---
Home Page

About Us | Contact Us | Advertise | Site Search | Terms of Use |
---