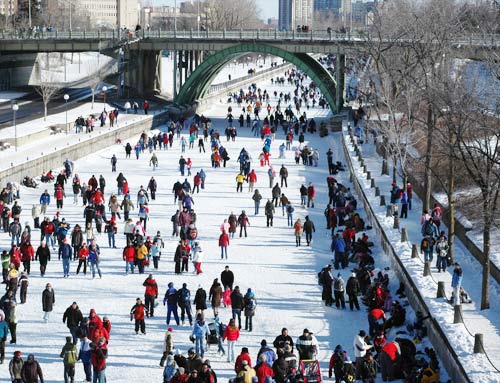 The world's largest outdoor skating rink in Ottawa, Canada.
---
Ice skating rinks become popular gathering places during our Canadian winters.

Regardless of where you might live in this country, a frozen ice rink is never far away.My wife and I have probably spent more time downhill skiing than ice skating.

Regardless, we still enjoy the sensation of those two steel blades gracefully propelling us over the frozen St. Lawrence river.

If you've never experienced ice skating for yourself, this short video will introduce to the basics of ice skating:
---
The World's Largest Outdoor Rink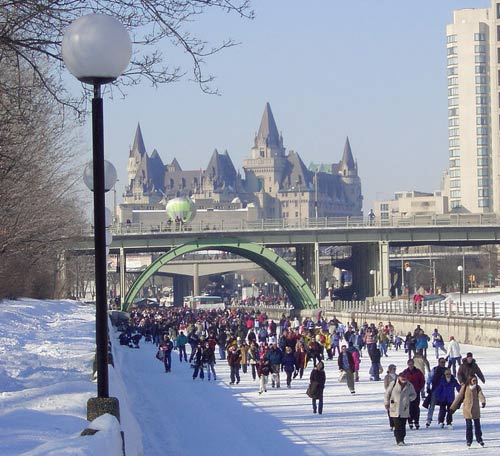 The forzen rideau canal is transformed into the world's longest ice skating rink.
---

We are fortunate to have a wide variety of options when it comes to ice skating.

The holy grail of skating is a two hour drive from Montreal to the Rideau Canal in Ottawa. This is "the place" to go skating.

The skateway holds the Guinness Book of World Record title as the world's largest naturally frozen ice rink. It measures 7.8 kilometers (4.8 miles) in length.

Depending on temperatures, the Canal is usually open to skaters in early to mid January.
The video will show you the experience from a skaters' point of view.
---
Our Local Outdoor Ice Skating Trail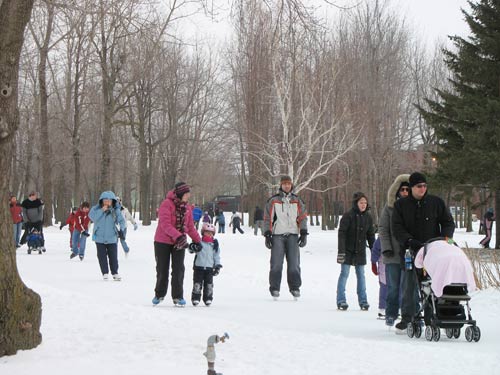 The city floods the walking trails of a local park and transforms them into one giant ice rink.
---
For many Canadians, learning how to ice skate is a right-of-passage.

As you can see from this picture, we are still a couple years away from that.

While our son is still too young to strap on ice skates, it hasn't prevented us from pulling him around in a sled while we go skating.
Near our home we have a park that is an ideal place for families to go for an afternoon of skating.

It's a great setup.

There is even a heated trailer available for you to change out of your winter boots and into your ice skates.

The city floods an existing set of walking trails and transforms them into one giant outdoor skating trail.

The trail is lined with trees which are tastefully decorated with strings of lights. There is sufficient lighting to go skating after the sun sets at around 4pm.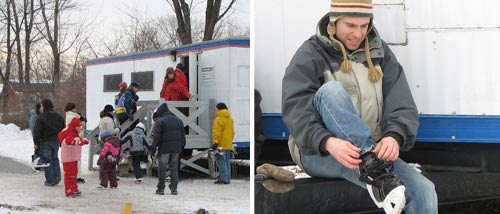 A heated trailer where you can change into your skates.
---
Year-Round Skating at the Shopping Mall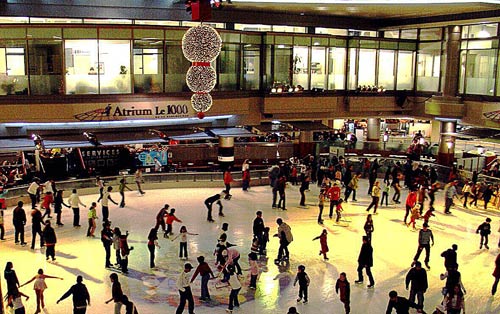 An indoor montreal ice rinks offers year-round skating.
---

One of these years we really should get around to it; go ice skating on the hottest day of the summer.

We are fortunate to have a year-round indoor ice rink that boasts an enormous 10,000 square foot skating surface.
Situated in the atrium of a downtown office tower, it hosts an indoor skating rink, with all the services that you would expect at a typical arena. There are changing rooms, skate rentals, and skate sharpening services. There's also a well serviced food court with a good selection of restaurants.

It's billed as the city's warmest ice rink.

---
Have A Great Story (or question) About This Winter Activity?


Do you have a great story about this? Share it!
---
Snow Kiting | Snow Tubing | Snow Sled | Winter Vacations |
---
From Ice Skating Rinks to Winter Activities For Children And Adults | Land of Snow Blog | Montreal | Winter Survival | Maple Syrup | Pictures of Snow | Snow Blogs | Review of Snow Blowers | Ski Resort Reviews |
---
Home Page

About Us | Contact Us | Advertise | Site Search | Terms of Use |
---