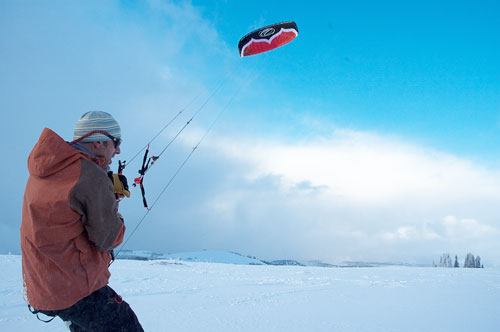 Snowkiter in Foreground and Kite up in Sky.
Thanks gradvalley-dave for the picture at Flickr.
---
During summer...
We are used to seeing ships and sailboats on the St. Lawrence seaway.
During winter...
You'll see snowmobilers, and ice fishing huts.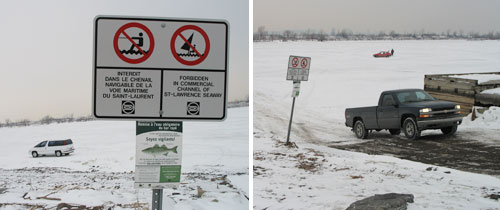 Maybe even the odd minivan...or pickup truck
but...
Snow Kiting, what's that?

One of our regular driving routes takes us along the St. Lawrence river on Montreal's south shore.

A few years ago we began to notice these large colourful kites dancing in the cold January skies.

Curious, we decided to investigate.
---

So last February, on one very cold Friday afternoon, we made the 20 minute from downtown Montreal.

There's an exit off the highway which give you access to a public boat launch. This is what we saw.
---
Have A Great Story (or question) About This Winter Activity?


Do you have a great story about this? Share it!
---
Ice Skating Rinks | Snow Tubing | Snow Sled | Winter Vacations |
---
From Snow Kiting to Winter Activities For Children And Adults | Land of Snow Blog | Montreal | Winter Survival | Maple Syrup | Pictures of Snow | Snow Blogs | Review of Snow Blowers | Ski Resort Reviews |
---
Home Page

About Us | Contact Us | Advertise | Site Search | Terms of Use |
---